Microsoft 'Your Phone' will soon let you stream your Android apps to Windows 10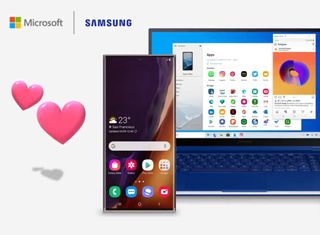 (Image credit: Microsoft)
Microsoft has today announced that its Your Phone app will soon be getting a new apps feature that will let Samsung phone users run their Android apps in app windows on Windows 10 via streaming. This is a step further from the Phone Screen feature, which would let you control your phone using your PC.
The new apps feature will show you a list of all the Android apps that are installed on your phone, and clicking on an app in the Your Phone app will remotely connect to your phone and place that app in a window as if it were running locally on the device. This feature essentially brings Android apps to Windows, but powered by your phone instead of locally on the device.
You will also be able to pin your Android apps to the Start menu and taskbar, and launch them without opening the Your Phone apps first.
The feature was announced alongside the Samsung Galaxy Note20, but it's unclear if this feature will be coming to non-Samsung phones in the future. We'll update this post once we know more. In the meantime, what are your thoughts on this new feature? Let us know in the comments.
Wow nice. Any word if the S10 and S20 will get these? Have always wanted a YouTube app on my Surface Pro.

Use myTube, it works well

True that, myTube is great
Android Central Newsletter
Thank you for signing up to Android Central. You will receive a verification email shortly.
There was a problem. Please refresh the page and try again.