Google Movies slowly showing up for Canadians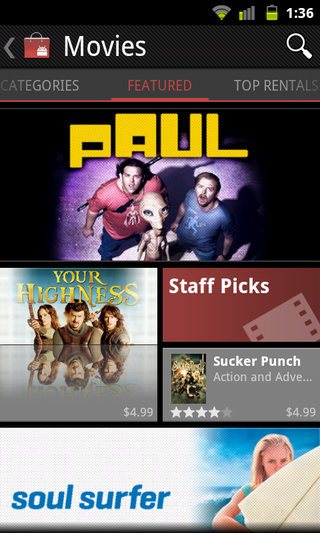 While folks in the U.S. have had Google Movies rental service on their devices for quite a while now, Canadians have been thus far left in the dark from having it appear on the Android Market. Now though, numerous reports have confirmed the service is slowly rolling out handsets along with the Android Market 3.1.5 update.
For now, the confirmations seem to only be coming from users of Canadian carrier Bell. I've tried numerous times to get the movies portion on my Rogers device but it's not showing up despite it now showing on the Android Market website as well. Anyone else seeing the update being pushed? If so drop us some comments.
Thanks, @Roscopcoletrain and Chris!
Android Central Newsletter
Get instant access to breaking news, the hottest reviews, great deals and helpful tips
I'm through Telus and have had it since yesterday

Got it on Tuesday. N1 on Mobilicity.

i got it on tuesday on my Nexus One on fido. $4.99 for the good movies..... i'll stick with netflix FOR NOW

You don't need to wait for the Market update. Just download Google Videos from the Market. I did it yesterday, Nexus One on Telus.

Its also showing up on various Canadian Tablets.

I noticed it Wednesday; Nexus S on Rogers.

I noticed it yesterday morning when movies started showing up in the web Market. Captivate, unlocked on Rogers running MIUI/CM7. My Transformer received a new video app, but not market. Clicking a movie in the Video app brings me to the web Market.

I'm using a Bell Sensation on the Telus network, running CM7. I see the Google Movies now... Exciting!

has anyone with an evo 3d got the new market without manually downloading it??

I have it on my Bell Galaxy SII but not on my wifi only Galaxy Tab 10.1. When I try and install Google Videos from the Market website on my PC, it says it is compatible with the phone, but not the tab.

I've got it on my Nexus S (on Fido)

Also seeing it on my Motorola Xoom (Canadian Wifi Model) with US firmware :)

4.99 for a movie that is a couple years old. Netflix doesn't have the latest and greatest movies by any means, but a much better deal.

Got it on my Sony Ericsson Xperia Play (Rogers) that I am using on Bell. Haven't tried the service yet though.

Available for me on Videotron with Nexus S.
Android Central Newsletter
Get instant access to breaking news, the hottest reviews, great deals and helpful tips
Thank you for signing up to Android Central. You will receive a verification email shortly.
There was a problem. Please refresh the page and try again.