Does the Samsung Galaxy S20 FE actually have a display problem?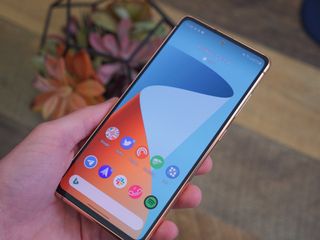 (Image credit: Joe Maring / Android Central)
The Galaxy S20 FE is currently one of the best Android phones you can buy today. Samsung is essentially offering the same hardware and camera as the regular Galaxy S20 for several hundred dollars less, and other than a polycarbonate chassis and FHD+ panel, the S20 FE doesn't really miss out on much.
But like all phones, the S20 FE isn't without its share of issues. The biggest problem facing the phone is touchscreen issues, with users reporting issues with the display just a few weeks after the phone went on sale. Samsung has rolled out several updates to fix the problem, but that does not seem to have worked as of now. So let's take a look at the Galaxy S20 FE screen issues, and what Samsung is doing to address it.
Galaxy S20 FE screen issues: touchscreen responsiveness, ghost touches, jittery scrolling
The Galaxy S20 FE went on sale in the first week of October, and just a week later, users started noticing issues with the touchscreen. This issue had to do with the responsiveness of the touchscreen, with the screen either too sensitive to swipe and tap gestures — confusing between the two — or not sensitive enough.
Users pointed to ghost touches — phantom touches where the display registers an input without the user's intervention — as being a problem with the S20 FE as well. There's also a subset of users that have faced issues with pinch-to-zoom being laggy, and scrolling, in general, being jittery.
Samsung already rolled out three updates to fix the issue
For its part, Samsung has rolled out three software updates to address the issue. The first update (G78xxXXU1ATJ1) started rolling out just 10 days after the touchscreen issues were brought to the fore, and it was aimed at addressing the oversensitive screen and ghost touches.
Samsung also released a second update (G78xxXXU1ATJ5) that same week designed to improve the touchscreen responsiveness. This update seems to have fixed the ghost touch issues for most users, but it didn't address the core problems: input sensitivity and jittery scrolling.
Samsung then introduced a third update (G781BXXU1ATK1) on November 10 to improve the sensitivity of the screen. The update seems to have fixed the issue with jittery scrolling for the most part, and several users also mentioned that the input sensitivity has gotten better after installing the update. However, it doesn't look like the issue has been resolved completely.
Is this affecting all Galaxy S20 FE units?
While a decent number of Galaxy S20 FE units seem to have touchscreen issues, it looks like the Snapdragon 865 model in particular has been affected to a larger degree. It is likely that the Snapdragon 865 and Exynos 990 versions of the device are using two distinct modules for the display digitizer, and the one on the former could be faulty.
I switched to the Galaxy S20 FE from the Note 20 Ultra back in October and used the phone for over a month. I didn't notice any touchscreen issues on my Exynos-powered unit (SM-G780F/DS); I had no issues using Gboard's swipe input for typing, scrolling through social media with the screen set to 120Hz, or gaming on the phone.
I asked other reviewers that are using the Exynos variant of the Galaxy S20 FE, and they didn't have any issues on their units either. Our friends over at SamMobile have faced issues with one of their two Snapdragon 865-powered S20 FE units, with the touchscreen exhibiting input lag.
Samsung hasn't acknowledged that this is a hardware issue, and is instead fixing the problem via software updates. At this point, we don't know if the manufacturer will release a fourth update to fix the S20 FE screen issues, but the December update containing the latest security patch did not have any stability fixes. For now, we'll just have to wait and see if Samsung is able to resolve this particular issue with an upcoming patch.
Should you buy the Galaxy S20 FE or S20?
Right now, the Galaxy S20 FE costs $699 in the U.S. (opens in new tab). The regular Galaxy S20, meanwhile, is available for $799 (opens in new tab) — just $100 more. The S20 has a more premium design with a glass back, a QHD+ 120Hz AMOLED panel, and does not have any issues with the touchscreen.
It is also picking up the One UI 3.0 update based on Android 11 right now, so if you are in the market for a new phone and are wary of the S20 FE screen issues, the regular S20 is a great alternative.
A true flagship
(opens in new tab)
One of the best phone of 2020
The Galaxy S20 continues to be a great option eight months after its release. The phone has a sublime 120Hz AMOLED screen with a QHD+ resolution, the latest internal hardware with 5G connectivity, great cameras, a premium design, all-day battery life, and wireless charging with IP68 dust and water resistance. This is still one of the best overall packages you'll find on Android today.
Get the Android Central Newsletter
Instant access to breaking news, the hottest reviews, great deals and helpful tips.
Harish Jonnalagadda is a Senior Editor overseeing Asia at Android Central. He leads the site's coverage of Chinese phone brands, contributing to reviews, features, and buying guides. He also writes about storage servers, audio products, and the semiconductor industry. Contact him on Twitter at @chunkynerd.
It's a hardware problem and they're trying to bandage it with software updates to get it working just enough to keep the complaints to a minimum. Since they supposedly sold so many of these things the last thing they need is to have to recall all of them to eat the cost of a hardware repair. I had one...sent it back...replaced it with the OnePlus 8T and never looked back. I've tried 3 Samsung devices over the years and sent them ALL BACK! Samsung phones are JUNK! They get a lot of recognition on this site, and they are a well known brand, but that does not make them good! Drink the cool aid kiddies!

I'll gladly drink it, thanks. Cause my S20 plus rocks! Zero issues 🤷

I'll gladly drink it, thanks. Cause my S20 plus rocks! Zero issues

I'll gladly drink it, thanks. Cause my S20 plus rocks! Zero issues ...

My Note 9... still running like a thoroughbred!

Returned it. Typical Samsung.

I got one, mainly as a backup phone on a great deal from Tmobile as I love my 7t, but tried it for a while and it can't hold a candle to the 7T. It may be a small issue, but my screen seems too jittery and un-smooth when gaming. I just can't take it. I thought it was just the way it worked. Maybe it truly has a problem. Figures.

Loving mine so far. Last time I used a Samsung phone was the note 2. Liking Sammy's take on Android more than I thought I would.

it's a hardware problem, but after the 3 patch i can no longer experience it with normal use. if you use a touchscreen test app you will definitely notice the ghost touches. i don't game on it, so i am at a lower risk of seeing this

I'll bet Android Central will be more cautious about championing phones in the future. The best phone of 2020 indeed. The Pixel 5 wasn't as perfect as they called it either. Gives new meaning to the term I spoke too soon.

I bought the phone the first week it was available. I have had no issues. It is extensively used. I have not seen a video of the alleged problem. New buyers should not be worried.

I'm cancelling my order, lots of other phones out there

I've been using the 🌨️ red edition for 5 wks. Zero issues with mine. Luv it, merry X-mas!