Some Galaxy S20 FE owners are experiencing issues with the phone's touchscreen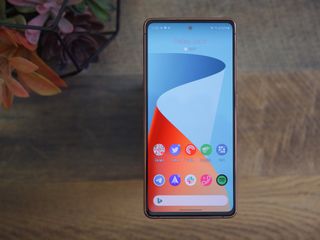 (Image credit: Joe Maring / Android Central)
What you need to know
Some Galaxy S20 FE owners are experiencing issues with the touchscreen.
The phone's touchscreen can sometimes get confused between taps and swipes.
It is unclear at this point if the issue can be solved with a software update.
Samsung's Galaxy S20 FE, which was announced last month, is arguably one of the best Android phones the company has made in a long time. It offers nearly everything you would expect from a 2020 Android flagship phone, at a starting price of $699. Unfortunately, however, some owners of the Galaxy S20 FE are reporting issues with the phone's touchscreen.
As spotted by PiunikaWeb, quite a few Galaxy S20 FE owners have complained about the touchscreen problems on Reddit and Samsung's Community forums (opens in new tab). Some of the users say that the Galaxy S20 FE's touchscreen is "oversensitive" and registers taps as swipe gestures. In some cases, the touchscreen picks up swipes as taps. A few others say that the touchscreen doesn't respond to touches at times and also picks up phantom touches.
Since the phone went on sale only recently, it is tough to say at this point if the touchscreen issues are widespread. Going by the reports on Reddit and Samsung's Community forums, however, it looks like the issue might be limited to a small number of units. It is also unclear if the affected units have a hardware problem or if the erratic issues can be fixed with a software update by Samsung.
Samsung Galaxy S20 FE
Samsung's Galaxy S20 FE is a value flagship that offers nearly the same experience as a regular Galaxy S20 for a much lower price. You get a large AMOLED display with a 120Hz refresh rate, 5G connectivity, and a 4500mAh battery with 25W fast charging.
Sent mine back. The display was poor, it actually didn't do white (even after fiddling with all of the settings). Just gray and lacked the brightness and pop of my Pixel 3A XL. The AOD is not actually always on and you can't see time or notifications from the first "black" lock screen. Sammy level 2 tech support confirmed this, and also that you can't adjust font size on the status bar (icons are microscopic). FPS under the screen frankly sucked - immediately did not recognize 2 out of the 3 fingerprints just stored. And tapping sensitivity was a serious problem, having to tap multiple times to get it to register. And no headphone jack which I was willing to accept.

That sucks. I don't have those problems on mine. It's been working great since I got it. Did you select "Always On" in the AOD settings? They have an option for tap to wake (which sounds like what yours was setup to do), always on, and scheduled time.

I'm having an issue on my Samsung Galaxy s20 (not fe). I don't do swipe texting, I type out letter by letter (I find I'm pretty fast with 2 thumbs and find it easier, though I mostly text letter by letter with 1 thumb). Today I was typing and in the middle of typing it randomly swiped on its own some random letters not relevant to the word I was even typing. Not just swiping a few letters but there with be a space before and after those letters and they will be in all caps. Its doing it as we speak and since it started its happening more and more. I'm about ready to put it in the middle of the street and run it over. I've only had this phone for about 6 months and just this issue alone has me about borderline ready to do just about anything to have my pixel 2 back.
Android Central Newsletter
Thank you for signing up to Android Central. You will receive a verification email shortly.
There was a problem. Please refresh the page and try again.