Samsung launches the Galaxy S20 Fan Edition with a plastic body for just $699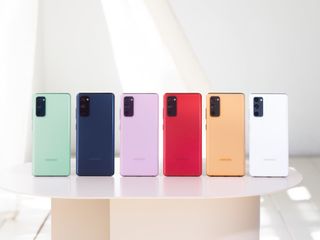 (Image credit: Samsung)
What you need to know
The Galaxy S20 FE launches October 2nd in six colors for just $699.
It will be available both unlocked and through carriers, with support for both sub-6 and millimeter wave 5G networks (depending on the variant).
The S20 Fan Edition offers many of the Galaxy S20 line's features at a more affordable price, with a polycarbonate design reminiscent of the Galaxy Note 20.
Samsung is once again expanding its vast 2020 lineup, this time with a colorful new addition to the Galaxy S20 lineup that aims to bring the same flagship experience to a more accessible price point. Much like the Galaxy Note 20, the S20 Fan Edition (abbreviated to FE) trades its pricier counterparts' glass backings for a polycarbonate one, retaining the aluminum frame for its added durability.
It also features a flat display, which many users (including myself) actually prefer over the curved screens on Samsung's other flagship devices. Like the rest of the S20 lineup, the Galaxy S20 FE touts a 120Hz refresh rate, along with a tiny holy punch cutout for its front-facing camera.
Elsewhere, the hardware is familiar, with IP68 water- and dust-resistance, microSD-expandable storage, bilateral wireless charging, and 25W wired Fast Charging (though the phone will ship with a 15W charger in the box). It supports both NFC and MST for Samsung Pay, and features stereo speakers tuned by AKG. Just as with the rest of the S20 series, though, you won't find a headphone jack here.
| Category | Samsung Galaxy S20 FE |
| --- | --- |
| Operating System | Android 10 |
| Display | 6.5 inches, 20:9 aspect ratio, 2400x1080 (407 ppi) resolution, Super AMOLED Infinity-O |
| Processor | Qualcomm Snapdragon 865 |
| Memory | 6GB RAM |
| Storage | 128GB |
| Expandable Storage | Yes (up to 1TB) |
| Rear Camera | 12MP, ƒ/1.8, 1.8μm (wide-angle) | 8MP, ƒ/2.4, 1.0μm (telephoto) | 12MP, ƒ/2.2, 1.12μm (ultra-wide) |
| Front Camera | 32MP, ƒ/2.2, 0.8μm |
| Security | Optical fingerprint sensor |
| Battery | 4500mAh |
| Water Resistance | IP68 |
| Dimensions | 74.5 x 159.8 x 8.4mm |
| Weight | 190g |
| Colors | Cloud Red, Cloud Orange, Cloud Lavendar, Cloud Mint, Cloud Navy, Cloud White |
One of the Galaxy S20 FE's most identifying traits is its variety of vibrant color options. I'm quite partial to Cloud Mint myself, but you'll have six colors to choose from, each of which features the same textured haze effect we've seen on other recent Samsung devices that helps reduce visible smudges and fingerprints.
The cameras are a bit different on the S20 FE, as well. Rather than the Hybrid Optic zoom used on the Galaxy S20+, the S20 FE simplifies the telephoto process with a 3X optical zoom, which can be extended by a factor of 10 using digital zoom to achieve 30X Space Zoom. Due to the lower resolution of the three rear sensors, video capture on the S20 FE is limited to just 4K, rather than 8K like the rest of the S20 series, but let's be honest — you probably don't need more than 4K anyway.
The Galaxy S20 Fan Edition will launch on October 2nd in the U.S. and other markets starting at just $699. It will be available both unlocked and through carriers, with widespread support for sub-6 5G networks. A separate model called the Galaxy S20 FE 5G UW (rolls right off the tongue!) will launch at the same time on Verizon for $29.16 per month on a 24-month agreement, with support for the carrier's Ultra Wideband network. Pre-orders begin tomorrow, September 24.
We'll be reviewing the device in the coming weeks, but in the meantime, the Galaxy S20 FE looks like a great device that bridges the gap between the S20 and Galaxy A series. After spending some time with the Galaxy Note 20, I'm confident that neither the polycarbonate backing nor the flat display will have a negative impact on the overall experience, and can't wait to see some of these color options in person.
Samsung Galaxy S20 FE 5G
This Fan Edition model brings all the best features of the Galaxy S20 series to a more affordable price point. It's offered in a variety of colors, and features the Snapdragon 865, three powerful cameras with up to 30X Space Zoom, and 5G support.
Hayato was a product reviewer and video editor for Android Central.
Perfectly priced for what you get. I wish I had waited on this.

I have an extra iPhone 11 and with trade in its $200. Definitely will be grabbing this one

This phone should've been launched with the S20. Time to pull the trigger and trade-in my aged but still functioning S7.

I can trade in my Galaxy S8 and get this for $475. I can get the S10 for $499... Both phones are a good deal. I wish there were some reviews for the S20 FE...

Oh my... This or pixel 5..hmm

Sounds like the best Samsung phone of 2020!

Who is this for? The screen is still huge, and my S10e has more RAM and more storage (8/256 configuration). If this were the size of the S7 or S10e and had a headphone jack, I'd pick it up.

i love the orange color but if i buy unlocked it limits the 5g because i am on vzw

The appeal of the Pixel line has always been clean and updated software and a great camera. Samsung's efforts with One UI, their commitment to three years of Android updates, and their experience at hardware have me, for the first time ever, considering this going from my Pixel 3XL to this Samsung phone instead of a Google phone.

Yup I agree. I'm switching from my Pixel 3XL to this S20FE. Google has had some mistakes that made this switch slightly easier for me also. Not only are the specs better on the FE vs the 5, but Google seems to have a hard time with quality control when implementing their Software upgrades. When Android 10 released it completely destroyed the light and proximity sensors on my phone. Now I have to manually adjust the brightness and when calling I have to manually turn the screen off to make sure my face doesn't hit buttons. Flip to wake or sush features don't work and it's all because of how they pushed out their software. Now with Android 11 many pixel users are having camera issues. The new Samsung UI looks much much better then it used to also.

Was going to wait for the Pixel 5 but after they confirmed the specs and I saw some early photo comparisons to the Pixel 4, it sealed the deal for me. SD865, picture quality looked as good or better in comparison, and the newest Samsung UI looks pretty good. 4500 size battery is fantastic and 120hz screen! Pre Ordered for $599 and Samsung giving me and the wife $70 each towards accessories.
Android Central Newsletter
Get the best of Android Central in in your inbox, every day!
Thank you for signing up to Android Central. You will receive a verification email shortly.
There was a problem. Please refresh the page and try again.