Best Wallet & Folio Cases for Samsung Galaxy S21 2022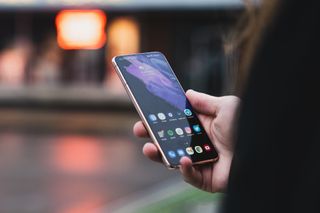 (Image credit: Hayato Huseman / Android Central)
The Samsung Galaxy S21 is pretty stunning, not only in looks but feature set, too. With a nicely sized 6.2-inch Infinity-O display and vibrant finish options, the smartphone becomes part of your overall look — it's an accessory, not just a phone. Chances are based on all of this, it'll be in your hand 24/7. That means getting an equally attractive protective Galaxy S21 case. Wallet and folio cases are not only convenient since they can hold other essentials, like credit cards, ID, and cash, but they also look sleek. We've rounded up the best wallet and folio cases for Galaxy S21.
Which Samsung Galaxy S21 wallet or folio case should you choose?
You can't go wrong with any of the wallet or folio cases on this list, but which you choose for the Samsung Galaxy S21 really comes down to how, why, and where you'll use it. When it comes to the best wallet and folio cases for Galaxy S21, it's all about what works for you.
For example, if you want a wallet case that will truly serve as a wallet replacement that you can bring with you everywhere, the AKHVRS Handmade Premium Cowhide Leather Wallet Case makes sense because it's a wallet that also has a phone case versus the others that are more like phone cases with some added wallet functionality. However, this case might be too much for your needs.
If you just want to bring your phone along on certain outings, leaving your wallet or purse at home, a case like the OCASE PU Leather Flip Folio Case is a good option. It can accommodate up to three cards, which could include your ID, credit card, and hotel room key, for example, plus some cash in case of emergency. Plus, it comes in some cool color options.
For even more simplicity, the Spigen Slim Armor CS focuses on rugged protection first and foremost, with the added benefit of some card slots for good measure. These days, considering most of us have electronic wallets and payment apps on our smartphones, and even our smartwatches, space for two cards should be more than enough.
But you can't deny the cool factor of cases like the Vofolen Wallet Cover and Jiunai Wallet Case that have secret hidden compartments to store credit cards, cash, and other items, cleverly keeping them away from prying eyes.
While you're at it, as with any smartphone case purchase, you should also consider getting a screen protector for the Galaxy S21. While wallet and folio cases usually have flaps that cover the front of the phone, that doesn't mean you never remove them, or flip the cover back while you type, watch videos, surf the web, and more. A screen protector adds another level of protection for the beautifully vibrant screen along with the body.