Best Android Apps For Oculus Go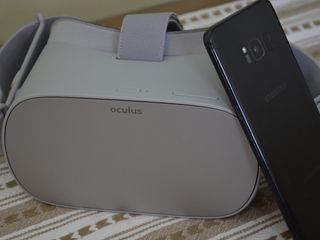 The Oculus Go and the Gear VR are very similar, with the main difference being that the Oculus Go doesn't require you to put your phone inside of it. That's usually a good thing as it makes the Oculus Go easy to share with friends and lets people use VR who don't have Samsung's flagship phones, but you lose the ability to easily view your Android apps inside your VR headset when you take away the phone.
However, that doesn't mean you can't use Android app on your Oculus Go. It's not as straightforward as Samsung Phonecast but you can use our guide to walk you through sideloading Android apps onto your Oculus Go.
Once you've gone through that guide, you'll want to install some apps. Here are the best Android apps to add to your Oculus Go. The ability to sideload apps is new so unfortunately not every app works. For example, I sideloaded Crunchyroll, the Android version of Netflix, and Amazon Prime Video and even though they were "successfully installed" according to my command prompt, none of them showed up on my device. Your success may vary.
You can view apps that you've sideloaded in either the Unknown Sources section of your library or through Oculus TV. Where they appear can vary on the app.
Kodi
Why you can trust Android Central Our expert reviewers spend hours testing and comparing products and services so you can choose the best for you. Find out more about how we test.
Kodi is the app that people first mentioned on the web when discussing sideloading apps onto Oculus Go. It is an open-source and free media app that lets you take in content from a variety of sources. Kodi alone makes the Oculus Go a much more powerful device and could bring it into your rotation of media device.
You can use Kodi to watch live televisoin as well as movies, podcasts, digital media files, and more.
The version of Kodi that you can get through SideloadVR is in alpha so you might run into some glitches and bugs.
Plex
Plex already has an app available on the Oculus Go, but the sideloaded Android version works as well. Plex requires you to have a server setup but once you do, you can watch movies, tv shows, media content, and more. It's a popular service among people who want control over the content they stream and its availability on Oculus Go is a big plus.
A good YouTube client
You can view YouTube through the Oculus Browser, but if you want an immersive experience you should sideload a client such as YTCinema VR. It places you inside a large cinema that you can view YouTube videos on. You control your searching and browsing on a virtual tablet and then can hide the tablet and watch videos on the big screen.
To get YT Cinema VR you'll have to go through SideloadVR.
Which are your favorites?
Which apps have you sideloaded onto your Oculus Go? Which ones are you anxious to try? Let us know in the comments below.
Be an expert in 5 minutes
Get the latest news from Android Central, your trusted companion in the world of Android