BB-8 by Sphero is every Star Wars fan's dream robot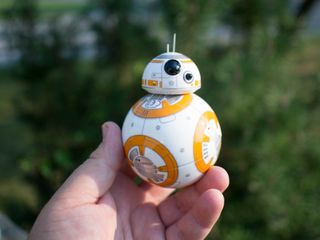 When the first trailer for Star Wars: The Force Awakens was revealed to the world, a whole lot of people had the same thought about one of the little robots in the trailer. It looked suspiciously like a giant Sphero robot with a little floating head on top, so naturally a ton of people asked Orbotix if they would be able to make a version of their popular Sphero robot to look like this thing from the trailer. Not long after, the world learned that not only was Orbotix capable of making a small version of that BB-8 droid, but was the company responsible for making the big one being used in the movie.
Today, BB-8 by Sphero is finally a real product you'll soon be able to buy for yourself, and it's shaping up to be the toy every Star Wars fan is going to want to own.
Image 1 of 6
On the surface, this little droid closely resembles a Sphero orb with a little head on top, but the overall feature set blows away anything we've come to expect from the folks at Orbotix. BB-8 by Sphero pairs to your phone or tablet and lets you control movement, and as you'd expect it's the same kinds of movement we've seen from the larger BB-8 appearing in The Force Awakens.
The BB-8 app includes several control methods, including voice controls tuned to the owner, sentry mode between pre-determined areas, and even autonomous behavior if you just want the droid to roam around and play.
Sphero describes BB-8 as having an adaptive personality, and claims its behavior will change based on interaction with you. A line you'll see repeated in marketing material is how this droid is more than a toy, it's your companion.
The BB-8 app also includes a communication mode, allowing you to record messages from your phone and have them play back in an Augmented Reality field that looks as though your message is being played through a holo-projector baked into BB-8. If you've got friends who also have BB-8 droids, you'll be able to send holographic messages back and forth to one another through the app.
As you'd expect from a Sphero-like toy, the wireless docking cradle lets you drop BB-8 in when you're done playing and pick it back up when you're ready to go. Like the robot itself, the cradle is sporting heavy Star Wars theming, and when BB-8 is placed in its cradle the head adjust automatically to face forward, acknowledging that charging has started and just plain looking cool.
BB-8 by Sphero is launching on Force Friday, September 4th for those who haven't been paying attention to every little thing in the Star Wars Universe, for $149. Everything you need to know about grabbing one of these for yourself can be found over at the Sphero site.
Sign up for Black Friday email alerts!
Get the hottest deals available in your inbox plus news, reviews, opinion, analysis and more from the Android Central team.