Barnes & Noble stores to be first Angry Birds 'magic place,' exclusive to the Nook Color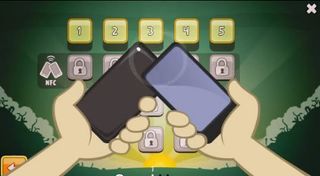 If you happen to have a Nook Color and love Angry Birds, you're in for a treat. Rovio and Barnes & Noble have teamed up and made B&N stores the very first "magic location" for the Angry Birds game. All you have to do is play Angry Birds (the official Nook Color edition -- hackers with the Android Market version can't join the fun) while inside one of the 700 plus B&N stores and you'll unlock the Mighty Eagle character for free. If you don't have a Nook Color, or aren't using the Nook Angry Birds app, you can still check it out and the Nook Color display at any B&N location.
It's part of Rovio's magic places based gameplay, which uses NFC, GPS, and Wifi location to unlock in-game content. They have more planned, including an NFC phone fist-bump ritual that will unlock new levels. To help understand it all a little better, check out the interview with Ramine Darabiha, product manager for Angry Birds Magic and the full press release after the break.
Source: BusinessWire; More: GigaOm
Exclusively Unlock Free Mighty Eagle Character for In-Store Game Play Only on Angry Birds for NOOK Color Reader's Tablet™
More than 700 Barnes & Noble Stores are First Official Real-World Locations Adding New Elements to World's Bestselling Angry Birds Game
Experience the Bestselling Angry Birds NOOK App™ and Shop for New Themed Toys and Games at Barnes & Noble Stores
NEW YORK--(BUSINESS WIRE)--The Angry Birds' Mighty Eagle has landed at Barnes & Noble stores today, exclusively for NOOK Color customers. Barnes & Noble, Inc. (NYSE: BKS), the world's largest bookseller, announced that its more than 700 bookstores across the country are the first official Angry Birds "Magic Places," offering NOOK Color customers the ability to add a new fun, physical element to their Angry Birds gameplay in-store this summer. Beginning today, NOOK Color customers with the bestselling Angry Birds NOOK App can, for the first time ever, exclusively add the Mighty Eagle character to their arsenal at no cost when playing the game in a Barnes & Noble bookstore. Store visitors will also find an array of Angry Bird-themed games, toys and merchandise, and in the coming days, free Angry Birds stickers and temporary tattoos, while supplies last.
Barnes & Noble worked closely with Rovio, the creator of the global blockbuster, Angry Birds, to offer the first-ever exclusive "Magic Place" experience to NOOK Color customers and make Barnes & Noble stores the first real-world locations where Angry Birds fans can magically receive in-game rewards and unlockables. In-store NOOK Color devices with the Angry Birds NOOK App ($2.99) connect automatically to the fast and free Wi-Fi® to unlock the Mighty Eagle character at no cost. While playing Angry Birds on NOOK Color in a Barnes & Noble store, customers can use the Mighty Eagle to overcome challenging levels and earn Eagle Score points. Game play on a NOOK Color is fun and immersive as players dish out revenge to the green pigs who threaten the survival of the Angry Birds, all using NOOK Color's stunning 7-inch color touchscreen.
"We are thrilled to partner with Rovio to bring NOOK Color customers in Barnes & Noble stores an exciting, seamless experience featuring the number one game in the world," said Jamie Iannone, President of Digital Products, Barnes & Noble. "We've already experienced great success with NOOK Apps and Angry Birds as our bestseller, and believe NOOK Color customers will enjoy being the first in the world to access Angry Birds 'Magic Places.' We invite all Angry Birds fans to visit our in-store NOOK Boutiques to try this fun experience on one of our many NOOK Color demonstration units."
"We're very glad to make Angry Birds available for NOOK Color and bring the game to another successful platform" said Peter Vesterbacka, Mighty Eagle and Chief Marketing Officer at Rovio. "Most importantly, we're super excited to take the first step towards taking Angry Birds to physical locations around the world. We're proud to partner with Barnes & Noble in introducing the first Angry Birds 'Magic Places' in the world: by visiting Barnes & Noble stores, Angry Birds fans with NOOK Color will be able to unlock new fun experiences -- for free!"
Angry Birds, along with many other high-quality, popular NOOK Apps, are available to NOOK Color customers to enjoy on the highly acclaimed, bestselling Reader's Tablet. NOOK Color customers can also read everything – books, magazines, children's books and more – in rich, beautiful color on the device, from Barnes & Noble's expansive digital bookstore of more than 2 million titles. NOOK Color also features built-in email, an enhanced Web browsing experience and more. Learn more about NOOK Color at www.nookcolor.com.
About NOOK™ from Barnes & Noble
Barnes & Noble's NOOK brand of eReading products makes it easy to read what you love, anywhere you like™ with a fun, easy-to-use and immersive digital reading experience. With NOOK, customers gain access to Barnes & Noble's expansive NOOK Bookstore™ of more than two million digital titles, and the ability to enjoy content across a wide array of popular devices. The award-winning NOOK Color™ Reader's Tablet™, the best-value on the tablet market ($249), features a stunning 7-inch VividView™ Color Touchscreen to read all of the content you love, shop popular apps, connect via email, browse the Web and more. The All-New NOOK ($139), the Simple Touch Reader™, is the easiest-to-use 6-inch touch reader, with the longest battery life of any eReader. In Barnes & Noble stores, NOOK owners can access free Wi-Fi connectivity, enjoy the Read In Store™ feature to read NOOK Books™ for free, and the More In Store™ program, which offers free, exclusive content and special promotions. Barnes & Noble was the first company to offer digital lending for a wide selection of books through its LendMe® technology, available through NOOK eReading products. Find NOOK devices in Barnes & Noble stores and online at www.BN.com, as well as at Best Buy, Walmart, Staples and Books-A-Million.
In addition to NOOK devices, Barnes & Noble makes it easy for customers to enjoy any book, anytime, anywhere with its free line of NOOK software, available atwww.bn.com/freenookapps. Customers can use Barnes & Noble's free eReading software to access and read books from their personal Barnes & Noble digital library on devices including iPad™, iPhone®, iPod touch®, Android™ smartphones and tablets BlackBerry®, PC and Mac®. Lifetime Library™ helps ensure that Barnes & Noble customers will always be able to access their digital libraries on NOOK products and software-enabled devices and BN.com. Barnes & Noble also offers NOOK Study™ (www.nookstudy.com), an innovative study platform and software solution for higher education, NOOK Kids™ (www.nookkids.com), a collection of digital picture and chapter books for children, and NOOK Books en español™(http://www.barnesandnoble.com/ebooksenespanol), the first-ever Spanish language digital bookstore in the United States.
For more information on NOOK devices and eReading software, updates, new NOOK Book releases, Free Friday™ NOOK Books and more, follow us on www.twitter.com/ebooksbn and www.facebook.com/nookbn.
ABOUT BARNES & NOBLE, INC.
Barnes & Noble, Inc. (NYSE:BKS), the world's largest bookseller and a Fortune 500 company, operates 705 bookstores in 50 states. Barnes & Noble College Booksellers, LLC, a wholly-owned subsidiary of Barnes & Noble, also operates 636 college bookstores serving nearly 4 million students and faculty members at colleges and universities across the United States. Barnes & Noble conducts its online business through Barnes & Noble.com (www.bn.com), one of the Web's largest e-commerce sites, which also features more than two million titles in its NOOK Bookstore™ (www.bn.com/ebooks). Through Barnes & Noble's NOOK™ eReading product offering, customers can buy and read eBooks on the widest range of platforms, including NOOK eBook Readers, devices from partner companies, and hundreds of the most popular mobile and computing devices using free NOOK software.
General information on Barnes & Noble, Inc. can be obtained via the Internet by visiting the company's corporate website: www.barnesandnobleinc.com.
The All-New NOOK™, The Simple Touch Reader™, NOOK™, NOOK 1st Edition™, NOOK Wi-Fi 1st Edition™, NOOK Color™, Reader's Tablet™, Fast Page™, NOOK Books™, NOOK Bookstore™, NOOK Newsstand™, PubIt!™, NOOK Kids™, Read In Store™, More In Store™, NOOK Friends™, LendMe®, NOOK Library™, NOOK Boutiques™, The Barnes & Noble Promise™, NOOK Books en español™, NOOK Study™, Free Friday™, Lifetime Library™ and Read What You Love. Anywhere You Like™ are trademarks of Barnes & Noble, Inc. Other trademarks referenced in this release are the property of their respective owners.
Follow Barnes & Noble on Twitter (www.bn.com/twitter), Facebook (http://www.facebook.com/barnesandnoble) and YouTube (http://www.youtube.com/user/bnstudio).
Get the Android Central Newsletter
Instant access to breaking news, the hottest reviews, great deals and helpful tips.
Senior Editor — Google Ecosystem
Jerry is an amateur woodworker and struggling shade tree mechanic. There's nothing he can't take apart, but many things he can't reassemble. You'll find him writing and speaking his loud opinion on Android Central and occasionally on Twitter.