WhatsApp clarifies its new policy update, says users' privacy won't be affected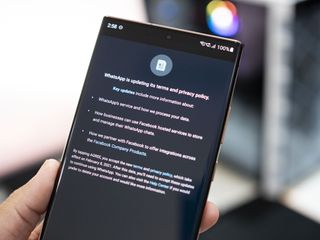 (Image credit: Harish Jonnalagadda / Android Central)
What you need to know
WhatsApp has updated the FAQ page on its website to address concerns regarding its new privacy policy update.
The Facebook-owned messaging app says the policy update does not affect the privacy of its users in any way.
The only changes included in the policy update are apparently related to messaging a business on WhatsApp, which is an optional feature.
Earlier this month, WhatsApp updated its privacy policy, requiring users to share data with Facebook to continue using the app. Unsurprisingly, the policy hasn't gone down well with users, and many have started switching to alternatives such as Signal and Telegram. WhatsApp has now updated the FAQ page on its website to dispel "some of the rumors going around."
WhatsApp claims the policy update will not affect the privacy of your messages with friends or family in any way. Since personal messages are protected by end-to-end encryption, neither WhatsApp nor Facebook can read your messages or see your shared location. Instead, the new policy update only includes changes related to messaging a business, a feature that is optional.
If you choose to use WhatsApp's commerce features, your shopping activity could be used to personalize your experience and the ads that are shown to you on Facebook and Instagram. Facebook may also use the way you interact with ads that have a button to message a business using WhatsApp to personalize the ads you see.
Disappointingly, however, the statements posted on the company's FAQ page contradict the terms of its latest privacy policy. As we reported last week, WhatsApp will be sharing personal information such as your profile name, profile picture, IP address, phone number, contacts list, app logs, as well as status messages with Facebook and its companies.
If you do not want Facebook to access any of your WhatsApp, the only option is to switch to a different messaging app. The two of the best options to consider right now are Signal and Telegram. While Telegram isn't nearly as secure as WhatsApp, Signal offers pretty much all the features that make WhatsApp so popular – including the same end-to-end encryption protocol.
It's Facebook; there is NO privacy. And their clarification is pretty muddy.

Anything Zuckerberg touches is stealing your data and selling it.
Companies he owns have been caught too many times stealing data even though they claim not to.

I'm getting most of my circle of contacts onto Signal. That's what I've been using.

It is what it is and nobody is bothered enough to go to all the trouble of getting their entire social circle to change onto other apps after all these years.

My international friends use WhatsApp, my nerdier friends use Telegram, my paranoid friends use Signal, my iPhone friends use iMessage and my nerdy Android friends in the US use Android Messages for RCS (5 total so I that is the fewest of all the groups). Messaging unification...
Android Central Newsletter
Thank you for signing up to Android Central. You will receive a verification email shortly.
There was a problem. Please refresh the page and try again.