What regional carriers are available in the U.S.?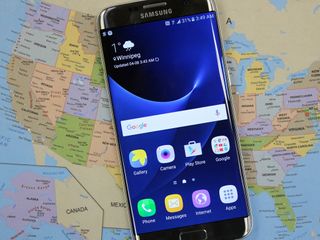 AT&T, Verizon, T-Mobile, and Sprint are the big dogs in the wireless carrier market, but there's a plethora of regional carriers that may have plans to better suit your needs.
Most of the carriers we'll talk about don't provide national service, but you'll still receive coverage if you wander outside the serviceable areas, since regional carriers will piggyback on other carriers' networks.
Here's a rundown of the biggest regional carriers in the U.S.
U.S. Cellular
U.S. Cellular was formed in 1983 and is headquartered in Chicago. They serve 4.8 million customers, which makes them the fifth largest wireless carrier in the U.S.
Where can I get it?
They service 23 states:
California
Illinois
Indiana
Iowa
Kansas
Maine
Maryland
Minnesota
Missouri
Nebraska
New Hampshire
North Carolina
Oklahoma
Oregon
Pennsylvania
South Carolina
Tennessee
Texas
Vermont
Virginia
Washington
West Virginia
Wisconsin
How much?
All U.S. Cellular plans (excluding prepaid ones) include unlimited talk and text, and typically start around $60 per month, dependant on whether or not you're buying a phone through them.
Which phones do they offer?
U.S. Cellular has all the big name phones you'd expect, like the Galaxy S7, LG G5, iPhone SE, and more. They've even got affordable options, like the Kyocera DuraForce.
Anything else I should know?
U.S. Cellular has really limited 4G/LTE coverage, so if you're not in Kansas, Missouri, Nebraska, Iowa, Wisconsin, Oklahoma or the western region of Illinois, you're not getting much more than 3G.
C Spire
C Spire was founded in 1988 and is the largest privately held wireless communications provider in the U.S.
Where can I get it?
C Spire services the Memphis metropolitan area, Mississippi, Alabama, and the Florida Panhandle.
How much?
C Spire has a wide variety of plans available for both individuals and families, which start at around $40 per month and include plans where you can share your monthly data on up to 10 devices.
Which phones do they offer?
C Spire is totally up-to-date with their device selection, offering the Galaxy S7, iPhone SE, and other big name brands.
Anything else I should know?
Their voice coverage is pretty extensive, nation-wide, but their LTE coverage gets sparse as you head west of Kansas, so if you're headed on a trip to Montana, prepare for a little 3G slowdown.
nTelos
Formed in 1997, nTelos is based in Waynesboro, Virginia and will soon be acquired by Shentel, a Sprint affiliate.
Where can I get it?
nTelos operates in a fairly small section of the U.S., servicing Virginia, portions of West Virginia, Maryland, Ohio, Kentucky, and North Carolina.
How much?
All nTelos wireless plans come with unlimited talk and text and 500MB of data and plans start around $60 per month.
Which phones do they offer?
nTelos is a little behind the times, as the Galaxy S6 Edge is the most current Android phone they offer. They'll probably update once the acquisition is finished, but for now, you'll have to settle for last gen stuff.
Anything else I should know?
Though they service around 300 thousand people, nTelos piggybacks off of Sprint's network, so your 4G/LTE coverage will probably be spotty at best.
GCI Wireless
Founded in 1979, GCI provides cable TV, internet, networking, and cellular service to Alaska.
Where can I get it?
Alaska, but really more like Anchorage and Fairbanks.
How much?
Plans start around $30, per month, plus a monthly installment for whichever phone you choose (starting for free, but they're old phones).
Anything else I should know?
LTE coverage in the contiguous U.S. isn't great, but if you're in the East/Southeast, you've got pretty solid LTE throughout.
If you're trying to build a plan on their website, every time you click "Add Selections" it sends that selection to your cart. So, when it seems like nothing's happening when you click, check your cart in the top right of your screen and your choice should be there.
Get the Android Central Newsletter
Instant access to breaking news, the hottest reviews, great deals and helpful tips.
Mick is a writer and duty editor for Android Central. When he's not on the job, he can usually be found vacuuming up pet hair or trying to convince his wife that he needs more guitars.