Verizon brings Android Oreo to the Pixel before Google rolls it out widely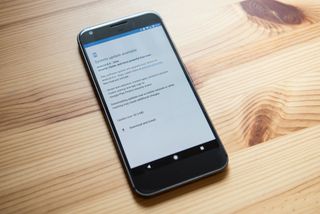 Android 8.0 Oreo became officially official last week, with a stable version of the software rolling out to users of the developer preview build. It seems the time has now come for users that were on Nougat to begin receiving the update aws well.
Verizon has begun rolling (opens in new tab) out Oreo (opens in new tab) to Pixel owners. As usual, Big Red recommends having the device connected to WiFi and making sure the battery is charged before downloading the update. The update pages highlight Oreo features such as Picture-in-Picture, notification improvements, better password manager integration and always-on display support. This is in addition to background changes such as improved security and (maybe, someday) better Bluetooth support.
There was a good bit of concern last year when Verizon was announced as a launch partner that they would delay updates for no good reason, like back in the Galaxy Nexus days. After a year of delivering security updates and a major OS update without delay, I think it's safe to put those fears to rest.
Have you received the Oreo update yet? Let us know down below!
Android Central Newsletter
Get instant access to breaking news, the hottest reviews, great deals and helpful tips
I just got it and I'm on Rogers in Canada! :D

Carriers are supposed to be slow and Verizon is the slowest.

Yeah, everyone said Google was delusional when they went with Verizon. Now they are eating crow. Oh , and a couple people who work here.

To be fair, when people were losing their minds over that, it hadn't yet been confirmed by either Google or Verizon that Verizon would be taking a hands-off approach with the software for the VZW Pixel. At the time, considering the VZW GNex dumpster fire, it was a pretty valid concern. Most people settled down once it was confirmed.

You must be on sprint poor fella

Sprint may be bad for you, but that doesn't mean it is for everybody there guy...

I'm not on Sprint.. Tell me rephrase for you. All carriers suck.

I am guessing Google waits for them. I'd imagine all the carriers have to approve the updates or some part of them since the phones will be working on their bands.

Exactly what Apple does with iOS, only they don't talk about it.

I just got it too, on Telus in Canada, downloading 980MB...

Got it about an hour ago. Need to study and play with it some. Way too early to tell if it's "better," at least for me. Oh, VZW in the U.S. on a Pixel purchased from Verizon. Did not do the Beta program

I'm on Verizon and I got the update. I got my phone from Google.

Just got it on my Pixel C and Nexus 5x

I'm still on the beta on my Nexus 6p. Thought they were rolling it out to beta users first.

I am on Kodoo and got it the day it was released.

Had you installed the beta?

Oreo for the 6p is now available on the OTA images site, but it specifies that the image is not for TMO/USCC/Fi.

So does that mean that those of us with T-Mobile aren't recommended to download that OTA file?

That's stupid. I'm on project do on the beta is Oreo and have a 6p. Google is such a let down.

Well, the 013 image "Not for TMO/USCC/Fi" seems to work well on T-Mobile.

Please do a factory reset as soon as phone reboots from doing upgrade. If not, don't come here and complain because you have issues.

Say what!? I understand this being necessary for Betas but no way Google can ask this of regular users, that is a huge hassle. It takes me days to get everything working the way I like it after I switch phones... Google next priority should be to make this process simpler...

Agree, but always a good idea. At least try clearing cache partition first.

It was actually quite easy with my Pixel 6p. All of the apps are backed up including icons, etc and really the only thing I am waiting on now is for them to install. It's MUCH easier if you have everything backed up through the cloud on your Google account. It's very close to iPhone's restore.

Pretty crappy OS if you need to do a factory reset every time there is an update.

Hmmmm, apparently you don't understand linux

Linux is just a kernel, and kernel upgrades don't tend to require updating the rest of the OS (and definitely doesn't require reinstalling the apps).

I have to do the same thing with my 7 Plus, Patiently waiting for my Note8 to arrive 😊👍🏾

I have an iPhone and millions of others do as well and there is no reason why iPhone users don't need to do a factory reset but Android users do. Shut the hell up because you don't know what your talking about.

Received Oreo on my Pixel XL at 6:30pmEDT, on Sprint, purchased through Google, so the rollout is likely nothing special for Verizon.

It's special because it's Verizon.

Got it. Love it. Enjoying the new 'night light' feature as I write this.

Night light was a feature introduced in nougat

Also getting it now on my backup 5X, previously on Sprint but only on wifi since getting my Pixel XL last year. Again,it's not carrier dependent.

Verizon also upgraded the Moto z2 Force with the August security updates today.

Got the August security patch on my Verizon s8+ as well.

I just received it on my Nexus 6p on AT&T as well.

Got it. Cincy, OH. Pixel. Verizon.

I received OREO from my local Food Lion

Hardy har harrr da durpa durrrrrrrr ... funny stuff...

Funny stuff. But was it Double Stuf?

I can't believe Verizon is actually pushing an update in a timely manner... I was one of those unfortunate souls who trusted them and bought the Galaxy Nexus. I caved and bought the Pixel through Verizon only because it was only 15 a month for the 128GB version. To say I am pleased Verizon is updating the pixel quickly is an understatement! Finally, they have done something I truly appreciate! I hope Verizon has finally learned what their customers want and will become an example to other carriers on pushing out updates quickly. (yeah, I can dream! LOL)

You don't remember Verizon getting praise for updating their GS7 earlier than the unlocked version? It was less than 6 months ago.

Didn't EVERYONE update the GS7 earlier than the unlocked version? Not to take anything away from Verizon's performance there, but the international GS7's update situation was horrible.

If you can't believe it then you've been paying too much attention to certain writers here and not enough to what's been going on in reality

It's available already from Google, the wait is over guys. Verizon just beat Google to the announcement, they got their version because Google has the OTA ready for download, for the rest of us NOT in Verizon.

I got it today Verizon. Let's see how it goes

Google should sue Verizon for releasing their software before themselves. Unless Google gave them permission ahead of time, which doesn't sound like something Google would do. They take pride in their software and want to be the first to show it off. It sounds like someone at big red made a mistake and pushed the release button too soon.

Yeaaahhhh!!!!!! Those darn dirty heathens, they should fry for this!!!! We can't let them get away with this!!!!! How dare they be first with things and such!!!! Break out the torches and pitchforks, it's gonna be a long night.... Let's get em, boys and girls!!!! Cue the angry mob music... Must. Defend. The Google. Verizon is the devil. /s

LOL. Google did release Oreo before Verizon. It was to beta testers and those willing to download the OTA from a webpage, but that's still first.

Your answer to a quicker carrier rollout of an update is to SUE?! Pure idiocy. Putting another impediment to receiving timely updates is the opposite message from what Google would want.

It's just a one off probably... At least with Google u are usually guaranteed to get it within a few weeks

The OTAs are on the Google site as well.
https://developers.google.com/android/ota Haven't received anything on my Nexus 5X yet (it wasn't part of the beta).

Got it on day one with my UK Pixel XL. But I was Beta.

Received 8.0 on my Pixel C today.

I'm surprised as hell that this is being released by OTA to anyone outside the Beta Program, given the bluetooth issues that remain unfixed. There are hundreds of unaddressed reports on the user forums. I was able to do a quasi-workaround to enable media playback over bluetooth in my car, but every time I make or receive a phone call, I have to reboot the phone to get functionality back. This is a minor problem compared to most. https://productforums.google.com/forum/#!topic/phone-by-google/iJeDphsoO...

There may be "hundreds of unaddressed reports", but about how many are unique?

Out of over 300, at least 250 are unique.

I'm on Verizon in the US and my Pixel just upgraded. Haven't had too much time e to play with it yet. However I already noticed one this that I was hoping for. The 8.0 update fixed a distorted speaker issue I had before. The problem must have been from a firmware issue.

Tbh, Verizon's been on its game with carrier updates for a while now that it's starting to become just...a thing. Like, they update most of their current lineup including last year's devices with security patches almost monthly, and they haven't really been holding back major OS updates any more than the actual manufacturer. Hopefully this keep this going and they get better at it so one day we live in a world where this is just the norm rather than a surprise.

Yeah, it's AT&T and T-Mo that we should be yelling at at this point. Verizon has, at least for the last year or so, had its [redacted] pretty much together regarding flagship device updates. ...relative to other carriers, that is.

My phone said it checked at 7:30 AM and nothing. At 10:45 I checked and it's downloading now. Verizon Pixel XL.

Been checking on and off the last couple days. Updated to Oreo this morning, on my "Pixel purchased through Verizon" (TM).
Android Central Newsletter
Get instant access to breaking news, the hottest reviews, great deals and helpful tips
Thank you for signing up to Android Central. You will receive a verification email shortly.
There was a problem. Please refresh the page and try again.