Android Nougat: Everything you need to know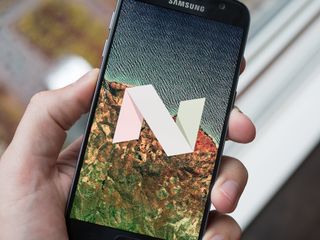 Android Nougat is Google's way of refining what we already have and adding some essential features to an operating system they were already happy with.
The past two years have shown us how Google was shifting its design language on the phones it sells itself and the apps and services that come on your phone. Android itself has followed this trend, and with Marshmallow, we saw a flat but bold design that tied everything together.
Android Nougat doesn't make major changes to the way your phone looks or the way it "feels", but what Google has done under the hood brings some new features — and much-needed polish — to our favorite smartphone operating system.
Android Nougat makes updates faster and easier
When it's time for your phone or tablet to get updated, you won't have to do anything. While you're doing the things you normally do all the hard work is done in the background — very similar to the upgrade experience on Chrome OS. The only thing you need to do is restart your phone to finish things up.
Here's Google's succinct explanation of the situation:
Changes to what's called the run-time compiler also mean that you won't have to wait as long while all your apps are optimizing once you do restart — we've all been there watching an "Optimizing ..." screen for 30 minutes after an OTA update.
More: Seamless updates come to Android in version 7.0
Multi-window multitasking
Sometimes when you're doing two things at once it's handy to be able to see them both at the same time. That's what Multi-window is: more than one "window" on your phone's screen.
We've seen a similar feature with the same name from Samsung (and to a lesser extent LG) for a while, but Google has built things in a way that any app will just work, without the developer — or you — doing anything special. The screen will be split 50/50 by default, and it's quick to pull up different apps on the top and bottom on a phone or left and right on a tablet.
For devices with larger screens, there's also a freeform mode that lets you change a window's size and picture-in-picture mode is supported for apps running on Android TV.
More: Multi-window is now for everyone
Even better notifications
With Android Nougat, you can reply to your notifications directly from their spot in the tray. You won't have to open the app or install anything extra, either. Once the folks who built your app support the feature, it will just work.
Don't worry, though. When you need to see more or do more than just send a quick reply, you can still tap the notification to open an app and see everything. And with the better bundling of multiple notifications from the same app, you'll be able to tell when you need to see everything even easier.
More: Understanding notification changes in Android Nougat
Your phone will feel faster and use less battery
Google's "Project Doze" — its code name for ways to have your phone use less battery while it's not in your hands with the screen on — that was introduced with Marshmallow has gotten a major update in Nougat. While it previously worked great while the phone was sitting still and not plugged in, now it works while it's in your pocket or purse. How it does it hasn't changed much; once your phone's screen has been off for a while, it stops doing things in the background all the time and instead uses what Google calls "windows" to check for new messages or do things like update your location.
Better ways to manage memory and when (and how) apps can run in the background (Google's "Project Svelte") mean that you won't have as much unnecessary stuff happening when you weren't expecting it to happen. By only allowing things that you really need to run, your phone will perform better and use less battery.
More: Android 7.0 improvements in performance and battery efficiency
Using less mobile data
Overage charges from your phone company suck. With Android Nougat new tools can help keep them from happening.
When you're on a metered connection (one that's not unlimited) — cellular or Wi-Fi — the new Data Saver setting can block background random data usage and restrict things like checking for tweets or emails so that your phone uses less data.
You can tell Data Saver to ignore certain apps, and while it's active you'll have an icon in your notifications to let you know what's up.
More: Data Saver goes above and beyond to help keep bills down
More human emoji
In addition to 72 new glyphs, Android 7.0 has over 1,500 emoji, many of which have been revamped to look a bit more.... human. Traditionally, Android emoji have been cartoony, which has encouraged other manufacturers like Samsung and LG to write their own.
More: Nougat changes Android's emoji to look like people
Improved security
Keeping your data private and personal is important. New features in Android Nougat make things even more secure.
When you start your phone, some apps are able to partially work before you sign in with your password or PIN. Things like the actual phone app or your text messages can still come in, your alarm will still work and any accessibility features needed to better interact with your phone can still run. Other apps and their data will remain unavailable and/or encrypted.
Once you sign in, everything will work normally.
This feature helps keep your data safe if your phone gets lost or stolen, and synergizes well with the remote features of Android Device Manager.
More: What is Direct Boot in Android Nougat?
With Android Nougat, you can give an app access to a certain folder (like your picture library) without letting it have access to all of your external (SD card) storage.
Only granting permission to the folders an app needs to function is the best practice when it comes to security. Scoped directories do just that.
More: Developer documentation on scoped directories
For apps targeted for Android Nougat, the geolocation API is allowed over secure origins (over HTTPS.) This policy is designed to protect users' private information when they're using an insecure connection.
Android For Work
If you use your personal Android phone on the job through a managed system, changes are coming.
For us, things will mostly look and act the same — but better tools and easier ways to set things up mean your IT guy might not be so busy (or so grumpy) and everyone's information will be safer and more secure.
The things we could see, like not being able to use an app we love on company time or being forced to a certain network, depend on what your company needs and how they have things set up. Be sure to go over any questions with your hopefully less-grumpy IT guy if you have them.
Language and locale
If you have your phone set to a specific region — let's say the French-speaking portion of Switzerland — your phone will now try to use a similar region setting if it can't find a specific match. In our example, that means an app can display text and numerical data for standard French instead of just using the default language settings if Swiss localization wasn't included.
You can also select multiple languages (or regionalizations of the same language) in an order of importance — if an app you're using is localized for multiple languages you'll see your top pick — if it's set up for one but not all of your languages, it'll pick the highest one it can.
More: Android Nougat is a big deal for bilingual smartphone users
Android TV recording and Picture-in-Picture
Basic DVR functionality is coming to Android TV with 7.0. Besides basic controls like Play or Rewind, you'll be able to save multiple sessions. This means you can schedule recordings or record as you watch. With Picture-in-picture support you'll also be able to go into the settings to schedule a recording without missing any of your show.
This should be a great feature for Televisions that come with Android TV installed.
More: TV recording and picture-in-picture come to Android TV
New accessibility features
Not all of us are the same and have the same needs. Better accessibility features in Android Nougat make it easier for everyone to be able to use their phone.
New ways of zooming in on what you see on your screen or adjusting the size of text make a big difference for folks who need them and bringing accessibility features like TalkBack and a custom display resolution to the initial setup process means it's easier to get started, too.
More: Understanding new accessibility features in Nougat
New features in Android 7.1
Android 7.0 ushered in all the above features. Android 7.1, which shipped with the Google Pixel phones and subsequently came to the Nexus lineup, brings a couple of interesting new tidbits to the fore.
In particular, users can take advantage of rounded icons on the Pixel Launcher home screen, along with app shortcuts. And Android 7.1.1 adds support for so-called Image Keyboards — things like GIF keyboards — which are very fun and quite useful.
How to install Android 7.1 on your Pixel or Nexus right now
This post was originally published in August 2016. It was updated in January 2017 with information about Android 7.1.1.
Android Central Newsletter
Get instant access to breaking news, the hottest reviews, great deals and helpful tips
Senior Editor — Google Ecosystem
Jerry is an amateur woodworker and struggling shade tree mechanic. There's nothing he can't take apart, but many things he can't reassemble. You'll find him writing and speaking his loud opinion on Android Central and occasionally on Twitter.
Where's Allo? Lol Posted via the Android Central App

Right that's all I want idc about Android N Posted via my LG G4

Same Posted via Android Central App

Yeah since I have to wait till next year for Android N all I care about is getting Google Allo and it's ******* me off that it's taking so long to release and that I can't even beta test it like some have. Posted via the Android Central App

I met a Google employee who had it on the her phone. She said it was working fine. It was an iPhone though.

Still no dark theme then? Google really do make a half arsed job of pretending to care about accessibility... Posted via the Android Central App

It is present. It's just a bit hidden. Once you pull down the top and see all the things like "flashlight" in the bottom right you'll see edit. It's in there.

Thank you for the shout-out from a Swiss French user, Jerry!

Wow. I actually read all that and could understand it.
I've cancelled my order for the hardback manual. Nice progressive steps I guess.
Only marginally excited, but those will be useful. Is it hardware hungry and a storage thief. We'll find out. Thanks, Jerry.

Better than Pokemon Central. At least Nougat is relevant to Android.

http://media.tenor.co/images/9dac8192b4b475477730e2e00bbcabef/raw

Stop Posted via the Android Central App

Well Nougat is Android so it should be expected..

Night mode stayed I see. Wonder if back on Nexus 9? Mine is at home so can't confirm. Posted via the Android Central App

Is that similar to the blue light filter that reduces eye strain?

I still have the dark theme on both my 6P and Pixel. No Allo.

So the dark theme is there? Good to know... I may have to retract my previous statement. Does it extend to notifications? Posted via the Android Central App

Hey Jerry, I bought my 6p in May and put N DP3 on right out of the box. I've never done a factory reset. Once I get today's OTA installed would it be recommended to do a factory reset? Posted via the Android Central App

You shouldn't need to its not that old at all Posted via my LG G4

You shouldn't have to BUT I'm going to just to be safe. Posted via the Android Central App

I got Nougat through the Android Beta program and I don't have the New App Drawer... I have a Nexus 6P Posted via the Android Central App

It'll release when the new Nexus phones drop Posted via the Android Central App

I was hoping that xposed would be mentioned after seeing "everything" in the title...

Still don't see anything enticing in Nougat... ...luvin my s7 edge

Lol that's because what 7.0 brings, all of us who DON'T use Nexus devices have had for years.
Quick toggles on the notification tray, battery saving options, split screen... None of that is new. Sony, LG, Samsung... All of them already did one or two or all those things ;) And that's why I hate stock Android. Posted via the Android Central App

I agree, samesung has implemented most of these features but there's a lot of pros to using stock android, unless you dont mind the bloatware and themes. The good thing is now app can implement these features into the stock OS so its less work the software has to do. I do find it very odd that quick reply has been around for almost 10 years(FIrst iPhone jailbreak apps) and its just now being implemented into the OS.. shame... shame

I don't have bloatware on my s7 edge. The two items that I don't use Skype and WhatsApp and they hold 0 bytes on the phone. Any bloatware that is preinstalled on my Rogers version actually had to be fully downloaded in able to be used including Rogers apps. I'm reality other than icons in my disabled menu, imo there is no bloatware for me. ...luvin my s7 edge

I don't hate stock Android. But after getting all the extra goodies in Touchwiz (my OEM), I was shocked at how limited stock was. Stock Android is somewhat like a Ferrari Enzo in tech terms. The purists of the Enzo love the power simplicity, light weight, and no-nonsense nature of a car with crank windows and no radio. Once I got a Note it was a little like upgrading to a LaFerrari. A little heavier and more complex, but loaded to the gills with all the bells and whistles, electronics, plus ridiculous performance. Far better than stock IMO. But, I can respect the "simplicity" mindset too.

This! Exactly, nothing new here... move along, move along. Ha!

I thought existing phones wouldn't get the double partition system updates thing?

Did anybody bring up this new look while installing updates? I kinda miss the little android. Posted via the Android Central App

Seems like the same song and dance every year, "no major changes, just polishing current features". I guess that's great and all considering Android set the bar for new features. Apple releases a phone with new features for them and old Android features for everyone else. Maybe there just isn't that much more left to do?

There's a lot you can still do on Android but Google is NEVER the motor of that innovation. OEMs are. Google just ends up picking some things up and eventually puts them unto the OS. Posted via the Android Central App

Hey. At least Google is willing to watch what the OEMs do and not be so hard headed that they won't incorporate the useful and productive features in. It's one of the benefits of the dreaded "fragmentation" of Android. While OEMs are "throwing all this shizzle against the wall", Google is wise to see what really sticks and bake it in to a future release.

So what are you lookng for? Any suggestions?

Going by the pictures on the promo page, it looks like the app drawer is still here. At least for now :p Posted via the Android Central App

Glitches.. when replying using quick reply from a pop down notification if your typing and another alert comes in it'll glitch and mess up the message, sometimes taking you out.. I don't know how something like this wasn't rectified with the final release Posted via the Android Central App

Is it just us Brits that pronounce it Noo-gar ...? Anyway - looking forward to the update to my 6P, it'll be good to finally get split-screen functionality.

It's actually the French pronunciation that I think we have borrowed from them, so it's not actually British English!!!

Well, with this feature list, LG can take it's time. The security improvements and Project Doze will be beneficial, but not so much that I want it now. Posted via the Android Central App

When is going to release for note 7? Any news about it?

It will come with a brand new Note 8

That's one creepy name right there!

I hope there is a way to completely disable Doze.

Is anyone else now getting multiple Bluetooth icons on the status bar after the Android N update? I tried turning the Bluetooth icon off and it would only get rid of one of the icon and the duplicates would remain. Is anybody else experiencing this and how do I fix this.

Multiwindow! OMG, OMG! Hold on a minute. We don't need or want that. It's just bloat. Google needs to cut these worthless features that nobody uses out. :-o Well, at least that's what I've read about the much maligned Touchwiz year after year from tech bloggers and posters. Hehe. It's hilarious to see Google embrace more of the things that Samsung has brought to the platform, while being constantly attacked by the purists. Yet, he we go again ... all of a sudden when Nexus phones get multi-window it will be integrated into the PURE Google experience. Funny how those mindsets / needs / wants instantly change when good Samsung features get baked into Android. Reminds me of Apple fanboys and their awesome large screen phones. :-D I personally loved my first Nexus phone, which was my first Android phone. I was so glad it wasn't weighted down with all the junk, bloat, and confusion of Touchwiz. After all, I had listened to the experts. Then, I upgraded to a Note b/c of S-Pen. I waited to compromise on Touchwiz for the sake of the stylus and big screen. Soon, I was shocked at all the functionality improvements baked into Touchwiz. I loved stock, but Samsung gave me a ton more goodies and controls. The thing was screaming fast too. Oh, I'm sure if I had ran it on a benchmark against some Nexus the antutu score would have been 13% less or something. Geesh. In a little while I realized that I had been misled by a crowd of fanboys. That was several generations back on Touchwiz too. Now it's much much more unified and streamlined, yet tons of goodies still lurk under the hood. I've never looked back since my first Note. Fool me once ... * Lots of nice upgrades in N, btw. Keep em' coming.

I think the only thing people need to know is despite all the click-bait, no final 7.0 phone images are available.

So the android TV DVR stuff doesn't include the nexus player huh?

Yeah, I want it but I have a N5 lol

Google's "Project Doze".... LOL, came from Windows Phone....had a LG G2, G3 and now a G4... The one thing with battery life on all my phones are a roll of the dice. One week, I am into 5 hours of my day (I have a pebble time, so I watch that for notifications 95% of the time) and I pick up my phone and it's at 95%. and good for a few days, then with no update, no app changes, the same time, I am at 47% battery life. (AND yes, I know about background apps and GPS, tweaks, etc) It's so random, no rhyme or reason for this shift in battery, sometimes yanking the battery helps... some times not. Then charging the phone is a whole different issue. I like wireless charging, I used it on all my LG phones. If the battery is under 10%, it will not charge the phone. Some nights I can go to bed with 40% and wake up to 100%, other nights, I can go to bed with a 50% charge and wake up (I assure you it is correctly on the charger, I double check every night) and it's at 35%... I knew on Windows Phone, drop on the wireless charger, and I WILL have a 100% battery life in the morning, even if my battery is at 2% when I drop it on there. And battery life is the same every day, I knew EXACTLY what to expect, if I played a game or watched a few videos, I knew almost exactly what the cost in life it is. Android is nothing like this and on this end, it's one of the top 3 things most important to a Cell phone of modern days. Maybe 7.0 will fix this screw up, as it's a mess and always has been for me.

Batter battery life? That is a joke. I charged my battery two days ago. (I d0n't waste my life on my phone and don't let apps do crap when I am not looking it at...so I go 4-6 days between charging, while charging when it gets to 20%). With it being on for about 36 hours of very light use...some minor camera use, and checking e-mail) it was still at 85%. Then when it told me Nougat was available, I plugged it in while it was downloading. I only used the USB cable which charges much slower, but still...After it was done, I left it plugged into my computer as it slowly trickled to 99%. At that point, I stopped looking at it. But it was STILL plugged in, and never once was the screen turned on. So..it SHOULD have been in sleep the whole time. 2 hours later...again, having never been picked up at all, or the screen ever turned on, I checked..and with it STILL PLUGGED IN to my computer, it was down to 94%. with an estimated battery time remaining of 1 day and 12 hours. Two days ago if I had done this and checked 2 hours later with it never being on, it would have been at LEAST 5 days estimated time remaining. Then I noticed that it never once went into deep sleep, which it always did before. Something about Nougat is activating Keep Awake CONSTANTLY. (No new apps were installed...just Nougat.)

It takes roughly a full battery cycle for battery life to settle in after a complete wipe and full OS install. Also, even after updating to the newest version there are all kinds of background (Google Play Services) that sit and update and load. Potentially using extra battery.

Blame your USB port. That thing offers just half the power of a regular charger brick, even worse at 1/4th if you're still using USB 2.0.

Is anyone else wanting an update for the Huawei Acsend G7???

But my S7 does all that with marshmallow

Samsung is the best !!! Best software company in the world.

I don't think Samsung is a software company bhatech .

The only thing I need to know about Nougat....when da fuq is it coming to my phone? 1 year after the launch of the OS? And people wonder why Apple wins.

Blame your phone manufacturer. I own 2 phones and both are on Nougat 7.1.1

Do you know when samsung s7 will release update. Phone is unlocked so can't be to do with network carrier.

Hello - its a different way than Apple. If "day-of-AOSP-source-pushed-to-servers" major version upgrades are so important, why had nexus not "won"?. The world is 85% android of some sort and fractional nexus share. Please go Apple then. How about a used iPhone 6 for about $275. You will still get immediate numerical increases for several years longer. Apple "wins" with mr. average citizen because it is a great general purpose device from a respected brand with fashion sense and traditionally hidden cost in your carrier contract. I don't see why android isn't turned into a rolling release. Just "Android" with a build number in the about box. Never do discrete OS releases, no more dessert names. Nothing for people to complain about as long as they continue monthly patches.

Same here, That's the first thing I need to know. When it is coming to my phone or if I should just get another phone.

Still no update for my Samsung Galaxy s7 it's getting stupid now..

Really what did you expect? It follows the same trend and you will get sometime before March.

Please stop buying Galaxy's and then complaining about late Android base version bump. You are running "Samsung OS", an Android compatible OS based on a recent version of AOSP. How many years have people been complaining about this - its the way it is. Take it or leave it please. Buy the phone for the phone that it is at the time of purchase. Samsung does give regular security updates - that's whats important. If they weren't doing that I'd be mad then.

How about some useful features for business users? Integrated file mgr with drag and drop capability. Built in ability to sync Outlook with contacts and calendar.

everyone should be aware of this prevalent nougat bug with wifi/bluetooth connections: https://productforums.google.com/forum/?utm_medium=email&utm_source=foot...

When will my S7 edge on T-Mo get it?

got it today. i hope it helps my s7edge work better with my entune system in my tacoma. my blackberry z30 never had a problem.

help!!!! I have tried to upgrade my Note 5 into Nugget version, phone keeps rebooting with animation of dead android figure with exclamation mark and then the model name. Tried all the options (e.g. power+ volume down screen stuck on downloading). What to do?

Multi-window multitasking is a capability who's time has come!

I regret doing the upgrade. I have an S7.
Fonts are harder to read
Layouts of sms,contacts and the like are hard to follow
Alerts keep coming up on my lock screen that I have already seen
SOS sms has gone out twice while sitting on my desk
I make more mistakes on this keyboard which has a poorer layout and the predictive text is less so.
I keep getting a message to upgrade my keyboard but the only option given is the one I am already using.
Give me my old phone back!!

White text on white background. What were they thinking ??? I thought I was missing something on my phone. Turns out it's because I can't see white text on a white background. Need to hold phone at a certain angle to try to read certain things.

I regret doing the update. Wish I could go back. I hate what you did to messaging app. I liked having my contacts right there so that all I had to do was press their name or picture. Now I have to search? UGH!

Ever since the update my Wi-Fi keeps switching up every few minutes or so and my Facebook doesn't load or work right at all. It is very frustrating.

I just updated last night both EMUI version to 5.0 and Android to 7.0 on my Huawei P9lite and at a first look it seems to work and look fine.
I tried a few features like multi window multi tasking which works great, eye comfort ( which helps a lot when using the phone in total darkness ) and until now i am happy with this update.
Regarding battery life and other aspects it`s early to pronounce, but i also saw improved battery saving options, for which the future will say if they come with an improvement or not.
Android Central Newsletter
Get instant access to breaking news, the hottest reviews, great deals and helpful tips
Thank you for signing up to Android Central. You will receive a verification email shortly.
There was a problem. Please refresh the page and try again.