Vauxhall gets connected with Android Auto and OnStar for the Adam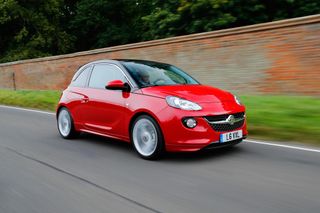 UK car maker, Vauxhall, has announced some of the latest in-car tech additions already available through parent company, GM, are to be added to the Adam small car. It all comes about through the new IntelliLink 4.0 in-car system which will add OnStar cellular connectivity and Android Auto or CarPlay. The price of all this is an extra £495 on top of the price of the car, and gets you some other added bonuses as part of the "Technical Pack."
Android Auto is something of a slow burner, but it's gradually picking up pace. More and more apps are adding support for the vehicle and slowly but surely more of the various car makers around the globe are adding built-in support for Google's system. And importantly, as shown here, it's not just the super expensive cars getting the goodies.
The full press release follows.
Vauxhall has introduced the latest-generation R4.0 IntelliLink system infotainment technology including smartphone integration to its stylish ADAM city car.
Following the introduction of the first-generation award-winning IntelliLink, this update promises to take individualisation even further, with an overview similar to a smartphone menu and the choice of well-known navigation including Apple Maps and Google Maps.
Vauxhall's innovative OnStar is also now available on ADAM SLAM, S and ROCKS models, enabling personal connectivity and a service assistant while also becoming a Wi-Fi hotspot for up to seven mobile devices, even when abroad – with no additional roaming fees.
"The Vauxhall ADAM in all its variants is the perfect example of how much individuality and technology can be packed into a small car. And with the new smartphone-compatible IntelliLink system and Vauxhall OnStar, we boost our successful lifestyle city car onto a higher level," said Stuart Harris, Vauxhall's Head of Car Line Brand.
As usual, all this comes at very affordable prices: the infotainment system IntelliLink R4.0 is available for just £495 as part of the Technical Pack which also includes parking sensors.
The hardware for the personal connectivity and service assistant OnStar is free with ADAM SLAM, S and ROCKS while use of the Wi-Fi Hotspot is free of charge with all variants for the first 12 months following registration. This means private phone accounts are not charged, because those who connect their smartphones to OnStar enjoy free navigation.
IntelliLink R4.0
Praised for its clear seven-inch colour touchscreen, connectivity options via USB and Bluetooth for audio streaming and viewing photographs, videos and films or making a telephone call via the hands-free module – Vauxhall makes the latest generation of its IntelliLink system even more functional. The new IntelliLink R4.0, which made its debut at this year's IAA Frankfurt Motor Show in the Astra, integrates the world of smartphones via Apple CarPlay and Android Auto into the vehicle.
Drivers and passengers simply need devices from Android 5.0 Lollipop and Apple iOS 7.1 (from iPhone 5). It is fast and easy: simply connect the iPhone or Android smartphone to the IntelliLink R4.0 via USB, and the Vauxhall infotainment technology immediately recognises the systems and adapts the smartphone interface to the seven-inch IntelliLink touchscreen.
Drivers can make calls, send and receive messages and listen to music right from the touchscreen or by voice via Siri, when it is safe to do so. Android Auto is built around Google Maps, Google Now and the ability to talk to Google, as well as a growing audio and messaging app ecosystem.
The Google Maps and Apple Maps navigation apps are easy to use: updates are automatically downloaded onto the phone by the respective provider, so the driver always has the latest map data online. Changing the size of the map section on Android Auto is simply done by touching the screen and pinching or zooming accordingly. Another advantage is that smartphone-based systems provide information on traffic conditions in real time along with possible points of interest – including the complete address, opening hours and further details. When a text message from services such as WhatsApp or Skype is received, Android users can have it read out loud to them so they can keep their eyes on the road.
OnStar
Vauxhall OnStar enables stable use of all internet-based services. The personal connectivity and service assistant with its special antenna turns the ADAM into a 4G/LTE Wi-Fi Hotspot. Up to seven mobile devices can be connected to the system at the same time – even abroad. No additional roaming fees are applied.
Vauxhall OnStar offers an all-round carefree package, with services including Automatic Crash Response, 24-hour Roadside and Stolen Vehicle Assistance and Vehicle Diagnostics to name but a few. The myVauxhall smartphone-app allows Vauxhall OnStar users to request help when away from the car, to open or close the car remotely or to access important vehicle data.
Get the Android Central Newsletter
Instant access to breaking news, the hottest reviews, great deals and helpful tips.