Spotify is going to start using targeted advertising for podcasts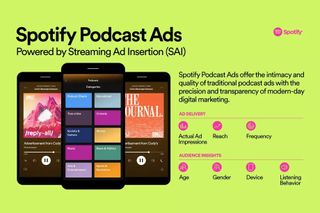 (Image credit: Spotify)
What you need to know
Spotify is going to start using targeted advertising for podcasts.
Streaming Ad Insertion will target ads at podcast listeners based on user data.
That includes age, gender, device and listening behavior.
Spotify is going to start using targeted advertising for podcasts, according to a report from The Verge.
The report notes:
The news means that users listening to the same podcasts will start to hear differents ads, targeted at them based on interests, age, gender, location, and other data points. It is reported that brands that use Spotify's targeted ads will also receive more detailed data in return in comparison to typical podcast ads, and will include how many times listeners heard an ad, reach and anonymous insight.
The Verge notes Spotify's unique position in that it has much more data on its users than most podcast players thanks to what it knows about their music tastes. Up until now, most podcasting advertising has been included within the podcasts themselves, so that companies could insert ads as people listen and track their effectiveness that way. Users who download podcasts on Spotify will not hear targeted ads, as it requires a live server connection.
According to the report, Spotify says that "very few customers" download episodes, and that in the cases where people do download, it will revert to its current method of advertising, which is predetermined.
The report notes that currently advertising to podcast listeners is pretty cloudy, with data coming from lots of different places including surveys, and success is measured in many different ways.
The report further notes:
It could be that offering more targeted podcasting advertising could put Spotify ahead of other networks, with content creators and advertisers likely to be attracted if Spotify can prove that its advertising is more effective than other networks, pushing prices and custom up. However, what remains to be seen is whether some users may choose to start downloading their podcasts in order to keep themselves distanced from targeted advertising.
Spotify can go to hell. A podcast I always listened to is now a spotify exclusive, so I've stopped listening to it.

I would be more impressed if they fixed their Android app so it doesn't randomly stop playing music on my Galaxy S8. I pay for their service, however, this has been going on so long that I will soon be giving apple music a try.
Android Central Newsletter
Get the best of Android Central in in your inbox, every day!
Thank you for signing up to Android Central. You will receive a verification email shortly.
There was a problem. Please refresh the page and try again.