Curvaceous Samsung Galaxy S7 breaks cover in another leak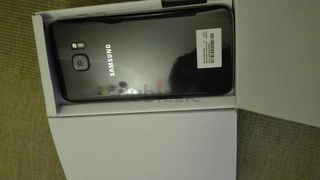 The Samsung Galaxy S7 is just around the corner, set for an unveiling at the upcoming Samsung Unpacked event — but in the meantime we're seeing yet another leak of the phone. This time the phone, in black, was unveiled in the flesh from a retailer in Dubai... and then promptly pulled.
Not only were we able to see what is alleged to be the smartphone itself, but the listing (which is no longer live on the Dubizzle website) also sported a shot of what will come as standard in the packaging alongside the S7. These new photos join the growing collection of leaks and rumors, which include official wallpapers and accessories, renders, color options, as well as Gear VR potentially being included.
As with all such leaks and rumors, we caution you to take it with a healthy dose of salt. We're less than a week away from the expect unveiling of the Galaxy S7, so keep your browser and feeds tuned to Android Central for the latest from the floor at MWC 2016.
Source: Dubizzle (no longer live); Via: PhoneArena
Yeah, I would imagine Samsung knows about each and every one of these "leaks". It's basically free advertising on almost every tech blog every day.

no doubt about it ... you couldn't take a blurry photo with an iPhone or S6 if you tried, yet all there pics are mysteriously blurry!

Tim Cook can, but that's another story.

Yes samsung leaked this along with the g5.

It's free publicity either way. Posted via the Android Central App

Trying to decide if I should pick up the black or silver/grey S7 edge. But knowing Samsung, the grey version will not be released in the US until x-mas. 64gig Gold Note5/AC App

U have a note 5 why not just wait till the Note 6 comes out. Posted via the Android Central App

Because I am a phone addict and I love the way the edge looks. And because I will probably end up getting the Note 6 when it comes out too. 64gig Gold Note5/AC App

i like the honesty in your answers

The first step is admitting you have an addiction. Lol Opinion expressed from a Moto X Pure

Hey look it's an S6 LoL Posted via the Android Central App

Eh, more like an S6 is wearing an S4, buffalo bill style.

What? It's so much uglier. The S6 is gorgeous.

How so? The edges are a little rounder and its for a curve on back. I prefer the S6 look but I wouldn't say it's so much uglier. And if the result is a larger battery and better ergonomics I'm all for it.

Does that appear to be a Micro USB charger? No USB type C? Posted via the Android Central App

I'm going to laugh when this thing comes out with another tiny battery and no expandable storage. Posted via the Android Central App

Oh man I almost want that to happen to watch the uproar

The uproar of samsung once again selling a boat load of phones?

I think he means just the comments on this site ... Which there certainly will be if they don't improve that battery.

Buzzkill 2016 If that happens......

Like I said below, it looks like there's a microUSB to USB-C adapter in there. If so, then the phone is USB-C, but it lets you use legacy cables.

Sorry but it's been pretty much shown to be bigger battery for sure 3000 in the 7 and 3600 in the 7 edge plus sorry to disappoint the haters Posted via the Android Central App

"pretty much" isn't confirmed though. I wouldn't be shocked if that 3600 mAh on the Edge didn't happen ... I would be though if the regular S7 has anything less than 3000 mAh, that'd be really disappointing. If that Edge battery rumor is true though, I'm all over it, especially if it had USB-C and SD.

It was in FCC documents. It's 3600 on the edge. Posted via the Android Central App

that's awesome! yeah that's pretty much an instant purchase, especially if that's a USB-C we're looking at. Thx!

that's what I'm wondering. can't believe AC didn't mention that! looks like USB-C to me.

The charger cable is micro-USB. The thing to the right of it appears to be a micro-USB to USB-C converter. Some countries mandate that electronics must ship with a micro-USB charger, even if it then requires a further adapter to plug into the phone (iPhones with their Lightning connector, for example).

interesting ... I didn't know about that with the lightning cable. didn't make much sense that a country would actually make that a requirement.

It looks like a microUSB charger with a microUSB-to-USB-C adapter, which would mean the phone is USB-C. Only time will tell.

You're the next Richard Yarrell. Just that he's fur samsung and you're not.... But just as annoying.

It's not the same guy who leaked the G5, is it? Kinda think he is. Because I remember seeing that he tried to sell it for over $1000. Uh, no thanks. Let's just wait until it officially launches.

I thought it was the same guy...

That's what I was trying to say. When I saw "Dubai", I immediately thought "Wait, that's not the same guy who leaked and tried to sell the LG G5, is he?"

yes, it's the same person

Is nobody going to talk about what appears to be a USB-C adapter in the last shot??

I dont know, the cable looks like its MicroUSB(It has two hooks that are for MicroUSB). Not sure what that little adapter is to the right of it.

If that is USB-C I will buy the S7 edge without a second thought, best screen, best camera, Snapdragon 820 and a 3600 battery and Doze should be amazing battery life. Water resistance is just adding to the benefits. Posted via the Android Central App

A lot of should so far this year... Posted from my Nexus 6/Nexus 7 2013/Surface Pro 3

Even the adapter looks like Micro USB with a femaie USB-A slot. Maybe for using standard flash drives?

looks like USB-C, with a micro USB adapter ... this satisfies both crowds

I see a regular micro USB cable no USB C type. Wow sammy really?

Looks like there's a microUSB to USB-C adapter in the pack, which means the phone is USB-C, but it lets you use microUSB cables. IMO that's a brilliant idea.

It looks like the adapter has the Micro USB hooks running down the side, not USB-C.

I always joke about how you guys a sold to Samsung but I never really believed it u til today. The LG G5, which we've had exactly zero leaks of the actual phone so far, leaked completely and you guys are talking about the S7 that leaked in 10 other articles in the last weeks. Seriously? Posted via the Android Central App

And...yet you came here too. Posted via the Android Central App

Bro: http://www.androidcentral.com/lg-g5-captured-flesh-dubai-ahead-unveiling This was posted like 3hrs 30min prior to this, plus they posted about a midrage LG phone moments ago as well.

Yeah, in the article le I've seen there's like 5 - 6 pictures and they picked 2. Doesnt change the fact they made 20 articles about the S7 Posted via the Android Central App

What are you talking about? There's been nothing to talk about the past month and finally we're getting looks at what is Android's biggest phone. You don't think that's gonna get talked about? I'm 6p owner, and love Nexus, but I know a good phone when I see it, and that S7 Edge looks legit. If that's a USB-C I'm definitely buying it at launch to replace my work phone (S4).

Face the facts: more people buy Samsung phones than LG phones.

The there's a lot of folks that love samsung products. ...why are you so surprised don't hate the player hate the game Posted via the Android Central App

Samsung is gonna take all the attention here and in any other site. LG should of known that, so be mad at them for making that move. Posted via the Android Central App

Android Central does appear to be in the tank for Samsung. I still come here to see what else they cover, but make no mistake about it - the bias is obvious.

Is that a microUSB to USB-C adapter in there, and a microUSB cable? Now THAT is a good idea. It lets you continue to use all the microUSB cables you've accumulated.

I think so ... I'm surprised with all the USB-C talk prior to this, that wasn't brought up as a solution. It'd definitely satisfy both camps.

Other then the fact that the C plugs can be reversed I see know other real advantage to the micro cord besides every attachment I own in micro . The whole C vs micro is just silly . I charge my 6 plus and n5 mostly wireless anyway . And who downloads with a wire anymore ....nobody Posted via the Android Central App

Yeah, let's not bother with new technology and progress. What we have is fine. Posted via the Android Central App

Well it is fine we don't have defective micro USB cables that can kill a laptop. Post your hate below Posted from my Nexus 6/Nexus 7 2013/Surface Pro 3

if you used a USB-C you would definitely see it's advantages. I never realized how often I plugged my phone in without much light, and having both sides fit is a nice luxury. it's also faster and much more secure. And I don't get the people that talk about all the cables they have and how it's gonna cost a fortune to replace. I mean, the phone costs $700+ what's 3 if em cost, maybe $50-$60? I have em for my MacBook and 6p, and hopefully I can use em for that S7 Edge which looks amazing with that big battery!

Who's complaining about the cost?? Posted from my Nexus 6/Nexus 7 2013/Surface Pro 3

in the forums or even that USB-C article from Russell the other day.

I'm still waiting for that compelling reason for the C chord is better than a micro card technically speaking of course . And why it would be worth having to change all the attachment i already have for Micro USB that work just fine my gear Vr being one example Posted via the Android Central App

ATTENTION EVERYBODY: NO PROGRESSING TECHNOLOGY. PHILIP DOESN'T WANT A FASTER, REVERSIBLE AND MORE SECURE CABLE, NOR DOES HE WANT TO PAY FOR USB-C CABLES TO REPLACE HIS SOON TO BE EXTINCT MICRO USB-C.

My gs6 edge plus and my note 5 as well as my wife's regular 6 all have fast charging that's been a staple since my note 4 days of old with wireless charging I never really have to worry about plug-in problems. I just drop the phone in the pad at night and forget about. And like I mentioned before almost nobody uses hard wire to download any thing any more so that makes the cable mute. Now in a few years when the industry has moved over then we'll see. But I don't see where this should be any deterrence of a person to not buy the gs7 because it still has a micro USB .not saying the type C is a bad thing just saying the lack of wouldn't stop me from buying the gs7 at all Posted via the Android Central App

that I definitely agree with, that it shouldn't deter anyone from buying it. if I was on the fence on two phones, that could be the determining factor, but just like I would never let rear aesthetics bother me, same goes for USB type.

You're a progress- don't- care-about- consequences kind of guy huh Posted from my Nexus 6/Nexus 7 2013/Surface Pro 3

I see the type C as a solution to a problem that most knew they never had . Until now really ? Posted via the Android Central App

USB-C is like the lightning connector to my iPhone 6s Plus (I'm not proud to own that, btw): I don't have to fiddle to put it in the right way and transfer speeds are super fast, faster than microUSB. How is that a bad thing?

not a bad thing but first you had a new galaxies you wouldn't have to worry about which ended is up are down ...wireless charging is what's up in my house hold . As far as downloads speeds I'm more then happy with my wireless Internet. I think it's nice if you have a type C but it's hardly the end all .you do realize that your iPhone doesn't have fast charging right Posted via the Android Central App

It's too early for samsung to adopt USB c especially with all the issues surrounding USB c but I do believe if there were android manufacturer to push c to the majority it would be Sammy. Really hope that silver is available in the us on launch. My next phone if SD card, waterproof and battery capacity is as rumored.

the micro USB adaptor is a good solution, and there's never a perfect time to make the change, so might as well do it now. Apple did it in their MacBook, and if Samsung adapts it, soon everyone will. I agree with you on that silver Edge, look awesome! I've been talking about how I'm gonna wait for the M10 but if that 3600 mAh battery is true, I'll be next to you in line. very excited!

It's just going to suck worrying about going to a friend's house and forgetting the damn adapter. Posted from my Nexus 6/Nexus 7 2013/Surface Pro 3

if I'm at a friend's house I won't be using my phone much, and changes are I'll show up with a close to full charge ... even if I leave work, go to the gym and stream music for an hour, then go over to a friends, I'll still be able to quick charge it in the car for 20 minutes. and at 3600 mAh it'll last a full day with heavy use ... I've had the 6p for almost 4 months battery hasn't been an issue at all.

Still does nothing for me.

that camera hump i thought it was gone...it looks to be back....so annoying

The camera bump is almost flush with the body now so it's a big difference. Which is a small price to pay if you want the best camera in the business. The two best camera in the cell phone world both have a bump . Besides most cases will all but hide the camera bump just saying Posted via the Android Central App

Yeah Samsung is probably going to blow the doors off current cameras... Again. Posted from my Nexus 6/Nexus 7 2013/Surface Pro 3

never understood why anyone would care about a slight bump (or when some people went berserk over the visor on the 6p) on the back of a phone. would I prefer a smooth surface without the bump? of course, but it is what it is and if a case is going on it, even if it's not, who cares?! I look at the bank of my phone maybe 5 minutes, probably less, a week.

What is that white thing to the right of the plug in?

Just a included external USB power bank Posted from my Nexus 6/Nexus 7 2013/Surface Pro 3

appears to be a USB-C adapter dongle thing-a-ma-jig.

It's the headphones, apparently in some sort of case. I scanned the barcode from the picture and it brought up the same part number shown on the case. Google it.

It's a beautiful phone. If I didn't already own the Galaxy Note Edge, I might have jumped all over this. But I know that my phone is getting Marshmallow within the next few months, so I am good.

I tell you that better not be an included external power source because they skimped on the battery again.

The thing to the right of the wall wart is headphones. Google the part number or scan the barcode to see.

Thanks I certainly didn't think to do that.

It is Micro USB and does have a SD card slot. Also it is water resistant. Posted via the Android Central App

Just got to play with the S7 here at work. All rumors are true. But I didn't find my self that impressed. SD card can hold up to 200GB!! Posted via Nexus 6P

I don't believe that. Sorry. My lg g3 and any other current phone for the past few years that has micro SD can handle up to a 2terabyte card. Not they are widely used or easy/affordable to get, but they certainly can handle them. 200gig is a weird number to cap off at. Just my opinion. And if you had one to play with you'd have a lot more to say, im guessing. Posted via the Android Central App

After using Motorola and Nexus phones for the last few years I'm actually fairly excited for the S7.
Android Central Newsletter
Thank you for signing up to Android Central. You will receive a verification email shortly.
There was a problem. Please refresh the page and try again.