A quick look at the Diztronic TPU Case for Moto G 2015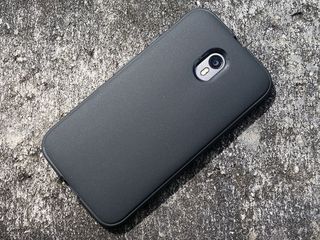 Many folks, including myself, aren't looking for a rugged option to protect the Moto G 2015. With the device's already chunky design, having a slim case that adds just enough protection and grip seems like the better route to go if you have to use a case at all. Diztronic's TPU Case fits the bill nicely and doesn't feel cheap despite its affordable price point.
The TPU material is easy to install around the Moto G 2015, but doesn't stretch like the cheap jelly skins. The entire case features a smooth matte finish that's easy to slide in and out of pockets, adding enough grip to help prevent drops. This material is also nice because it doesn't collect fingerprints like glossy skins do. You'll find access to the charging/auxiliary ports along with the camera on flash on the back. Side buttons are raised through the case and have small icons on each. The lip around the front keeps the display elevated enough from scraping on any surface while faced down. Since there's not much to this thin cover, we can't expect much for those severe impacts, but some protection is better than none.
Image 1 of 3
Image 2 of 3
Image 3 of 3
The Diztronic TPU Case for Moto G 2015 is a great option for anyone after a slim and lightweight way to protect their device. It's currently available in black as pictured, charcoal gray, and navy blue for $9.89 at Amazon.
Does is really make sense using a case on such a big and budget phone?

Umm, yeah? Posted via the Android Central App

I always liked diztronics, but they never seem to make cases for the phones I have/use any more. What I would love to see is a ridiculously thin clear tpy case, so thin its like strong cellophane. Just something to protect a phones finish from scratches etc.

Diztronic cases have offered flawless protection for my last and current phone without a problem. Posted via the Android Central App

Looks good. Posted via the Android Central App

I have this moto g case and it does NOT fit properly leaving a gap between the back center of the phone abd the corresponding area of the case. Posted a review on Amazon and subsequently opened a ticket on diztronic website... No response. You get what you pay for (junk), I guess.
Android Central Newsletter
Get the best of Android Central in in your inbox, every day!
Thank you for signing up to Android Central. You will receive a verification email shortly.
There was a problem. Please refresh the page and try again.