Barnes & Noble Nook 'App Store' reaches 1 million downloads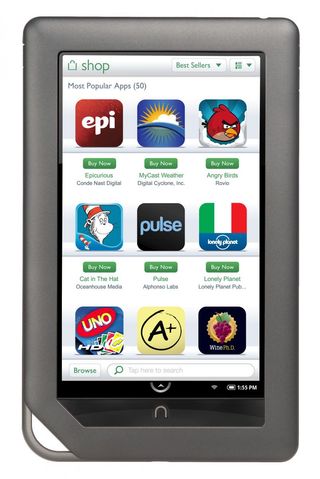 Barnes & Noble announced today that its recently launched Nook App Store for the Nook Color has already reached 1 million downloads. The achievement only took three weeks after Nook Color users received the update, which provided several enhancements, including Adobe Flash and the App Store.
The top five paid apps thus far are:
Angry Birds
Drawing Pad
Solitaire
Aces Jewel Hunt
Astraware Mahjong
The top five free apps are:
Fliq Calendar
Fliq Notes
Pulse
Nook Word of the Day
Fliq Tasks
The fact that Barnes & Noble has been able to achieve a large amount of downloads in such a short time is a testament to how popular the device is. Full press release after the break.
Source: Barnes & Noble; More: Nook Color Forum
Barnes & Noble Quickly Hits 1 Million
NOOK Apps™ Downloads by NOOK Color™ Customers
Milestone Reached Just One Week After NOOK App Shopping Made Available to All NOOK Color Customers
Angry Birds, Drawing Pad, Fliq Calendar and Pulse Among Most Popular Apps
New York, New York – May 16, 2011 – Barnes & Noble, Inc. (NYSE: BKS), the world's largest bookseller, announced a major new milestone for its recently updated award-winning NOOK Color Reader's Tablet™. Just one week after the company made its free software update featuring popular NOOK Apps available over the air for all NOOK Color customers, customers have made more than one million apps downloads. NOOK Color customers are enjoying access to a variety of popular NOOK Apps and downloading a selection of both paid and free apps that get even more out of their Reader's Tablet, and have given the top 10 paid and free NOOK Apps the highest 4 or 5 star rating.
All NOOK Apps are optimized for NOOK Color's stunning 7-inch color touchscreen. The top five paid NOOK Apps are Angry Birds, Drawing Pad, Solitaire, Aces Jewel Hunt and Astraware Mahjong. Among the top five free NOOK Apps are Fliq Calendar, Fliq Notes, Pulse, NOOK Word of the Day™ and Fliq Tasks, which help keep customers organized and informed on the highly portable NOOK Color. With the recent v1.2 software update, Barnes & Noble brought the most-requested tablet features to its bestselling NOOK Color, which, in addition to NOOK Apps, includes full-featured built-in email, enhanced Web experience and more exciting content for adults and children. The device, which had already been acclaimed as the best reading device on the market, is now the best tablet value on the market at just $249.
"Our recent software update to NOOK Color delivered the most requested tablet features by our customers, including the ability to shop for and download high-quality apps. Reaching over a million app downloads in just a week since the launch of NOOK App shopping for all NOOK Color customers exceeded expectations, and is an exciting milestone for our developers, publishing partners, and most importantly for our rapidly growing NOOK Color user base," said William Lynch, Chief Executive Officer of Barnes & Noble. "Our stores and booksellers have been a key part of educating our large NOOK customer base on the terrific applications available for them. We're building on the early success of our NOOK Apps offering by scaling our collection of popular apps with the thousands of developers who've approached us, while ensuring we continue to deliver the high-quality experience NOOK Color is known for.
Barnes & Noble continues to bring NOOK Color customers new applications from leading third-party developers and content providers for the whole family to enjoy. In the past weeks, Barnes & Noble has added new NOOK Apps including QuickOffice Pro, FriendCaster for Facebook, UrbanDaddy, more games from Concrete Software including Aces Traffic Pack, Aces Cribbage and PBA Bowling 2, FlightView Elite, RepliGo Reader, and 3001 Wisdom quotes. Recently added NOOK Apps for children include Bloki, My First Alphabet Sights & Sounds and CardDroid Math flash cards. Through the Shop area on the device, NOOK Color customers can easily explore NOOK Apps, available in categories including Play, Organize, Learn, Explore, Lifestyle, News and Kids. Approximately half of the collection available for $2.99 or less and the vast majority priced at $5.99 or less.
More information about the recent NOOK Color update is available at www.nookcolor.com/update. Barnes & Noble invites current and prospective NOOK customers to experience new NOOK Apps at the NOOK Boutique™ or display in one of Barnes & Noble's more than 700 bookstores across the country or by visiting www.nookcolor.com.
About NOOK™ from Barnes & Noble
Barnes & Noble's NOOK brand of eReading products makes it easy to read what you love, anywhere you like with a fun, easy-to-use and immersive digital reading experience. With NOOK, customers gain access to Barnes & Noble's expansive NOOK Bookstore™ of more than two million digital titles, and the ability to enjoy content across a wide array of popular devices. NOOK products are the most full-featured, dedicated eReading devices on the market. The award-winning NOOK Color Reader's Tablet, the best-value on the tablet market ($249), features a stunning 7-inch VividView™ Color Touchscreen to read all of the content you love, shop popular apps, connect via email, browse the Web and more. For book lovers, NOOK 3G ($199) and NOOK Wi-Fi® ($149) offer a paper-like reading experience with a color touch screen for navigation. In Barnes & Noble stores, NOOK owners can access free Wi-Fi connectivity, enjoy the Read In Store™ feature to read NOOK Books™ for free, and the More In Store™ program, which offers free, exclusive content and special promotions. Barnes & Noble was the first company to offer digital lending for a wide selection of books through its LendMe™ technology, available through NOOK eReading products. Find NOOK devices in Barnes & Noble stores and online at www.BN.com, as well as at Best Buy, Walmart, Staples and Books-A-Million.
In addition to NOOK devices, Barnes & Noble makes it easy for customers to enjoy any book, anytime, anywhere with its free line of NOOK software, available at www.bn.com/nookapps. Customers can use Barnes & Noble's free eReading software to access and read books from their personal Barnes & Noble digital library on devices including iPad™, iPhone®, iPod touch®, Android™, BlackBerry® and other smartphones, PC and Mac®. Lifetime Library™ helps ensure that Barnes & Noble customers will always be able to access their digital libraries on NOOK products and software-enabled devices and BN.com. Barnes & Noble also offers NOOK Study™ (www.nookstudy.com), an innovative study platform and software solution for higher education, NOOK Kids™ (www.nookkids.com), a collection of digital picture and chapter books for children, and NOOK Books en español™ (http://www.barnesandnoble.com/ebooksenespanol), the first-ever Spanish language digital bookstore in the United States.
For more information on NOOK devices and eReading software, updates, new NOOK Book releases, Free Friday™ NOOK Books and more, follow us on www.twitter.com/ebooksbn and www.facebook.com/nookbn.
ABOUT BARNES & NOBLE, INC.
Barnes & Noble, Inc. (NYSE:BKS), the world's largest bookseller and a Fortune 500 company, operates 705 bookstores in 50 states. Barnes & Noble College Booksellers, LLC, a wholly-owned subsidiary of Barnes & Noble, also operates 636 college bookstores serving nearly 4 million students and faculty members at colleges and universities across the United States. Barnes & Noble conducts its online business through Barnes & Noble.com (www.bn.com), one of the Web's largest e-commerce sites, which also features more than two million titles in its NOOK Bookstore™ (www.bn.com/ebooks). Through Barnes & Noble's NOOK™ eReading product offering, customers can buy and read eBooks on the widest range of platforms, including NOOK eBook Readers, devices from partner companies, and hundreds of the most popular mobile and computing devices using free NOOK software.
General information on Barnes & Noble, Inc. can be obtained via the Internet by visiting the company's corporate website: www.barnesandnobleinc.com.
NOOK™, NOOK Color™, Reader's Tablet™, NOOK Books™, NOOK Bookstore™, NOOK Newsstand™, NOOK Books en español™, VividView™, NOOK Friends™, LendMe™, ArticleView™, NOOK Kids™, NOOK Study™, NOOK Apps™, NOOK Email™, Read In Store™, More In Store™, Free Friday™, Lifetime Library™ and Read What You Love. Anywhere You Like™ are trademarks of Barnes & Noble, Inc. Other trademarks referenced in this release are the property of their respective owners.
Follow Barnes & Noble on Twitter (www.bn.com/twitter), Facebook (http://www.facebook.com/barnesandnoble) and YouTube (http://www.youtube.com/user/bnstudio).
Android Central Newsletter
Get instant access to breaking news, the hottest reviews, great deals and helpful tips
I love the concept of the device but I still took it back in less than 24 hours. The 3G+wifi supports .pdb files the nook color does not. Why would you upgrade to lose support?

So they force Nook Color users to pay for Angry Birds when it is free on every other Android device? That's crazy.

...but you can root the Nook Color & use the Market & essentially have a $249 fully functioning 7" WiFi tablet.

Better. They appear to have no plans to stifle the rooters. So, feel free to root and get Angry Birds free. I think B&N is smart enough to realize that the root users saved their bacon vs. Kindle and iPad.

Is it Barnes & Noble that's to blame, or the developers? I'm not being snarky: I'm genuinely asking. If the devs are taking advantage of what they perceive as less tech-savvy users (people who are not rooting the devices), then shame on them.

Okay so I've downloaded the manual update for nook firmware 1.2, placed it on the root of my sd card and...nothing happened. I tried rebooting a few times and still nothing. Im confused right now. The first nook I got had major issues. It would only turn on when plugged in so they swapped it out for me and now this one wont update. B&N selling a bunch of lemons.

I never had to place 1.2 on an SD card. I downloaded it onto my laptop & then dropped it onto the Nook using the USB cable exactly like the instructions on Barnes & Noble's website said. Go here & read up in the section "Get version 1.2.0 today" https://www.androidcentral.com/e?link=https2F2Fcli... I'm not saying your last Nook didn't have an issue, but your "not updating problem" with this one sounds more like user error.

Thanks jefe. I used those instructions. Downloaded the update via barnes and noble and followed those instructions. The place you drop the update on the nook is referred to as the "root" of the nook. Sorry it was not the "sd" however I followed those exact instructions and it still didn't take to the update. Nor did it auto download when connected to wifi.
Android Central Newsletter
Get instant access to breaking news, the hottest reviews, great deals and helpful tips
Thank you for signing up to Android Central. You will receive a verification email shortly.
There was a problem. Please refresh the page and try again.