Moto G5 Plus vs. Moto G4 Plus: A class apart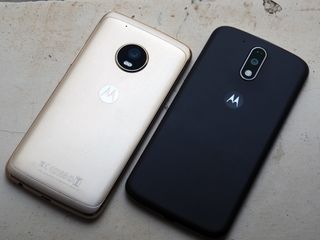 The Moto G4 Plus represented a significant change for Motorola, with the company offering a phone with a large 5.5-inch display and a camera that was considerably better when seen against its predecessors. The same holds true for the G5 Plus, which offers a metal chassis, great internal hardware, and a camera that's one of the best in this segment.
Let's see how it matches up to one of 2016's best-selling budget devices.
Design and hardware
The Moto G5 Plus is the first phone in the Moto G series to sport a metal back. The phone certainly stands out next to its predecessor, which looks boring by comparison. The aluminum back adds heft to the G5 Plus, and makes the phone feel much more sturdy. It's just the back that's made out of metal, however, as the sides are still plastic with a metal feel to them.
Although the G5 Plus has a smaller 5.2-inch display, the phone doesn't look any smaller than the G4 Plus on account of the generous bezels at the top and bottom. On the bright side, you get a Moto logo that sits just above the panel, because Motorola decided that the Batwing logo at the back just wasn't enough for brand recall.
One area where you will notice a difference is the thickness, with the phone now coming in at a much more manageable 7.7mm despite featuring the same 3000mAh battery as the G4 Plus. The width has also reduced from 76.6mm to 74mm, making it more comfortable to use the G5 Plus one-handed.
Image 1 of 5
The power and volume buttons are located to the right of the phone, and their configuration has switched. The G4 Plus had the power button on top, but that's now taken up by the volume rocker on the G5 Plus.
Thankfully, the power button itself hasn't changed much from last year, and retains the grooved texture that makes it easy to isolate the button with your fingers. It's a small addition, but one that makes a lot of difference in day-to-day usage.
When it comes to the screen resolution, both devices sport Full HD IPS LCD panels. The screen on my G4 Plus has a yellowish tint, but I didn't notice any issues on the G5 Plus. There's an option to tweak the color balance of the display from the default vibrant mode — which boosts saturation — to a more realistic setting on both phones.
With the G5 Plus now featuring a non-removable back, there's now a traditional SIM card slot, which is located at the top of the device. The slot accommodates two SIM cards as well as a microSD slot, much like the G4 Plus.
Swipe to scroll horizontally
Category
Motorola Moto G5 Plus
Motorola Moto G4 Plus
Operating System
Android 7.0 Nougat
Android 6.0.1 Marshmallow
Display
5.2-inch 1080p (1920x1080) IPS LCD panel
424ppi pixel density
5.5-inch 1080p (1920x1080) IPS LCD panel
401ppi pixel density
SoC
Octa-core Qualcomm Snapdragon 625
Eight Cortex A53 cores at 2.0GHz
14nm
Octa-core Qualcomm Snapdragon 617
Four Cortex A53 cores at 1.5GHz
Four Cortex A53 cores at 1.2GHz
28nm
GPU
Adreno 506
Adreno 405
RAM
2GB/4GB RAM
2GB/4GB RAM
Storage
32GB/64GB storage
microSD slot up to 256GB
16GB/64GB storage
microSD slot up to 256GB
Rear camera
12MP f/1.7 lens
dual LED flash
PDAF
4K video recording
16MP f/2.0 lens
dual LED flash
PDAF
Front shooter
5MP
1080p video recording
5MP
1080p video recording
Connectivity
Wi-Fi 802.11b/g/n, Bluetooth 4.2 (A2DP), GPS,
microUSB, 3.5mm audio jack
Wi-Fi 802.11a/b/g/n, Bluetooth 4.1 (A2DP), GPS,
microUSB, 3.5mm audio jack
Battery
3000mAh battery
3000mAh battery
Fingerprint
Front fingerprint sensor
Front fingerprint sensor
Dimensions
150.2 x 74 x 7.7mm
153 x 76.6 x 9.8mm
Weight
155g
155g
Colors
Grey, Gold
Black, White
Another area of differentiation between the two devices is the fingerprint sensor. The sensor on the G4 Plus feels like an afterthought, a feature Motorola decided to include in the last minute. The squarish sensor felt out of place on the device, and it had limited use until recently. The Nougat update introduced the ability to turn the phone on and off by pressing down on the fingerprint sensor, but before that its sole utility was to authenticate.
That said, Motorola learned from its mistakes, and the rounded sensor on the G5 Plus is much better to use. The increased surface area makes it that much more convenient to use the sensor, and it's infinitesimally faster at authenticating your fingerprint when compared to the G4 Plus.
Although both the G5 Plus and the G4 Plus have the same battery capacity, the more efficient Snapdragon 625 ensures that the G5 Plus lasts slightly longer. On average, that leads to a few extra hours of battery life on the G5 Plus. Both phones offer Motorola's TurboPower charging tech, allowing you to quickly top up in the middle of the day.
Rounding off the hardware specs, the lack of NFC on the G5 Plus is a big drawback in an otherwise feature-rich phone. The G4 Plus doesn't have it either, but in 2017, NFC is a must-have feature for a phone sold in this segment. Furthermore, Motorola's decision to include NFC for devices sold in Asian markets is a perplexing move.
As for the day-to-day performance, the beefier hardware on the G5 Plus makes a noticeable difference when gaming and browsing. The G4 Plus is no slouch, but the phone suffers from the occasional stutter. No such issues on the G5 Plus, as the Snapdragon 625 is a delight to use.
The G5 Plus wins out when it comes to the storage, as the $229 base variant with 2GB of RAM offers 32GB internal storage. By comparison, the G4 Plus has 16GB internal storage (opens in new tab). You'll also be able to pick up a G5 Plus model with 4GB of RAM and 64GB storage for $299.
Software
The G5 Plus comes with Android 7.0 Nougat out of the box, and has the January security patch. The G4 Plus picked up the Nougat update in India a few months ago, bringing with it the December security patch, but there have been no further security patches following the platform update.
For a manufacturer that prides itself on quick updates, Motorola hasn't done a great job of delivering up-to-date security patches. The company has also struggled to get the Nougat update rolled out in all regions, with a majority of the G4 Plus units in the U.S. still running Marshmallow.
There are subtle changes in the user interface from the G4 Plus to the G5 Plus. The default clock widget now shows battery life, and the date and weather-related information is more readable. You also get a notification every time you plug in a TurboPower-compatible charger to the device.
Overall, the software experience hasn't changed much, and that's a good thing. For nearly three years now, Motorola has championed a clean and uncluttered user interface, and that trend continues with the G5 Plus. There are a few welcome customizations in the form of Moto Actions, and with the G5 Plus Motorola introduced a new one called One Button Nav.
As the name suggests, One Button Nav ditches the on-screen navigation buttons and instead relies on the fingerprint sensor as the default method of interaction.
The feature turns the fingerprint sensor into a gesture-based navigation system. A quick tap on the sensor takes you to the home screen, and you can go back in an app's interface by swiping your finger right-to-left or access the multitasking menu with a left-to-right swipe.
Camera
To say that Motorola has come a long way in the imaging department would be an understatement. Just two years ago, camera quality was often cited as the major reason for not getting a Motorola device, but the company has managed to turn things around.
We saw that last year with the G4 Plus, and the phone continues to offer one of the best cameras in the budget segment. Motorola has once again made imaging prowess an area of focus with the G5 Plus, and the result is a camera that sets the bar for this category. For a device that costs less than $300, the quality of images you get from the G5 Plus is stunning.
Moto G5 Plus on the left, G4 Plus on the right.
Most of that has to do with the f/1.7 sensor with 1.4-micron pixels. The hardware does an impressive job of taking in detail during daylight conditions, with the G5 Plus producing photos full of color. Both in bright and low-light conditions, the G5 Plus pulls ahead of the G4 Plus.
Which should you buy? Moto G5 Plus
The aluminum chassis gives the G5 Plus a much more upmarket look when compared to the G4 Plus. The Snapdragon 625 is faster and more efficient than the G4 Plus' Snapdragon 617, and the camera on the G5 Plus has also received an upgrade.
The lack of NFC is going to be a pain point for consumers, but the G5 Plus nails the rest of the details. From the powerful hardware to the clean software and the incredible camera, the G5 Plus is one of the best options for under $300.
Get the Android Central Newsletter
Instant access to breaking news, the hottest reviews, great deals and helpful tips.
Harish Jonnalagadda is a Senior Editor overseeing Asia at Android Central. He leads the site's coverage of Chinese phone brands, contributing to reviews, features, and buying guides. He also writes about storage servers, audio products, and the semiconductor industry. Contact him on Twitter at @chunkynerd.
Doesn't the G5 plus have a front fingerprint sensor ? It's mentioned as rear in the comparison table.

My mistake. Thanks for pointing it out.

Nice and detailed review !
I will continue with my G4 plus now though.

Also, can you confirm whether the G5 uses qualcomm 2.0 quick charge standard (like the moto G4)? Or has it been switched to the same USB-PD standard that motorola is using in the Zs?

Nice review. Motorola may be using an old mind trick, but I think a G4 user won't notice the screens are smaller. I held a standard G5, and with the bezels and higher ppi it seemed larger than its 5.0 inches. I haven't seen a G5 Plus in the wild yet, but with an extra 0.2 inches it should be fine. The quality casing doesn't allow bigger bezels to appear ugly imv (for a modestly priced device).

The G5 Plus has a SMALLER DISPLAY than the G4 Plus or G4. 5.5" vs 5.2". I don't care if people "won't notice", it's less usable display. If they want to do that, fine, but don't make larger bezels to try to fool people. The trend is slimmer bezels so you have more display, less plastic.

I had a Note 3 and Moto X Pure but am stuck with just my 4.5" Moto G 2013 right now. Anything to me atm looks big, granted, but unless you can adjust the actual real estate (Note 5 etc) you are not gaining anything by holding your nose further away. Again granted my eyes are not what they used to be so in theory bigger is better, but 5.2 v 5.5 is not as big a deal as I thought it was. I am not for or against, just saying Motorola may be trying to lightly trick users with bigger bezels, while saying they are responding to demand for a smaller Moto G, but it really doesn't matter that much. Plus I prefer FHD to a qHD screen which makes text smaller by default. I may still end up buying a Moto G4 or Lenovo P2 (UK) with a 5.5 inch screen, but the 5.2" size shouldn't deter people. Just saying. Try it first.

You also misread / misconstrued my comment.

Second on a nice review. Could you confirm whether the G5 or G5 Plus have a digital compass/magnetometer? Thanks.

according to lenovo forum only single SIM (US version) has compass, the dual SIM international version doesn't

Excellent review! Thank you for going into the specific details, especially with the one button nav feature. One question about the fingerprint sensor. You said "...and it's infinitesimally faster at authenticating your fingerprint when compared to the G4 Plus." Did you truly mean infinitesimally, as in just barely faster, or did you mean to say *infinitely* faster, meaning much faster, considering you were praising the G5 fingerprint capability? I have no experience with the G4 sensor but I really dislike laggy fingerprint sensors, so if the G5 is way better than G4, that's a huge selling point :)

Hey!
I had the exact same question. However I do own a G4 Plus and I can tell you: The fingerprint scanner is really really quick.
I've compared it to the one in iPhone 7 and IMO it's even faster, just a little bit, but faster.
The only downside is that you have to wipe it every once in a while, since it won't work as well after using it 3 or 4 times, but I think that's pretty common with fingerprint scanners.
So even jf (G5's) it's just a little bit faster, it should be great and by no means laggy

"The only downside is that you have to wipe it every once in a while, since it won't work as well after using it 3 or 4 times, but I think that's pretty common with fingerprint scanners." Lol, I think that depends how dirty your fingers are when you touch the sensor. Having to wipe the sensor after 3 or 4 uses is not at all that common - I don't have to do this on my Nexus 6P, nor does my wife for her G4 Plus.

The fingerprint sensor on my Moto G4 Plus works fine without any need to wipe it frequently.I use it for locking and unlocking my phone as well as authentication.

It's just slightly faster than the G4 Plus (which has a great sensor too). I just hate the way it was implemented on the G4.

How good is that camera? Galaxy S7 good? Or at least close? If it is, that's my next phone.

Not quite close to the S7. The ISP just doesn't match up.

In the specifications you misstated the storage options for the G4 Plus. You listed it as "16GB/32GB storage", when in fact it's "16GB/64GB storage", as taken from the Motorola web site (plus, my wife's G4 Plus has 64gb, so I'm pretty sure this is right). Oh, and the web sire says the max micro SD capacity is 128GB, not 256. Whether or not it will actually work with a 256GB card - I couldn't say.

The Indian versions of Moto G4 Plus are 2GB/3GB with 16GB /32GB internal storage respectively.I have a 3GB/32GB one.There is no 4GB/64GB Moto G4 plus being sold in India.

Oh right. They sold the 64GB in the U.S. Thanks for pointing it out.

"Although the G5 Plus has a smaller 5.2-inch display, the phone doesn't look any smaller than the G4 Plus on account of the GENEROUS BEZELS at the top and bottom." Yay! how thoughtful of Motorola to give customers LESS USABLE DISPLAY and MORE PLASTIC! Come on stop being a shill for Motorola. And while you mentioned the lack of NFC in the U.S. vs the rest of the world for this exact same phone, your description as "perplexing move" is very vanilla. How about "stupid", "idiotic" or "consumer blind" ? Why would U.S. customers not want NFC? Because Motorola doesn't want U.S. customers to get that feature in a "budget" phone. They want you to pony up more money and get a higher class of phone, whereas in other (3rd world?) countries this price point is the highest many can afford. But if Motorola can include NFC in other parts of the world, they can also include it in the U.S. LG is making the same "regional" variant mistake with the LG G6. Make ONE phone with all the features and sell it to the entire world!

Some people like generous bezels that allow you to actually hold the phone. I would take pixel density over screen size any day. "...whereas in other (3rd world?) countries this price point is the highest many can afford." Gee, what an arrogant US-centric thing to say. By your logic, other countries don't need NFC because they're so behind the times and won't even have Android Pay, so it would make the phone even cheaper if they excluded NFC for other countries right? "Make ONE phone with all the features and sell it to the entire world!" What about mobile phone bands?

I personally never use NFC and I would consider myself a power user. So far,very few reasons this is not a good buy.

For those of us looking to jump ship from Apple, it's a deal breaker as I use Apple Pay all the time. I was getting amped up reading this review, until that factoid.

Bought a Moto G5 Plus. So far so good. But when I use camera, I find the live preview image/video to be extremely blurry, yet the output doesn't seem to deteriorate. Do any of you guys have this problem? Thanks!

I rocked a Moto G LTE (1st Gen) as my first smartphone for a little more than 2 years. When looking to upgrade, I really wanted to like the Moto G4 Plus, but it didn't offer NFC and the screen was a bit bigger than I wanted. I wanted to try Android Pay. I went with the ZTE Axon 7 Mini instead (partially based on Flo's review). Now the G5 Plus won't have NFC either. Sorry MOTO, now that I've tried Android Pay, I find it convenient and it isn't a capability I will give up. I would consider a Moto Z Play, and did, but that is really more than I wanted to spend. So, kudos for shrinking the G5 Plus screen size a bit (let the flagships have the huge screens), but for the life of me, I can't fathom why you won't include NFC in the US version when the rest of the world has it.

Great head to head review! I like that there's noticeable differences between the 2 phones. That is very interesting that the screen size (or really how much screen you get) are close though.

How is this compared to the moto z play?

I got a new unlocked, white Moto G4 Play for $130 at B&H Camera two months ago and LOVE it! It has a 5" screen at 1280 x 720 resolution, 8 and 5 cameras, 1080p video, 2GB and 16GB, 1.2Ghz Snapdragon 410, 128GB SD max, 2800mAh battery, and Android 6.0.1 Marshmallow. I paid Amazon $1 Prime for a kit of EIGHT SIMS (!) for Tracfone and used the micro CDMA to hook it into the Total Wireless plan from Walmart (using Verizon) ... $35/mo for unlimited plus 5GB LTE data. Why Tracfone? 'Cuz they own Total Wireless, and IT WORKS! This thing is so fast I can't imagine needing a faster one. I use it as computer only ... for a phone I have an old Sanyo Vero on a neck lanyard ... it's on Ting using Sprint (with free Verizon roaming), and it averages about $12/mo. Compared to my 3 year old Samsung Ring on Virgin, a slow old dog if there ever was one, this Moto Play is lightning fast. Amazon is selling new black ones now for $55 Prime, but they're locked to Verizon. That's not so bad, though, since Verizon charges only $50 for the same plan as Total Wireless, and they toss in free carryover for unused data if on autopay. They do have a 2GB plan for $40/mo. for low data users. And after a month or three, Verizon will unlock your phone on request so you can go to Total Wireless if you wish. The 4 Play is THE great budget phone on the market at the moment. Let the rich buy the fancy stuff, while we poor folk be loving our 4 Plays. WHOOPS! I just noticed you said "Moto 'Z' Play" ... I know nothing of that phone, sorry.

http://m.gsmarena.com/blue_sapphire_moto_g5_gets_pictured_in_leaked_pres... Check out this blue sapphire Moto G5 Harish. Looking good 👌

It is! I love blue color options.

Personally I find the fact that the G5 doesn't support AC band WiFi and lacks NFC a reason to buy something else.

I definitely get you on the lack of NFC. Not having 802.11ac WiFi is disappointing as well but as an owner of a Moto Z Play that also doesn't have .11ac WiFi I can tell you that it isn't that big of a deal, at least to me. Before the Z Play I had a Xperia Z3 which had .11ac so I'm speaking with experience incase you were wondering.

It just makes no sense to me that they'd enable NFC on the international versions and not the US. As to 802.11 ac, I have an ac router and know that its a faster throughput than the N band and not nearly as crowded. Regardless the lack of NFC is a deal killer for me so I doubt I'll buy one of these

I do like the phone, it looks much better than last year's G4. But the screen size reduction, large bezels, and lack of front facing speakers are a let down. Hopefully they bring these back with a Moto X Pure 2017.

The lack of NFC disturbs me...and I hardly ever use it...but still

Agreed it's better to have it and not need it than need it and not have it. I can't ever see myself using Android pay but never say never.

if I buy an motog5 with NFC from an Asian company, can I use it in Ireland

No. The LTE bands are limited to that particular region.