Marshmallow rolls out to the T-Mobile Samsung Galaxy S6 edge+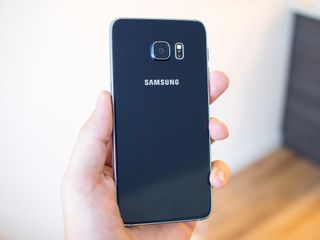 If you're rocking a Samsung Galaxy S6 edge+ (opens in new tab) on T-Mobile, you'll want to check for an update, as the carrier is now pushing Android 6.0.1 Marshmallow to the curved smartphone (opens in new tab). Of course, once updated, your T-Mobile Galaxy S6 edge+ will have access to all of Marshmallow's goodies, including Doze Mode, granular app permissions and more.
Since the update only just began rolling out, it may take some time to show as available for download. Still, if you'd like to check manually, you can do so in the "About Device" section of the Settings menu. After you update, you should see your system software version bumped up to G928TUVU2DPD1.
Have you received the Marshmallow update on your T-Mobile Galaxy S6 edge+ yet? Be sure to let us know what you think in the comments below and on our forums!
Cheers, Rob!
Obligatory AT&T complaint

Lol, I always suggest unlocked phones to at&T users Posted via the Android Central App

Yep. My friend has a unlocked AT&T S5 that got Marshmallow two weeks ago. Posted via the Android Central App

Does Marshmallow on the S5 change the icons and TouchWiz to the new style or no? I have an old S5 and I might bring it back out to play with it if I can update it to Marshmallow Gold Platinum Galaxy Note 5 on Marshmallow

I will ask him and get back to you shortly. Posted via the Android Central App

Important...... DO A FACTORY RESET!!! Posted via the Android Central App

But why? Posted via the Android Central App

It's a big update and recommended to do. Posted via the Android Central App

So far my wife with her s6 which was updated last week and my note 5 on T-Mobile haven't needed it. It's running great and fast, if I run into issues then I will. But not everyone has to factory reset depends on the update. But, If you run into issues or bad battery life it would be my first suggestion. Posted via the Android Central App

Important.. DO A BARREL ROLL Posted via the Android Central App

I already had Marshmallow on my unlock g920i but I received another update today. Did anyone else with an unlocked Galaxy S6 get this update? It gave me the new April 2, 2016 security patch.

I received this update this morning when the Note 5 received it. It's about time though. Took em long enough Posted with my awesome Gold S6 Edge+

I have the S6 with T-Mobile and I did get the April 2nd security patch when I got the Marshmallow update last week.

Happy for you guys on Tmobile! What's up with AT&T!!??? Posted via the Android Central App

This is what I hate about Android. The fragmentation makes you wait a good 4-6 months for the next version of it. Posted via the Android Central App

That is true. But the funny thing is that android overall is great even if it's not the latest update. On an iPhone and iPad after 1 update it starts opening apps slower and starts stuttering. Example, my wife has the iPad 4 Wi-Fi 32gb and since 2 updates ago apps like ibooks are so slow and take several seconds before registering that it opened. Posted via the Android Central App

That's not the point. The iPad 4 is a tablet from 2012 and still receives updates unlike other devices from that time period. #TeamFrosty Nexus 6P

But you do know that apple kills their old device slowly and silently with updates? That is not the case with android. For proof, my friend's iphone 5s and 5 got slow with the ios9 update. So as my ipad 3. My ipad 3 LAGS A LOT since the ios9. It was running great on ios7 and 8. Im sure ios10 will kill my ipad 4 like what apple did with ios9 on ipad 3. Posted with ❤Love❤

That's exactly my point. Little by little, ios devices become obsolete with every update.

The iPad 3 is discontinued and is from 2011 with a weakly 5X chipset. What do you expect. [It was always a weak tablet and was why is was discontinued early for the iPad 4] IOS 9 is its last update and frankly you should be thankful it's still supported. Apple planned obsolescence is a myth [although Brasil sued Apple for the iPad 3 idiocy]. Of course older devices will not run as smoothly with newer updates. #TeamFrosty Nexus 6P

Yes, but what is the point of an update when it makes the device slow and unusable for the things you use it for? My point is that although updates are great, many of the android devices work great on older os. But at the same time this "fragmentation" will continue because android, as has been said hundreds of times, is free to everyone. It's open for any manufacturer to use it. Is it google's fault for this, probably, but their still making money and if you want timely updates, then get a nexus or a phone that is less than 2 years old that is likely to get an update. Don't buy a $99 android phone expecting much.

Agreed. The people complaining about fast updates are the same ones who end up complaining about what the latest one did to their phone. If your phone runs great, enjoy it! Posted via the Android Central App

Bingo. Posted via the Android Central App +100 to your comment.

I agree. It's very annoying now Posted via the Android Central App

The point is you receive the latest update not only for the sake of it but for security reasons as well. I have no problems with iOS 9 on my iPad Air but hey it's from 2013 still supported and many devices from that age are not supported at all. The iPad 4 and 3 are old and discontinued and still garner support with iOS 9 being their last update for all we know especially the iPad 3. It happens. Devices from that era don't have the fastest and most powerful chips as we do now. #TeamFrosty Nexus 6P

What good is that update which screws with the performance of the device?
Not saying that updates are not needed but most people (no one on AC, of course) would choose stable and faster software over the latest one.
I, on the other hand, would choose the latest lol

Almost died when I noticed it said s6 edge+ instead of note 4 sigh still in 5.1.1 limbo

Yes!!!! Posted via the Android Central App

Got my update yesterday, Galaxy Note 5. No issues! Posted via the Android Central App

Great timing t-mobile! Right after all the s7 sales have been accounted for.

AT&T is waiting til a few thousand more S7s are sold. They can give the BS "thoroughly testing" excuse all they like...at this point we all know the truth, which is they are holding back the update til "X" number of S7s are sold.

Next up: NOT THE DROID TURBO! Posted via the Android Central App

I have the Galaxy S6 Edge + it's AT&T Unlocked I bought from best buy with the full price and I use it fir T-mobile and still didn't get the update Not even through smart switch I can't do the update. ANY HELP PLEASE ???
Android Central Newsletter
Get the best of Android Central in in your inbox, every day!
Thank you for signing up to Android Central. You will receive a verification email shortly.
There was a problem. Please refresh the page and try again.