HTC UK hosting contest to give away a real 24 carat gold HTC One M7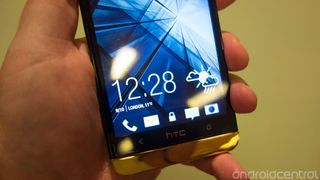 If you've been lusting over the real 24 carat gold HTC One M7 since we went hands on with back in October, we have some potentially good news for you. HTC UK is hosting a contest and one lucky individual will be able to collect one of the sought after devices by simply following @HTC_UK on Twitter and retweeting their contest posts.
The contest is already running and will continue right up until June 29th at 23:59BST. If you're looking to enter, you can read the terms and conditions via the HTC UK Facebook page. As a reminder, the 24 carat gold HTC One has an approximate retail value of £2,750 or a little over $4,679 USD.
Source: HTC UK Facebook
Get the Android Central Newsletter
Instant access to breaking news, the hottest reviews, great deals and helpful tips.
It's funny watching the people on Twitter complaining about the spelling errors on the terms and conditions page. I couldn't care less about their spelling errors. Gimme that free phone!

Cheapasses can't even give away an M8...lol Posted via Android Central App on my Galaxy S5/Galaxy Note 3

Lol, they're probably trying to draw down the solid gold M7 stock to make room for solid gold M8s Posted via Android Central App

Amber Gold M8s are only for posers, real rich dudes get 24-carat Ones. Posted via my M9, X+1, N910, G906, Z3, G4, or G Pro 3

Real rich dudes get Vertus. Posted via Android Central App

Fine, real rich dudes with taste. Posted via my M9, X+1, N910, G906, Z3, G4, or G Pro 3

Bling bling! Posted via Android Central App

UK residents only. :-( Posted via Android Central App

SHUT THE FUCK UP Posted via my M9, X+1, N910, G906, Z3, G4, or G Pro 3

Oh shit! This is my chance to make it big! I'm gonna click that link and give you all my information! My time has come!

I did, my check from Nigeria is on the way! Posted via Android Central App

Wow I'm legitimately jealous.

Until you see that exchange rate...

Enters all card info...bank acct now overdrawn...wtffff Posted via Android Central App

Yeah shut up you bot Posted via the app on my stock LG Optimus G E973 (4.1.2, soon be 4.4.2)

Heavy. Posted via Android Central App

It has to be just a thin layer of gold over the aluminum body. Gold is $1,315 oz and the full retail price is just under $5,000? Posted via Android Central App

Start working at home with Google! It's by-far the best job I've had. Last Wednesday I got a brand new BMW since getting a check for $6474 this - 4 weeks past. I began this 8-months ago and immediately was bringing home at least $77 per hour. I work through this link, go to tech tab for work detail
www.Jobs7000.com

Does this actually work Posted via Android Central App

A solid gold phone is the ultimate statement of deuche baggery. Nothing says, "I'm better than you" in a restaurant like whipping out a gold phone on the table and leaving a below standard tip when you leave.
Posted via Android Central App

Should mention it is for UK residents only