HTC's first 5G phone has a Snapdragon 765G SoC, 5000mAh battery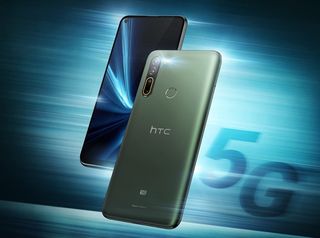 (Image credit: HTC)
What you need to know
HTC launched two new phones in Taiwan today.
The U20 is its first 5G-enabled mid-ranger and is powered by Qualcomm's Snapdragon 765G chipset.
HTC Desire 20 Pro is a mid-range 4G phone with quad rear cameras and a 5,000mAh battery.
Taiwanese smartphone maker HTC today unveiled (opens in new tab) its first 5G phone in Taiwan, dubbed the U20 5G. It also happens to be the company's first phone to come with a hole-punch display and a 48MP camera.
The HTC U20 5G is powered by Qualcomm's 7nm Snapdragon 765G chipset, paired with 8GB of RAM and 256GB storage. It has a massive 6.8-inch sized FHD+ display with a hole-punch cutout on the top-left corner, housing a 32MP selfie camera.
On the back of the phone is a quad-camera setup featuring a 48MP primary sensor, an 8MP ultra-wide-angle lens, a 2MP macro lens, and a 2MP depth sensor. It also comes with a 5,000mAh battery supporting 18W fast charging, NFC, and a rear-mounted fingerprint sensor.
Along with the U20 5G, HTC also expanded its Desire lineup with the new Desire 20 Pro. The phone has a smaller 6.5-inch FHD+ display with a 25MP selfie camera and runs on the Snapdragon 665 chipset. Just like the U20 5G, the Desire 20 Pro packs a massive 5,000mAh battery with 18W fast charging and includes a 3.5mm headphone jack as well. Both phones run Android 10 out of the box.
The HTC U20 5G has been priced at TWD 18,990 ($640) in Taiwan and will be available to pre-order in the country starting July 1. HTC Desire 20 Pro, on the other hand, is set to go on sale in Taiwan on June 18 for TWD 8,990 ($303). HTC hasn't announced any plans of launching the two phones outside Taiwan yet.
Get the Android Central Newsletter
Instant access to breaking news, the hottest reviews, great deals and helpful tips.
The U20 seems like it has a lot going for it. I don't really see anything bad about it. Does it have wireless charging or an ip rating? Besides that, will HTC actually support the device and will it come to other countries?

Who cares? Nobody will buy this HTC phone no matter which country they release it in.

I honestly didn't think they were still in the phone business.

The only downside, no AMOLED display, LCD but may be a good one?

No AMOLED means no screen burn in

I've been using AMOLED for 6 yrs, never had a burn in issue?

HTC has better LCD's than Apple, so I don't view it as a problem. The U11 display is downright delicious, and will be exactly the same ten years from now. They don't age.

I agree, the U11 screen is darn good and with the exception of maybe the U11+ (due to comparatively low screen brightness) HTC has always had good LCD panels on their devices.

HTC having better LCD displays than Apple? I don't think so. We get it, you're a big HTC fan, or what few fans HTC have left.

I'm just dealing with facts. GSMArena and others praised the U11 screen, calling it "gorgeous" and saying "It offers great viewing angles, bright colors, dark blacks, and great contrasts". Their words, not mine. Meanwhile, the iPhone 8 Plus failed to meet color and contrast requirements for HDR certification.
The iPhone 11 also failed the contrast requirements. Granted, meeting HDR requirements is almost impossible for anything but OLED screens, but do you know what LCD screen IS good enough for HRD and HDR10? The HTC U12 Plus...

Dropping facts, LOL I love it.

Most people do not care about HDR, while the iPhone 11 screen isn't even 1080p, the iPhone 8 Plus was so I'm surprised that HTC's LCD display on the U11 and 12 is rated better than Apple's by GSM Arena because Apple's superior D3 colour gamut and colour reproduction is second to none for me.

These seem like pretty decent offerings. I wonder which bands they support, because I wouldn't mind picking one of these up as a backup device. I'm also curious if they're still running the Sense OS and if so if it's been updated by now. Alas it's too bad these devices are getting so much hate on the internet (based on the comments on other sites).

Looks like a pixel 5 competitor

Eagerly awaiting the AC article on the best cases of 2020 for the HTC U20 5G

Almost 7 inch screen, 5,000 mAh battery, 32mp selfie cam, and it's not unreasonable to expect an iPhone beating main camera. Again. I'm not a fan if the rear body design though, and I still strongly dislike hole punches... even if they do put it in the least intrusive position for media consumption. Macro cameras from everybody else have been a waste of time, so I'm not sure why they would do that. No mention of wireless charging, but HTC does not like wireless charging because it's wasteful and bad for the battery. It's not a popular decision, but the engineer in me agrees with their reasons. I'm kinda amused that AC can't insult the processor choice, now that they've set themselves up to defend the Pixel's SoC choice. However, I was pleasantly surprised to find Android Central stating that the U11 and U12+ have held up well over time. By the way, here's a video on this phone:
https://youtu.be/alUJTUjwc7c

This whole 2MP macro cam trend has me scratching my head as well. I wish they would have gone the OP7 route and done a telephoto and added macro mode instead. Aside from that this looks like a good offering, I only wish they would have added a headphone jack to the U20.

Hahahahahahahaha, I don't think this HTC phone with have an ", iPhone beating" camera, you're free to dream though lol.

Possibly not, but we will have to see. I didn't state it as a fact because that information does not exist yet.

HTC"s first 5G phone that nobody will buy lol.

Hey guys, this phone will landed in united states?

Babu, I'm curious about something. Harish did a review on the Galaxy A50. He called it a "champion" and said it was a "phone that you should care about". The A50 review was overwhelmingly positive. Then we come to the HTC U20 5G, and the article is pretty much negative from start to finish. The A50 and U20 are almost identical. Why is one praised and the other an outcast?

Ah, so here's the breakdown when comparing the U20 5G to the Samsung Galaxy A50, which Android Central really liked.
Side by side, the HTC has a larger screen, more memory, more RAM, higher resolution main camera with gyroscope stabilized EIS, 4K video, dual LED flash and video light, 32MP selfie camera, larger 5000 mAh battery, a faster and more reliable FP reader, and Quick Charge 4.0. Oh, and the HTC has 5G. Seeing how these are advantages that the HTC has over the Galaxy A50, which Android Central really liked, it seems the U20 5G should be pretty good!

You forgot about the main issue, the OS. As of right now I don't think AC has gotten their hands on a phone to try so they can't judge it on HTC's current OS. They can only judge it on their last OS.

Who is this htc y'all talking about?

HTC has another flop on their hands, nobody will buy this over a Galaxy A71 5G or the iPhone SE.

At least not in that ugly green! When I bought my iPhone 11, I went with black because I didn't care for the pastel green, but it was way better than this! 🤢

"nobody will buy this over a Galaxy A71 5G or the iPhone SE"
You are probably right about that in most cases. The A71 5G is almost identical to this, but looks better from the back. Most will go for the Samsung even if it is slightly slower and has half the memory for a higher price. If anyone is already in the Apple ecosystem, it's pretty much a guarantee they won't buy this over the SE. The SE is an old phone, but the back still looks better even if the front does not.

You know what I just realized? That green is similar to something else. I wonder if that color was chosen to mock Apple, Samsung, and Motorola for their green tint issues?

I like the shade of green on the iPhone 11 and is the colour I'm going to get, I'm not sold on any of the other colours. I'll admit the HTC U20 looks nice but I still won't buy it as I want to be invested in the Apple ecosystem which is where I want to be.