HTC's new Wildfire R70 ships with Android 9 and a Micro-USB connector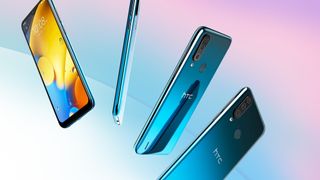 (Image credit: HTC)
What you need to know
HTC's first phone in 2020 is the decidedly 2017 Wildfire R70.
The phone's key selling points are its large waterdrop notch display and a triple camera set-up.
Ultimately, its uncompetitive specs and outdated Micro-USB connector make this phone a headscratcher.
HTC has a new phone in 2020 (opens in new tab) built for an audience that really wishes it was 2017. At least, that's what you can infer from the inclusion on a Micro-USB port where other OEMs are moving to USB-C, the new standard.
The selling points of this phone seems to be its camera set-up and big screen. On the rear, HTC has equipped this with a triple camera set up: a main 16MP with two other 2MP cameras for capturing macro images and portrait shots. At the front, there's an 8MP fixed focus camera for selfies and video calling.
Screenwise, you'll find a 6.53 HD+ (not full HD+) water notch display. It's a large display, but the resolution will likely let it down. Backing up the rest of this phone, we get Android 9 Pie powered by 2GB of RAM and a MediaTek Helio P23 processor. There's also 32GB of internal storage, and a 4,000 mAh battery. HTC has yet to announce pricing and availability.
Overall, the phone is a solidly low-end phone. HTC launching a Micro-USB phone is the kind of decision that brought it to where it is today, on the cusp of irrelevancy. Shipping with Android 9 is just the moldy cherry on the out of date cake. It could probably win some buyers based on nostalgia and the brand name, but given that other Chinese OEMs have stronger offerings for low pricing, it's hard to think of a price-point where HTC's Wildfire will be competitive.
Max price $99.99. Any higher and this phone will quickly disappear into the mists. At that price they could probably sell some units on Cricket, Boost, Total Wireless et al.

Wow! What is up with HTC?! They've really lost their way. 10 years ago, they had the best phones. Now...it's just sad. In 2010 or 2011, I bought an HTC Thunderbolt through Verizon. Was a GREAT phone. Until Verizon screwed it up, with a defective update that caused the phone to CONSTANTLY reboot. Even during phone calls. Was so bad, Verizon sent me another phone (a Droid Charge, made by Samsung, if memory serves me correct).

You know what's funny though, this thing is identical in almost every way to the Samsung A10e, except the HTC has a better body to screen ratio, a faster CPU, bigger battery, and three good cameras to Samsung's one poor camera. Micro USB is the reason they are calling the HTC bad, while praising the much worse A10e? The title of the article for the A10e, here on Android Central, is "Five reasons why the Galaxy A10e is one of our favorite budget phones". But you know what? It's typical.
Android central practically worshiped the Galaxy S9. Then HTC comes out with a phone that destroys the S9 in nearly every way, and Android Central says "We don't like the buttons".

Yeah, micro USB is a head scratcher, and I don't see any reason they would do that. It's not like there's more than a dollar difference in price between that and a proper USB C connector. I doubt it's any more laggy than Samsung's budget offerings.
Aside from that, it is a nice LOOKING phone (especially in that color), and might even have cameras as good as the Note 10.

The thing that makes me think this phone should only be $100 is the 2 gigs of ram. In 2020 that just makes a phone ultra budget. Three gigs ram and I'd be willing to go $149. Even without Usb-C. However, i will admit it's a pretty phone.

Good point. I don't think I could live with 2GB of RAM. It's what I'd expect to see in a phone hanging in the checkout line at Walmart.

Should have Android one on board. That alone would help with lower specs and lower price.
Android Central Newsletter
Thank you for signing up to Android Central. You will receive a verification email shortly.
There was a problem. Please refresh the page and try again.