How to bring Harry Potter magic to your Facebook account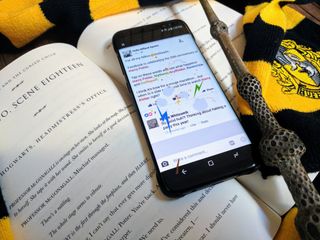 Wanna feel old? The first Harry Potter book was released 20 years ago today. Don't let that bum you out, though. In celebration of this anniversary, Facebook has turned a few of your favorite words into spells you and your friends can activate on both the app and the website.
Here's how it works!
Casting a Harry Potter spell on Facebook
Unlike many other Facebook promotions, there's no page you have to go and like to access these powers. All you need to do is create a post or comment with one of these words:
Harry Potter
Slytherin
Gryffindor
Hufflepuff
Ravenclaw
When you send the post, a little wand will appear and magic will erupt across your screen. After the post is live, you and any of your friends can click or tap on those words — which are now colored special for the celebration — and that same wand animation will appear again!
What are you waiting for? Go have some fun!
Russell is a Contributing Editor at Android Central. He's a former server admin who has been using Android since the HTC G1, and quite literally wrote the book on Android tablets. You can usually find him chasing the next tech trend, much to the pain of his wallet. Find him on Facebook and Twitter
THIS DOES NOT WORK ON ANY DEVICE I HAVE! I have used my stupid Android phone, my awesome iPhone, Macbook and iMac and even tried Chrome AND Safari. This is discrimination! LMAO

Works just fine on my HTC 10, iPad, and my wife's iPhone

You enter the name, then it will be colored on your post. You tap on the name and then get the wand animation.

Maybe you need a new wand? ;-)

Doesn't work for 2 of my friends also. Maybe some profiles are broken, let someone else sign to one of your devices and try it.

It's not working for me either. Updated app, tried on my chromebook, nothing. Both my posts and other people's post just look normal, no special colors or links.
Android Central Newsletter
Get the best of Android Central in in your inbox, every day!
Thank you for signing up to Android Central. You will receive a verification email shortly.
There was a problem. Please refresh the page and try again.