First comparison: Galaxy Note 7 vs. Galaxy S7 and Galaxy S7 edge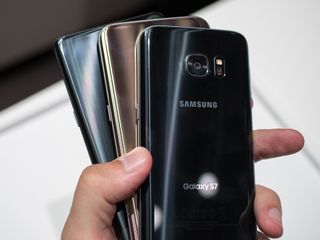 The Galaxy Note 7 isn't part of the Galaxy S series in name, but it sure is in spirit. The latest Note has a ton of high-end specs and features, but most of them can be found in the Galaxy S7 and S7 edge that were announced some six months earlier.
The specs are nearly identical, the cameras are the same and most features are shared — so where are the actual differences between these three phones? Let us explain.
On the inside
We're all pretty familiar with the Galaxy S7 and S7 edge, and so much is shared internally between these three phones that it makes more sense to simply focus on the differences — let's get to it.
The biggest notable differences between the three are screen size, where the Note 7 tops out at 5.7-inches, the Galaxy S7 edge is 5.5-inches and the Galaxy S7 is a relatively small 5.1-inches. They all have the same screen technology and resolution, meaning you're getting an awesome display on each one.
Further, you'll find 64GB of storage on the Galaxy Note 7, compared with 32GB in the other phones, though all three have a microSD card slot that can handle up to 2TB cards ... once they become available. The Note 7 has a larger battery than its predecessor at 3500 mAh, but that's a touch smaller than the Galaxy S7 edge's 3600 mAh (remember, you need room for the S Pen) — they both beat the Galaxy S7's 3000 mAh.
You'll also see a USB-C port on the bottom of the Note 7, while the other phones are stuck on last-gen Micro-USB connectors. That doesn't make a difference in terms of charging, though: all three make use of Samsung's Fast Charge tech, which is compatible with Quick Charge 2.0 accessories. You also get both Qi and Powermat wireless charging.
And now, a full breakdown of how the specs line up:
Category
Galaxy Note 7
Galaxy S7 edge
Galaxy S7
Operating System
Android 6.0 Marshmallow
Android 6.0 Marshmallow
Android 6.0 Marshmallow
Display
5.7-inch 2560x1440
Super AMOLED
Dual edge screen
Gorilla Glass 5
5.5-inch 2560x1440
Super AMOLED
Dual edge screen
Gorilla Glass 4
5.1-inch 2560x1440
Super AMOLED
Gorilla Glass 4
Processor
Quad-core Snapdragon 820 (U.S)
Octa-core Exynos (international)
Quad-core Snapdragon 820 (U.S)
Octa-core Exynos (international)
Quad-core Snapdragon 820 (U.S)
Octa-core Exynos (international)
Storage
64GB
32GB
32GB
Expandable
microSD up to 2TB
microSD up to 2TB
microSD up to 2TB
RAM
4GB
4GB
4GB
Rear Camera
12MP f/1.7
1.4-micron pixels
OIS
12MP f/1.7
1.4-micron pixels
OIS
12MP f/1.7
1.4-micron pixels
OIS
Front Camera
5MP f/1.7
5MP f/1.7
5MP f/1.7
Connectivity
Wi-Fi 802.11 ac MIMO
Bluetooth v4.2 LE
ANT+, USB 2.0, NFC
Wi-Fi 802.11 ac MIMO
Bluetooth v4.2 LE
ANT+, USB 2.0, NFC
Wi-Fi 802.11 ac MIMO
Bluetooth v4.2 LE
ANT+, USB 2.0, NFC
Charging
USB-C
Fast Charge
Qi wireless
Powermat wireless
Micro-USB
Fast Charge
Qi wireless
Powermat wireless
Micro-USB
Fast Charge
Qi wireless
Powermat wireless
Input
S Pen stylus
4096 pts of pressure sensitivity
Touchscreen
Touchscreen
Battery
3500 mAh
3600 mAh
3000 mAh
Water resistance
IP68 rating
IP68 rating
IP68 rating
Security
One-touch fingerprint sensor
Iris scanner
Samsung KNOX
Private folder
One-touch fingerprint sensor
Samsung KNOX
One-touch fingerprint sensor
Samsung KNOX
Dimensions
153.5 x 73.9 x 7.9 mm
150.9 x 72.6 x 7.7 mm
142.4 x 69.6 x 7.9 mm
Weight
169 g
157 g
152 g
On the outside
Externally, the similarities are very clear. You're looking at the same glass-and-metal combination across the three, though Samsung has tweaked the formula a bit on the Note 7. You'll find tighter corners around the Note 7, leading into a frame that's symmetrical with the same glass curve on the screen as the back glass. Though the Galaxy Note 7 and S7 edge both have curved "edge screens," the Note 7's curves are much smaller and tightly curved, increasing usability with fewer accidental touches. The Note 7 has the latest Gorilla Glass 5 covering both sides as well, decreasing the chances of cracking from drops.
The Note 7 also has a couple new color options to differentiate from the Galaxy S7 and S7 edge, including an all-black color that anodizes the metal frame a deep black color to match the front and back, and a "blue coral" combo with a bright blue front and back accentuated by a pinkish coral metal.
You'll also notice a couple of extra holes up at the top of the Note 7 flanking the earpiece — they're used for the new iris scanning technology. An infrared light on the left and a secondary camera on the right are capable of reading your irises to give you access to secure data on the phone.
More comparisons coming
As we spend more time with the Galaxy Note 7, we'll be evaluating exactly how it stacks up against the other leading Galaxy phones of the year. In the meantime, you can catch up with our Galaxy note 7 coverage, and get back up to speed with everything we've done with the Galaxy S7 and S7 edge!
Andrew was an Executive Editor, U.S. at Android Central between 2012 and 2020.
I love my S7 Edge! S7 Edge will make America great again!

preordered mine Posted via the Android Central App

Which one: S7, S7 Edge, or Note7? Enjoy your new phone!

Depending on cost, I'm not seeing much reason to not just go with the s7 edge. The edge should have better battery life, should end up being a little cheaper, and at the end of the day, the stylus is nice, but, not absolutely necessary.

Exactly my thoughts... Posted via my Note 5 or iPhone 6s Plus

Texted a buddy almost the exact same comments before seeing your post. Was hoping there was that one thing significantly distinctive and unique the s7 didn't have. Not sure what that would've been, was just expecting a "wow" feature... I'm not seeing it. The screen size and retaina scanner (rarely used/might never use, respectively) isn't enough when weighted against the cost. Considering I'm coming from a note three the s7 will be a big step up.

The pen... Posted via the Android Central App

I'm sure others regularly ues the pen. On my current note I rarely use it. Again, that's not enough for me. Sure others see this as a necessity on their phones.

Tmobile has a 200 dollar off thr s7edge Posted via the Android Central App

Where can I find this deal? Posted via the Android Central App

Stylus...I dun knee no stinkin' stylus! If I get the note I will order pants with big pockets.

Still happy with my S7. Didn't need the edge and don't need 5.7 inches of screen Posted via the Android Central App running on my Galaxy S7

I hope they don't narrow the devices down. What if the Note series BECOMES the edge next year. We get a flat S series and a Curved Edge that's the size of the Note without a stylus. That would suck. I use my stylus everyday Posted via the Android Central App

I really wanted the Note 7. When the S7 Edge came out I jumped on it cause it was just like a Note without the S Pen. I was planning on upgrading to the Note 7, but now it is basically the S7 Edge with a smaller battery So I am staying S7 Edge, but luckily it is still a beast Posted via the Android Central App

I'm with you there - I was planning on the same thing but seeing there's pretty much not much difference, I'll happily stick with my Edge until S8's come out :)

They're identical whaddaya know! Posted via the Android Central App

Uh oh - daring to compare these handsets is going to upset some people here who seem to be bothered by such comparison. Posted via Android Central App

They most likely aren't reading this then

Chuckle! I was just considering deviating from the galaxy series in favour of the bigger screen and here it is! Magic! Might wait for S8....

The edges ARE different doe, seems better done and less vulnerable on the Note 7 - is what I gathered from Andrew :)

I hate to be a fact checker, but just because I've owned both the S7, have the S7 Edge and considered upgrading to the Note 7 (I kept my Note 4 forever because of the lack of card slot in the Note 5) - I thought the max card size the expanded memory slots could take was 256GB? Not 2TB... It's just one of the biggest features I look for in my phones since I love to store my digital comics and videos to take with me for when I'm bored at work :D

It is 2 TB just that most only state 256 GB because that is the highest commercially available. That's why the article said, "when they become available" referencing the 2 TB. Posted from my unlocked S7 Active on T-Mobile

Makes sense - I've always usually been able to stuff something bigger in there than what's recommend*... I'm still running a 128 because I haven't had the money for a 256 or even a 512...a 2TB would have to be insane price-wise....OTG ftw! *That's what she said

I just wished that 6GB of RAM was included to give it that big brother effect. But I'm not going to whine over it.
As I have stated before many, many times; these phones when they come out have the same effect as video games like Madden NFL. They come out with a few new features that entice people to make an impulse buy. Others will sit idling by and wait until the following year looking for more. Hardcore lovers will buy a new device every year, while practical users will make a decision as to when they should update that works best for them.

So does the SD card slot take 256GB OR 2TB? They said 256GB specially in the presentation. Posted via the Android Central App from my S7 edge

2TB is the theoretical upper limit. 256GB is the max size that's available today.

Love my S6 Edge+...I'm going to hold onto it until the S8 comes out. Posted via the Android Central App

If anybody wants to see it in person best buy has them on display. It's a gorgeous phone and the edges aren't like the s7 edge. I didn't get the glare like on the s7 edge. Posted via the Android Central App

I would be willing to bet that with the success of the s7 edge it wont be long until the flat S series is gone. Esp if the note7 has smaller edges and it handles better. I bet we will start seeing and edge phone and a note phone. Posted via the Android Central App

Samsung **** off ! , with that same body and chassis, same phone but with a pen and less battery , NOTE 4 ALL DAY ,
bring the note 8 please this time throw a ir blaster in with it, all mother galaxy ships come with that standard , thank goodness I ain't by the note 7 , should have stuck a pen in the S7 Edge's ass and just called it the note.

But how do you really feel?LOL Posted via the Android Central App

Haha so much anger haha dude chill . Once you see the note 7 in person you'll be amazed I was stop by best buy . But have a drink first hah Posted via my note 5 are gs7 edge

Dude you sound bitter with that silly comment. Broke ass! You're still wielding around a note4 that the note7 is two times better than and have the nerves to be ********. Sit yo a** down clow*.

Good piece, but left unanswered is which phone is best at throwing Pokeballs. It's déjà vu all over again using Android Central App on the Sprint Samsung Galaxy Note 4

Now that is the real question here. Posted via the Android Central App

Welcome to the family, Note7! That's a line that I thought I'd never say 3 years ago. Call me weird, but...

this has me hyped for the S8 Edge honestly. USB-C, edge screen, great battery, expandable storage. I'm on the S6 and looking forward to upgrading next year.

Any confirmation of the Note7 having Samsung Focus aka a BlackBerry style hub? Posted via the Android Central App

Not gonna lie, this phone is underwhelming if you already have an S7/S7 Edge...

There is nowhere near enough features or advancement on the Note7 to justify the price difference over the S7 it was cloned from. Samsung is ripping everyone off and pocketting a premium they didn't earn.

Is it just me, or is every Android website bought and paid for by Samsung? 80% of the articles have been about Samsung for the last six months at least. To me, their phone hardware is nice, but Touchwiz just sucks royally. And to think that all their phones are $700+ is just highway robbery, especially in this day and age when you can buy a $400 phone that will do everything a Samsung phone can do at half the price. Posted via the Android Central App

Unfortunately LG were late to the smartphone game, and never quite got the hang of it. All those years in the mid noughties they dominated, spamming us with those flash menu phones.. it must have given them quite a high.

Haha well, they seem to dominate the market currently, so nobody is going to do articles on an unknown $200 phone made in Bangladesh hey.. Anyway, the poke people getting plenty of coverage here from what i see. Love my S7, looking forward to the S8!

there just reporting what folks want to read about . I assumed that's why your here commenting . the note7 and gs7 are the two biggest phones in the world right now and that's a fact . you know you have the option to not read the articles just saying

... and any of the three are about as powerful as the iPhone will be in about 10 years. Sorry, just couldn't help it. Love my S7 Edge. Posted via the Android Central App
Android Central Newsletter
Get the best of Android Central in in your inbox, every day!
Thank you for signing up to Android Central. You will receive a verification email shortly.
There was a problem. Please refresh the page and try again.