Here are all four colors of the Galaxy Note 7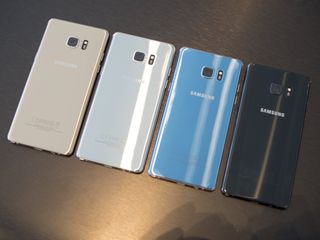 Since Samsung moved to its new metal-and-glass design with the Galaxy S6, the company has dome some really great work with colors. And while not every color has come to every area around the world, things are improving a bit with the launch of the Galaxy Note 7. There are four colors available of the new phone, and we're going to have access to three of them in the U.S. as well.
Here's a look at all four colors of the Galaxy Note 7, with a little bit of explanation behind how they look in the real world.
Black
After offering a near-black look with a deep blue color back on the Note 5, the Note 7 has taken the black option available on the Galaxy S7 and tweaked it a little bit. Not only are the entire front and back black, but Samsung has also anodized the aluminum frame in a deep black color as well, meaning the entire phone is blacked out, aside from the logos on the front and back that stand out in their typical mirrored silver finish.
Like the deep blue and black color options before it this is probably likely to be the most-sold color because it's a "safe" choice, but we're particularly smitten with the look of this black-on-black color scheme and have been asking for something like this since the Galaxy S6 was first unveiled.
Blue Coral
Though wild colors like this are usually reserved for Asian (and sometimes European) launches, a "blue coral" color option is coming to the U.S. this time around. The front and back are very reminiscent of the "blue topaz" color that was available internationally on the Galaxy S6, meaning its bright blue mirror-like finish can range from looking like a clear summer's day sky in direct light down to a deep navy blue in darker situations. And this time around, the metal frame is anodized in a coral color to really make it all pop. The coral also has some color-shifting properties, where it looks anywhere from a light champagne gold color down to a deep pink depending on the light.
We're not entirely sold that this will be a look that you appreciate more than a few weeks after launch, but those who want to really stand out will definitely do so with this color. The way the colors shift in the light gives you a really neat effect, and it's one you definitely won't want to cover up with a case.
Silver
And then we get to the silver (sometimes referred to as "platinum") color option, which is identical to what we've seen with the Galaxy S7 and S7 edge. It offers an almost mirror-like surface that reflects the colors around it, so it'll change a bit depending on where you're using it. This mirrored finish looks fantastic right out of the box, but quickly reveals just how fingerprint-laden a modern Galaxy phone can get once you use it. The silver color doesn't mask smudges nearly as well as the other colors (black being the best in this respect), and that can be a downside for some.
But when it's clean, the silver finish matches up nicely with its bright silver matte metal frame, for an all-out bling look.
Gold
Samsung's gold color that's currently available on the Galaxy S7 and S7 edge has been brought over to the Note 7 as well, with the exact same visual effect. Once again the gold is extremely close to the look of the silver model, and they even look identical in some lighting situations. Though gold (or "champagne") phones seem to be all the rage nowadays, the visual similarities between this and the silver model make it nearly indistinguishable at a glance.
Perhaps for this reason, Samsung won't be offering the gold model in the U.S., opting to give U.S. carriers the silver one instead.
Which one is your favorite?
Which Galaxy Note 7 color speaks to you is a very personal decision, especially since you'll be spending upwards of two or three years with the phone. Which of these four colors gets your attention?
Get the Android Central Newsletter
Instant access to breaking news, the hottest reviews, great deals and helpful tips.
Andrew was an Executive Editor, U.S. at Android Central between 2012 and 2020.
That blue does look nice, but the black is what I'd go for.

I normally go for black too, but I'd give that blue a long look in person first. The emerald green S6 was a beauty, I'm sorry to see that go Posted via the Android Central App

If I was to get the Note, I would be all for the blue! Wow. So beautiful.

Spell check Posted via the Android Central App

The blue would've been nice with a plain aluminum/silver finish frame. I do not like the blue and gold combo. Posted via the Android Central App

I just want to know when we can get in Canada take my money already lol

Saw the blue one on dbrand.com yesterday, it looked interesting with the gold accents Posted via the Android Central App

Black.. Although, that brushed (pebble) blue I had with my S3 was a great color.

I want the blue coral Sent from a device beyond your wildest dreams!

Blue will have lower resale value...just mop.

Sorry silver make room for that new blue!

I wish the blue had been darker,I'd have to stick with black. Posted via the Android Central App

Why has white been forsaken? Lol Posted via the Android Central App

I'll go for blue, if I get tired of it, I'll change from a clear cover to a solid black or whatever.

I like the blue, I'm tired of having dark phones.

I love both the black and the coral blue , they are both elegant without being too extravagant. speaking of"extravagant", I miss the emerald color they used on the s6 :( Posted via the Android Central App

I'm with you Nick, REALLY want the gold! SO disappointed since they didn't release a white choice either (would've been 2nd choice.) I'm tired of my devices being black, black & black! Posted via the Android Central App

White or Silver, I've had enough of black phones.

Me too. I want another white phone period !! I have the galaxy s6 snd won't get rid of it because the other phones don't come in white. It's white or nothing for me !!

Well you could get a white note 5 . And it's a worthy upgrade over the gs6 . Me i love the black but that blue looks so much nicer in person Posted via my note 5 are gs7 edge

There is no white option this release. Posted via the Android Central App

So agree! I loved my white Note2! Although silver is pretty boring, it's waaaaay better than black. The blue is too subdued - not bright or poppy enough to be cool. I'd totally take the gold, but of course, Samsung has no love for gold in U.S., apparently. That sucks. Still, I'm getting this in silver, then I'm hopeful there will be good cases with bright color choices (my faves in the past were bright lacquer looks in aqua and lime) when i want to liven things up.

I love the coral blue! Reminds me of the opal blue on the LG V10.

I Wanted a gold one.can't decide on weather I want to blue or black. Posted via the Android Central App

I'd go for blue. I like the way it carries over to the front too.

I ordered mine last night and the Blue was for me. Now if I can only find a case that doesn't cover it up!!!!!!

Already ordered the silver! Posted via the Android Central App

no carriers have the GOLD version available for pre-order even directly from Samsung. Anyone would know if the International UNLOCKED model would work for Verizonwireless in US and Canada? Here is the specs for Network: NETWORK Technology:
GSM / HSPA / LTE 2G bands:
GSM 850 / 900 / 1800 / 1900 - SIM 1 & SIM 2 (dual-SIM model only) 3G bands:
HSDPA 850 / 900 / 1900 / 2100 4G bands:
LTE 2100 (B1), 700 (B17), 850 (B5), 1700/2100 (B4), 1800 (B3), 2600 (B7), 1900 (B2), 800 (B18), 900 (B8), 800 (B20), 700 (B12), 800 (B26), 800 (B19) Speed:
HSPA 42.2/5.76 Mbps, LTE Cat9/Cat10 or LTE Cat12 600/150 Mbps GPRS - Yes
EDGE - Yes Any input on this will be appreciated. Thanks!

I want that GOLD color also!! Im on T-MO, would an international version work with TMobile? Posted via the Android Central App

As long as you are on the GSM network you should be fine. (Coz Verizon uses both CDMA and GSM networks). The international unlocked version is a GSM phone. But I would suggest to better check with T-Mobile with the specs i listed. Good luck. :)

The blue looks almost the colour i would have liked. But I think Samsung should have made it deep blue (Royal) to make it stand out. Then with Gold Edge bezel would have been the one for me . Another one which I wish they had done would have been a Ruby Red one with Chrome bezel or even Gold. That would have been an extraordinary colour which I would go for. Looks like the Gold for me but I am experiencing problems getting hold of this as Carphone Warehouse will only be stocking Blue or Black. In that instance, I may opt for Black as the Blue, whilst nice is a bit washed out colour for reasons explained.

Give me the black please!!!! I really wish Apple would adopt these colors also they're fantastic and making me want to switch...

Silver for me......something about this color is intriguing. Posted via the Android Central App

I haven't seen the blue one in person yet and i'm leaning towards that but want to see it with my own eyes before making a decision.

I would like to see pink gold here, then I would be happy to purchase ! I haven't seen gold, only blue, black and platinum. :-(

Just received my silver last week. Called the local store and they informed me that I have to special order gold. Tried to our corporate rep for T-Mobile and she said gold is not available. Apparently, gold is not available. Perhaps this is just with T-Mobile and other carriers have it.

That blue coral looks fresh.. Now I needs me ☝

I have the silver it's the best looking phone I've ever had rite out of the box everybody in the store was coming over to look at it it's beautiful. I opted with the rubber completely clear case so it doesn't hide the features but offers excellent protection and I got tempered glass privacy screen protector that looks sick with the silver and all for $30 on amazon.. I have to admit the black note would look insane too with the tinted privacy protector...