Best cases for Amazon Fire HDX 8.9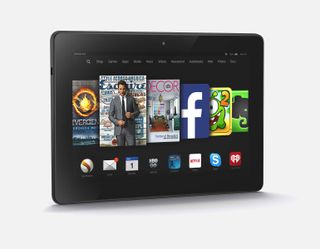 Whether you are looking for a little added protection (or a little added style) for your Amazon Fire HDX 8.9, a case can be a good place to start. That's why we have rounded up some of the best cases we could find, to make your search a little easier.
Finite folio case
The Finite folio case offers a little bit of everything. It surrounds your Amazon Fire HDX 8.9 in a synthetic leather, which offers some protection from scrapes but not much in the way of drop protection.
The front flap is not only a screen protector, it doubles as a media stand,. This makes it easy to enjoy your favorite media without having to hold on to your tablet.
See at Amazon (opens in new tab)
Supcase Unicorn Beetle
If you are looking for something that offers a little more protection, look no further that the Unicorn Beetle.
Although its name may inspire chuckles, this case is no joke! It has a soft TPU shell that your Amazon Fire HDX 8.9 sits in snuggly, which is inside of a hard polycarbonate piece that clips over the TPU. This two-piece design gives your tablet shock protection, meaning minor falls or bumps shouldn't hurt your Fire HDX 8.9.
One benefit the Unicorn Beetle has over some other rugged cases is the removeable screen protector. You can clip it on when you are on the move and then take it off when you need to clean it.
See at Amazon (opens in new tab)
rooCASE dual-view folio case
While this case may look pretty ordinary, it has some pretty neat features! The most notable of the bunch is its ability to be used as a viewing stand in both portrait and landscape mode, making the rooCASE perfect for media watching and reading hands free!
Like all folio cases, the rooCASE has a front flip cover that helps protect the screen, but this case also has a scratch resistant material covering the inside of the leather case giving you that little extra peace of mind that your screen will stay scratch free.
See at Amazon (opens in new tab)
Greatshield keyboard case
A great case has to have great functionality, and the Greatshield Keyboard case has it in spades!
First off, it has a Bluetooth keyboard, which means you can do all the typing, messaging, and note taking you need with a comfortable physical keyboard.
Secondly, it has a unique way of folding all together. You wrap your Amazon Fire HDX 8.9 completely in a leather case and the keyboard lays flat on top. You don't have to worry about the keyboard scratching your tablet's screen because it's protected in it's leather case.
Finally, the keyboard is light weight making it easy to carry around.
See at Amazon (opens in new tab)
Amazon FreeTime kids case
Directly from Amazon itself this case is specifically designed to be used by kids. If you give your kids control of your Amazon Fire HDX 8.9 often, this could be a great case for you.
It's rubbery thick corners are easy for kids' small hands to grab onto, and since it's made from silicone, it's very easy to wipe clean if their finger are dirty. The shell is so thick and rubbery that it provides great drop protection, so if it slips out of your kids hands you shouldn't have to worry.
See at Amazon (opens in new tab)
What's your favorite?
Do you have a case for your Amazon Fire HDX 8.9? Let us know what you love about it! Leave us a comment in the comment section below.
Finite offers a slim version of the one shown here. I recommend it more because it's less intrusive but still gives great protection. Got mine in royal blue and it looks great. I bought an origami case that attaches magnetically, yes the Amazon one, and returned it promptly. The thing never stayed in the case and the origami design just wasn't executed well. Posted via the Android Central App
Android Central Newsletter
Get the best of Android Central in in your inbox, every day!
Thank you for signing up to Android Central. You will receive a verification email shortly.
There was a problem. Please refresh the page and try again.