Best Accessories for BlackBerry KEY2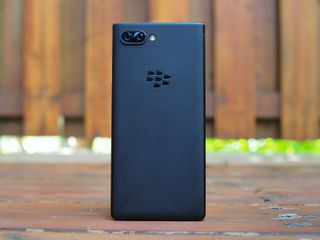 BlackBerry is back with the KEY2: everything that was great about last year's KEYone is still here, and everything that wasn't awesome has been improved. Even if you had last year's KEYone, there's more than enough reason to upgrade, which means it's time for new accessories.
BlackBerry will have a few first party accessories on offer, but third parties have some that are already available. And of course, there are some accessories that will work with any phone. Here are the accessories you should check out!
Osophter Wallet Case
It's always nice when one accessory can replace multiple things you have, and that's exactly what wallet cases do. With this case from Osophter, you get one slot for an ID card, perfect if you can use Google Pay everywhere you go. The front folio can bend back and act as a stand for your phone, perfect for watching a quick YouTube video. There's a speaker cut out on the front folio so you can take phone calls with the case closed, and there is plenty of room for all the ports and buttons.
The Osophter Wallet Case is available in black or brown for $10.
MicroP Full-body Protective case
Sometimes, you need a bit more protection for your phone. MicroP is here with their rugged Full-body Protective case. You get a design that will protect against most drops and materials, as well as repel moisture. There are precise cutouts for the ports, camera and speakers, and the buttons are replicated on the case itself. This is a no-frills design that does its job well, and look professional doing it.
The MicroP Full-body Protective case is available for $8.
PDAir Leather Holster Pouch
BlackBerry phones and pouches have been a perfect pairing since the old days, and that trend continues even in 2018. PDAir is here to make sure you can be just as stylish with your KEY2 as you were with your Bold 9900.
This doesn't include a belt clip, so you can't completely go early-2000s dad (yet). But, this pouch will keep your KEY2 scratch free while it's in your pocket, meaning it will be superbly pristine in your board meetings. There's no embossed BlackBerry logo like on old first-party offerings, which is a bit of a shame.
The PDAir Leather Holster Pouch is available for $37.
TopACE Tempered Glass screen protector
With the body of the KEY2 protected, it's time to focus on the screen. Tempered glass screen protectors are all the rage, since they feel as nice as your display but still offer protection. TopACE has a two-pack of tempered glass screen protectors for the KEY2 that should make anyone happy.
There's only one cutout, which means the glass will be easier to align and fewer places for dust to cling to. The screen protector itself has an oleophobic coating, meaning your fingerprints won't smudge up the display. The screen protector is also scratch resistant, so it should survive well in your pocket.
The TopACE Tempered Glass screen protector is available in a two-pack for $8.
Bedifol upscreen Spy Shield
Of course, if you want some PRIVacy while you're typing away on your BlackBerry, you'll want to invest in a certain kind of screen protector. Bedifol has such a model, one that seriously restricts the viewing angles of your display, so that random people on the street can't look at the sensitive data on the display.
This is a film screen protector, so it won't feel as nice as a tempered glass one. There's also an oleophobic coating to keep fingerprints and smudges at bay, and Bedifol promises a bubble-free installation.
Bedifol's upscreen Spy Shield is available in a single pack for $22.
More: Best Screen Protectors for BlackBerry KEY2
AUKEY USB-C PD Car Charger
While the KEY2 has stupendous battery life, it never hurts to be able to charge it when you're out and about. The best way is with a car charger, and AUKEY has the perfect model. It supports USB Power Delivery, meaning your KEY2 will fast charge when using this charger in your car.
It also includes a USB-A port to charge other devices, such as your headphones or someone else's phone. This supports charging up to 27W, so it may even be able to charge your laptop — albeit slowly. And with every new device charging over USB-C, this will be a great investment going forward.
AUKEY's USB-C car charger is available for $20.
Anker PowerCore Speed Power Bank
If you need a charge away from your car or a wall, a power bank is essential. Anker makes plenty of these, but the PowerCore Speed is among the best. The battery itself charges over USB-C, so you only need to pack one cable for your phone and the battery. You can charge the KEY2 from the same USB-C port, and charge an additional gadget from the USB-A port. This model outputs at 30W, so it may be able to work with your laptop as well. And with a 20,100 mAh capacity, you'll get multiple charges from the battery.
Anker's PowerCore Speed Power Bank is available for $100.
What say you?
Why you can trust Android Central Our expert reviewers spend hours testing and comparing products and services so you can choose the best for you. Find out more about how we test.
What accessories are you using with your KEY2? Let us know down below!
Sign up for Black Friday email alerts!
Get the hottest deals available in your inbox plus news, reviews, opinion, analysis and more from the Android Central team.