Sundar Pichai outlines Google's vision for India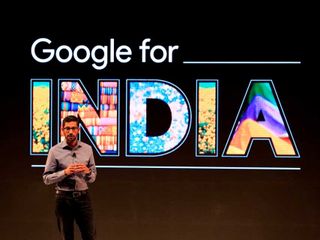 Google CEO Sundar Pichai kicked off the "Google for India" event in New Delhi, laying out a vision and sharing product updates around the company's long-term commitment to one of its largest growth markets. Interestingly, this was Pichai's first visit to India — and his first overseas trip — after taking over as CEO of the restructured Google Inc. earlier this year.
At the event, Sundar reiterated Google's commitment to spread the reach of internet across the country and make locally relevant products.
Google has been working with Indian Railways and Railtel to launch RailWire Wifi, providing free WiFi in train stations. At the event, Sundar announced that Mumbai Central will be the first to go online in January, with 100 more on the way by December 2016. Google announced this initiative recently when Sundar Pichai met the Indian Prime Minister, Narendra Modi, earlier this year in Mountain View.
Pichai said that Google's rural internet initiative will move from pilot to a full scale program in 300,000 villages in India, helping women from these villages get online in three years. Under the initiative, rural women are given bicycles by Google to reach out to other women in nearby areas to help them come online. For this initiative, Google has tied up with Tata Trust and is currently running it in 1,000 villages.
The company has also sought approvals from the Indian authorities to float balloons over the Indian airspace that will provide Internet connectivity to the hard to access rural areas as part of Project Loon.
Pichai also announced that the company will build new campus and ramp up engineering presence in Hyderabad to make products for India, while hiring more talent in Bengaluru.
On the sidelines of the event, Google announced a program to train two million new Android developers over the next three years by working closely with more than 30 universities across the country in partnership with the National Skill Development Corporation. During his keynote, Pichai shared that by 2016, India will have more Android users than the U.S.
What about Pakistan? Posted via the Android Central App on my Galaxy S3 Neo Dual Sim which thankfully doesn't have S-pen and does not have a horrible metal body.

Apple might do something there lol Posted via the Android Central App

sad for india. they will never have the space for their homegrown companies to grow

That's an impressive investment by Google Posted via the Android Central App

I heard that Google is going to add an a special indicator in the Indian version of Maps for the "designated" streets. Posted via the Android Central App

I'm sure that will work.. And I know in India most of people don't use Internet.. ~Android Central App
Android Central Newsletter
Get the best of Android Central in in your inbox, every day!
Thank you for signing up to Android Central. You will receive a verification email shortly.
There was a problem. Please refresh the page and try again.