Sony Xperia Tablet Z available for preorder, includes free cradle offer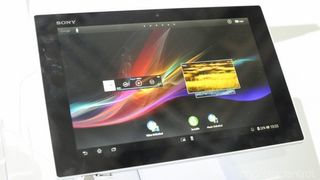 Preorder a 32GB version in white by May 24 to qualify for a free cradle
Sony has officially started taking preorders for its newest 10.1-inch Jelly Bean tablet, the Xperia Tablet Z. This incredibly thin, IR-sporting device was announced in late January, and shown off during the Mobile World Congress. It comes with a 'Full HD Reality Display' (1920x1200p WUXGA), 1.5GHz Snapdragon S4 Pro processor with 2GB RAM, a 2MP camera up front, and an 8MP camera in the rear.
To help up-sell those considering the $499.99 16GB black model, Sony is throwing in a free cradle accessory to customers that preorder a $599.99 32GB model in white. The 32GB version comes in black as well, but for whatever reason the free accessory offer only applies to the white version. Preorders must be in by May 24 to be eligible for a free cradle.
Head over to the Sony Tablet preorder page to reserve yours. If you're still on the fence, check out our initial hands-on, as well as the subsequent hands-on of this gorgeous tablet.
Source: Sony
A Nice second screen for my soon to be PS4.

You know, it must be really tough to bring a "new" tablet to the market. Sony is a big company and a gigantic name. but as they were trounced by Apple in the MP3 player field, they are simply late to the game here. Who would have thought the creator of the Walkman would drop the ball and be an also ran in other modern digital markets.
My iPad2 was ripped off recently so I have spent the last couple of weeks shopping. I looked at Windows 8 and Android Tablets very closely. My choice is... the Nexus 10 32GB, even without an expansion slot. Immediately I spent more cash on the extras you need for a proper ownership of a tablet. Sony was nice enough to provide a fairly fair comparison of their competition, check out their page to see it.
Android Central Newsletter
Thank you for signing up to Android Central. You will receive a verification email shortly.
There was a problem. Please refresh the page and try again.