Smartphone Experts Desktop Stand for Android phones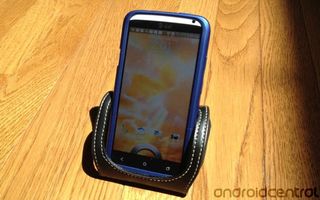 Desktop stands come in lots of shapes and sizes. Some are gimmicky and expensive, others are just not well designed. The Smartphone Experts Desktop Stand takes a very simple, but effective approach to keeping your device upright.
The Smartphone Experts Desktop Stand is a one piece stand that does one thing – it keeps you new HTC One X, EVO 4G LTE, Galaxy S III or any other Android phone accessible and in place.
What's in the package
The Smartphone Experts Desktop Stand contains one long piece of leather that folds together – to turn into your desktop stand. There are no additional pieces to worry about – just the one leather stand is included.
Design
The Smartphone Experts Desktop Stand is crafted from one piece of Bolivian leather. At the far end is a tab that fits into one of two notches on the other end of the leather.
The two tabs give you the option of two different angles for your phone. Once the tab is in the notch, just put your phone in the open space and it will sit nicely upright in the stand.
Functionality
The Smartphone Experts Desktop Stand functions well. The two notches give two very slightly different viewing angles which allow you use your Android phone on your desk.
The stand is only for using your device in portrait mode, so this is not ideal for those applications you tend to run in landscape mode. On the HTC EVO 4G LTE, for example, I preferred to just use the kickstand when I had it near my desk and use in landscape mode.
On the Galaxy Nexus, since the charging port is on the bottom, this stand makes it impossible to both charge your device and have it in the stand simultaneously.
The wrap up
The Smartphone Experts Desktop Stand is a good, inexpensive way to have your Android phone upright and available while on your desk. You can easily take it apart and transport it from place to place. The leather has a nice feel and it hold the phone very securely.
The good
Inexpensive
Real leather with a nice feel and nice stitching
Holds the phone securely
The bad
Can't be used in landscape mode
Blocks the charging port on some phones
The verdict
The Smartphone Experts Desktop Stand is a good, inexpensive way to add a little class of leather to your desk and keep your phone upright and accessible.
Buy it now
Others like this
Get the Android Central Newsletter
Instant access to breaking news, the hottest reviews, great deals and helpful tips.