Sprint HTC EVO 4G LTE review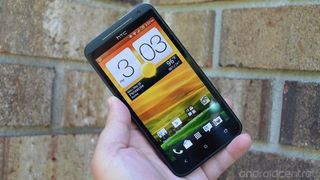 The Sprint HTC EVO 4G LTE is a great phone on a less-than-great network.
There. We said it.
That's not an easy way to start a review of a phone. Nor is it necessarily fun for us to say. It's simply the way it is.
This should come as no surprise to Sprint aficionados. Heck, it pretty much mirrors what we just wrote about the Sprint Galaxy Nexus. Great phone, so long as you don't need speedy mobile data. That's going to change in the next month or so, at least for folks in a half-dozen cities, as Sprint fires up its 4G LTE network, and it'll change for even more by the end of the year. And Sprint's 3G data should get a boost, too, all part of its Network Vision initiative. But for now, you've got an EVO 4G LTE without the 4G LTE, and oft-slow 3G data.
But is that really fair to the phone? To the follow-up to arguably one of the greatest Android smartphones we've seen? To the phone that launched the 4G era? (Never mind that Wimax is going the way of the dinosaurs.) The original EVO 4G was an important phone, for damned sure the EVO 4G LTE is. At least for Sprint, if not for Android as a whole.
So that's the question: Is the phone good enough to warrant a purchase even if the network's not yet measuring up? Let's get into it in our full EVO 4G LTE review.
Pros
Excellent hardware, with a fast processor, good battery life and a gorgeous display, as we've come to expect from HTC in recent months. The camera's quality as well, and Sprint's done well to not mess with HTC's implementation of Sense 4, including laying off the bloatware.
Cons
As of the time of this writing, Sprint's LTE network remains dark, and its current 3G network remains slow for many. That's not the phone's fault, but it's the world in which it currently lives. That'll change, of course -- it's just a matter of how soon.
The Bottom Line
Swipe to scroll horizontally
The drama
We'd be remiss in not at least mentioning the delay in getting the EVO 4G LTE onto store shelves. In 2011, Apple filed a complaint with the International Trade Commission alleging that HTC violated some of its patents and that its products shouldn't be allowed to be imported into the United States. HTC was found to be at fault but said it a simple software tweak would put it in compliance. And, sure enough, that's what it did. The EVO (and from here on out, we're ditching that ridiculously unwieldy name and just going with "EVO") has a slightly redesigned user interface. Chances are you wouldn't even notice. When you tap on a phone number in an e-mail or text message (or anywhere else), you're taken directly to the phone dialer instead of given a list of options. No biggie.
The bigger deal is that the ITC still had to review shipments of the EVO (and AT&T's One X), and that's what caused a delay of the launch of Sprint. Blame whomever you want -- Apple for defending its IP, HTC and Sprint for fumbling the launch -- but don't blame the phone. It's not the phone's fault, and so the patent flap doesn't factor into our review.
The EVO 4G LTE video walkthrough
The EVO 4G LTE hardware
We've previously said that the EVO essentially is a redesigned HTC One X. And after having spent some quality time with it, that's still true. Yeah, it's a redesigned One X. With a kickstand. But the major pieces of the hardware are the same. It's got the same 4.7-inch Super LCD 2 display covered in Gorilla Glass. The same internals as AT&T's One X with the Qualcomm Snapdragon S4 processor with integrated LTE radio. And, perhaps as important for many of us, it's got the same excellent camera.
The EVO's design has been the subject of many a debate. Instead of the unibody polycarbonate shell that HTC used in the One X, Sprint opted for a mix of aluminum and plastic. You can't quite tell from the front, though. The business end of the EVO is dominated by the large display (at 1280x720 resolution) with three capacitive buttons on the bottom, and a thin lint trap that doubles as the earpiece grille. It's got an LED notification light tucked in there, which is good to see. We've crowed about this Super LCD2 display, and that continues with the EVO. It's gorgeous, with barely any air between the glass and the LCD itself. That makes it look like images are nearly floating on the surface and gives us a bit of a tingly sensation. It's great, especially with that 720p resolution. What's more is that you can actually use it outdoors, even in direct sunlight (so long as the brightness isn't set way low).
To the right of the earpiece is the front-facing camera. We dare say we like the design of the EVO's earpiece better than the One X -- it just looks a little more polished. But, yeah, it collects just about anything that finds its way into your pocket.
We're digging the flat feel to the front of the EVO. But there's a little bit of a lip between the display and the body of the phone. It's not horrible, and it gives the phone a bit of an industrial feel. But coming from the more subtle edges of the HTC One X, it's definitely noticeable.
The entire phone is ringed by a silver metal band, which has a distressed look to it and is quite stylish. It provides a nice transition from the glass on the front to the aluminum and and plastic of the back. The power button -- which along with the 3.5mm headphone jack and noise-canceling mic are on the top bezel where you'd expect them -- is neatly camouflaged, comprising the silver band as well as a tad of glossy black plastic. It's a nice bit o design trickery.
The camera shutter button, which is on the same side as the volume rocker, is the same silver as the bezel band, though it's got more texture to it. We'll talk more about the shutter button in the camera section.
The back of EVO has been probably the phone's biggest source of controversy. But we rather like the mix of plastic and metal. If you don't, that's OK, too. But there's a nice contrast between the brushed aluminum and glossy black plastic. Yeah, the latter is a fingerprint magnet.
But the glossy section also is removable, and that's paved the way for the inclusion of a microSD card slot. For us, losing the unibody design for expandable storage is worth it. There's also the added possibility of replacing the back cover, which also protects the camera lens. So should it get scratched, you might be able to swap it out. You'll not find the LTE SIM card in this part though; it's non-removable.
Like the original EVO, the new iteration also sports a rear kickstand. We can't say enough about this new one. HTC's kickstands traditionally have been more functional than stylish, but the EVO 4G LTE's kickstand is an exercise in subtlety. Its color (HTC's excellent fire engine red) and position on the phone (as a transition between the glossy plastic and aluminum) are meant to stand out. But the way it's beautifully integrated into the body of the phone when collapsed shows a new level of design sophistication for HTC. HTC seemed to be trying to will you into using its previous kickstands, with their chrome color making sure you'd remember they're there, the EVO 4G LTE's kickstand seems to melt into the body. There's just enough gap on the right-hand side to slip a fingernail in and pop it open. But chances are you could hand the phone to someone, not tell them it has a kickstand, and come back weeks later and they'd be none the wiser. It's that well done.
As an added bonus, HTC's made sure that you can use the kickstand in an upside-down manner. That is, the spring's strong enough to fully support the phone so that you can charge it while keeping it propped up.
One negative here (but hardly a surprise) is that the Sense user interface and homescreens don't switch to landscape mode when you use the phone horizontally with the kickstand. You'll need a third-party launcher (or custom ROM) for that, or wait for whatever app you're using to kick into landscape mode.
What's under the hood
The EVO is running Qualcomm's Snapdragon S4 processor (you'll hear "Krait" tossed in there from time to time) at 1.5GHz with a gigabyte of RAM. It's a dual-core processor, but don't get too hung up on that. In fact, don't get hung up on that at all. Anyone who tells you it's "slower" or not as "good" as a quad-core processor is simply wrong, a fact we also demonstrated in our review of the AT&T HTC One X, which is running the same hardware.
Power consumption on the EVO is excellent. Like the AT&T One X (or One XL outside of the United States), you almost have to see it to believe it. In our tests, with actual daily use, going 12 hours isn't just wishful thinking, especially if you're able to have some quality Wifi time. Leave it unattended, and standby time is measured in days, to the point of ridiculousness. That will change a bit once LTE data's thrown into the mix. But Krait remains one hell of a chipset. Our standard two-hour video test at 50 percent brightness took about 29 percentage points off the battery. An hour of local music playback takes just a few percentage points. Do remember that the EVO has a 2,000 mAh battery -- a little larger than what you've traditionally had in smartphones -- so you should see slightly longer usage times no matter what.
As for storage space, you've got a little more than 2GB of internal storage for apps and what not, and another 9.93GB of "phone storage" for media. Plus, the EVO's got a microSD card slot. A 32GB card will work, and we're having luck with 64GB cards as well. That's a big leg up for the EVO over its other HTC One cousins.
But we can't get out of this section without talking about Sprint's network. (Especially given the opening line of this review.) Sprint's current network doesn't do the EVO justice. Hell, it doesn't even live up to its name. First off, the state of its current 3G network is slow at best. You've got an EVO 4G LTE without the 4G LTE. (For those who don't wallow in smartphone acronyms, this is different than the 4G Wimax Sprint has had for the past two years.) Oh, LTE is coming, and Sprint's got lofty goals with its Network Vision plan that should basically give it a brand-new 3G network, too. And we're willing to give it the benefit of the doubt and say that by this time next year we'll all be rolling merrily along at many megabits per second. And Sprint so far has pledged that its unlimited plans will carry over onto its LTE network as well.
But for now, today, you've got a super fast phone on a not-so-fast network. And remember that once LTE comes online, battery life will change a bit. Sprint has left in the ability to toggle LTE off and on, though, which is nice to see. (A widget toggle would be even better, though.)
Oh, and the EVO 4G LTE can do simultaneous voice and data over Sprint's 3G network. We'd be more excited about that if that 3G data wasn't so slow, but we digress. It's a much-needed feature to have, and we're not going to look a gift horse in the mouth.
Another item of note is the way the EVO handles itself when connected to a computer via USB. Previous-generation phones all used Universal Mass Storage. That is, you'd plug it in and tell it to connect as a big flash drive. (During which time anything on that partition, be it internal storage or the SD card, would be inaccessible to the phone.) The Samsung Galaxy Nexus (among a few other devices) ushered in the MTP era, in which, on Windows machines anyway, you plug in the phone, and it magically appears as a drive on the computer while remaining just as usable as a smartphone. (Some folks love MTP, others don't. To each his own.)
The HTC One X uses universal mass storage. You plug in the phone, then tell it if you want to use it as a drive, or just charge, or use USB tethering, etc. The EVO does the same, but there's no obvious mass storage option. To move files on Windows machines without using the HTC Sync Manager software, you'll need to connect and use the "Media Sync" option. (If you're using a Mac, be sure to have the Android File Transfer app installed.) It's not a huge deal, but it is a little different, so we're pointing it out.
The EVO 4G LTE software
Out of the box, the EVO is running Android 4.0.3, otherwise known as Ice Cream Sandwich. It's also got Sense 4, same as the HTC One series of phones. Sprint hasn't done too much to customize things, which is good. The user interface is the same, pretty similar to stock Ice Cream Sandwich. (And you can always install a third-party launcher if that's your thing.)
Read our full Sense 4 walkthrough
Opening the app drawer can be a bit of a shock. Where you'd normally find a bevy of Sprint-branded applications you'll now see just one. That's right, the EVO is nearly devoid of carrier-mandated bloatware. The lone application is Sprint Zone, a portal to download more Sprint applications. And kudos to Sprint for doing it this way. Instead of loading up the ROM (and taking up valuable space), we have the choice to install or not. (Note that we're not counting Sprint Hotspot and Voicemail as bloatware -- those are functional apps.)
Sprint has loaded the seven homescreens with widgets, but useful ones. The main homescreen has the iconic HTC clock and a few apps you'll likely use. (And it's nice to see Google Play on the main home screen, where it belongs.) You can customize things however you wish, and head into the Personalize section in the settings menu to change scenes and skins for more quick customizations.
And, yes, Google Wallet is on board this guy (along with full NFC capability).
The EVO 4G LTE cameras
The EVO has the same cameras as you'll find on the HTC One series. And along with the f/2.0 aperture and 28mm-wide lens. It shoots stills in full 8-megapixel mode by default. The camera app is the same as on proper HTC One phones, with modes for things like HDR, panorama and close-up shots, and its own Instagram-like filters.
The short, short version is the EVO's camera is every bit as good as what we've seen on the HTC One phones.
But the EVO's got something the others don't -- a physical shutter button. It works in two stages. Theoretically, you depress it halfway to focus. But the camera app's autofocus seems to override that. Press the button all the way down to shoot. As for the phone having a physical shutter in the first place, we could take it or leave it. Whether it's "better" to use an on-screen shutter button, we'll leave to you. Some people prefer it, some don't.
One thing to note about the shutter, however, is what it doesn't do. It doesn't wake the phone. Pressing it doesn't take you directly to the camera app unless the phone is awake and unlocked. Again, that makes sense in some respects, and is disappointing in others. But it is the way it works.
Now, onto the samples.
(Warning: Sample images open in a new window in full resolution)
Front-facing camera
(http://Note how the notification ring seems to have thrown the audio out of sync. Good times.)
Rear-facing camera
Other odds and ends
You've got a couple of keyboards already installed. HTC's latest keyboard is enabled by default, or you can switch to Swype in the keyboard settings. Or, install another keyboard yourself. Up to you.
We're fairly happy with the rear speaker on the EVO. Some notifications are louder than others, so you'll want to experiment, perhaps.
The vibrating motor (which you can see when you remove the rear cover, which is cool) is fairly strong. If you don't seem to be noticing it when you think you should, be sure to check the notification settings for that particular app. It's not always turned on by default.
FM radio is present and accounted for. We're happy to see it.
The EVO works just fine with HTC's Bluetooth Car StereoClip and the Wifi-Direct MediaLink HD.
GPS has given us nary a problem.
As for hacking, the EVO is fully unlockable via HTCDev.com, and it's easily rooted, too. (Good on Sprint for not locking it down.)
Good news for you folks worried about multitasking. Maybe. The EVO doesn't appear to dump apps from memory as harshly as we've experienced on the AT&T HTC One X. That is, if you start typing something in one app, switch to another and then switch back, you should find things as you left them. We say "should" because it's not necessarily the same for every application.
Sprint has quit using Carrier IQ for network analysis. But the EVO does use the "Tell HTC" app for error reporting. You can easily opt out of it on setup, or later in the settings menu. See our full breakout of "Tell HTC" here.
The wrap-up
As we've been saying since our first encounter with the EVO 4G LTE, Sprint has taken the HTC One X and actually improved on it, at least under the hood, adding a removable microSD card. For some, that will be be the deciding factor. For others, it's not a big deal. The reaction to Sprint's decision to deviate from the One X design has been nothing short of political fire and brimstone. Folks either love it or hate it. (Or at least have a resounding "meh," we suppose.) But whether or not you like it, HTC obviously has thrown the full weight of its design team at the EVO. There's nothing half-assed about the way it looks.
The big question for the EVO right now is this: Is it worth buying now on the promise of faster data later? Based on the hardware HTC's used in the EVO 4G LTE, absolutely. If you're locked into Sprint and are in a Wifi-laden environment, it's a no-brainer. Buy it. Same for if Sprint's network is good enough where you live.
If you're in one of Sprint's six initial LTE cities, you've still got some weeks to go before LTE goes live. If you're suffering through sub-par 3G speeds, there's not a lot we can do for ya. But we also have no doubt that Sprint's doing all it can to bring faster data sooner. And once it does, the HTC EVO 4G LTE should well live up to the legacy of its namesake.
[gallery][/gallery]
Get the Android Central Newsletter
Instant access to breaking news, the hottest reviews, great deals and helpful tips.