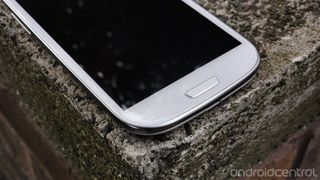 Last year's Samsung Galaxy S II came out of nowhere to dominate a generation of Android phones, selling over 20 million units in the process. It was instrumental in securing Samsung the 2011 smartphone crown, and cementing its place as a rival not only to other Android OEMs, but to the almighty Apple. At the time, in our own review, we proclaimed it "a supremely impressive device," and that remains true to this day -- the Galaxy S II has become a vintage Android handset.
So how do you follow up such a technological marvel? There's been no shortage of Samsung phones since the S II's launch in the spring of 2011, but it wasn't until twelve months later that the wall of secrecy surrounding its true successor began to crumble. And in early May, at a glitzy (and frankly surreal) event at London's Earl's Court arena, Samsung finally unveiled the Galaxy S III (S3).
The initial reaction was a unsurprising mix of excitement and jubilation, tempered by the revelation that after all the hype, the Galaxy S3 was just another high-end smartphone with its own imperfections and compromises. Well, now the phone's out in Europe, and enough time has passed for the initial novelty to wear off, so let's get right down to business. Just how does the Galaxy S3 shape up in the fiercely competitive smartphone market of 2012? And can it hope to match the stratospheric success of its progenitor?
We've got all these answers, and so much more, in our definitive review of the Samsung Galaxy S3.
Pros
A blisteringly fast smartphone in a good-looking chassis, with one of the best phone cameras we've tested. Extremely lightweight and ergonomic, and despite the presence of a 4.8-inch screen, not excessively large. The new TouchWiz UX feels faster and less bloated, and new innovations like Smart Stay add real value. Battery life equals or beats most Android competitors. Removable battery and expandable storage.
Cons
The glossy back won't be to everyone's tastes, and Android purists will rightly complain about the inclusion of a legacy menu button (and use of legacy menus in general throughout the software.) Auto-brightness doesn't ramp up aggressively enough, especially indoors. S Voice is a gimmick, and mostly useless in its current form. Though tangibly improved since version 4, TouchWiz remains visually chaotic compared to HTC Sense and vanilla Android.
The Bottom Line
Whether you judge a phone's speed by benchmark numbers, what it can do, or just how quick it feels, the Galaxy S III is the fastest Android phone money can buy -- and that in itself is an achievement. But it's obvious that Samsung isn't miles ahead of the Android competition, as it was last year. That means the choice between its flagship and HTC's is not as clear-cut as it's been in the past. In fact, the argument between the Galaxy S III and HTC One X is one we'll save for another day. But in spite of the Galaxy S3's identifiable weaknesses and foibles, the overall package that Samsung delivers is still exceptionally good. And that makes it a device we can enthusiastically recommend to high-end smartphone buyers.
Swipe to scroll horizontally
Galaxy S3 Video Walkthrough
Galaxy S3 Design and Build
For all its wondrous internal hardware, the Galaxy S II was a pretty unassuming device -- to the passing observer, it was just another black, rectangular smartphone. The Galaxy S3 abandons this conventional design, instead donning a curved chassis with reflective, silverish accents. What's more, there's no black model on offer this year, only "marble white" and (eventually) "pebble blue." While it could be argued that this is an attempt to work around the legal posturing of Apple, it's equally true that the S3's design allows it to stand out in the growing sea of competing black rectangles. And although you can clearly trace some design cues back to phones like the Galaxy Nexus and original Galaxy S, overall it's a marked departure from the design language of Samsung's 2011 Galaxy line.
The S3's industrial design was a major point of discussion in the days following its announcement. In the months beforehand, the Internet had been buzzing with fanciful rumors of an aluminum or liquid metal chassis. But just about every Samsung phone ever made has been constructed of plastic, so given the company's design heritage, it's no great surprise to find the S3 furnished in polycarbonate.
Despite the wringing of hands over the use of plastic -- glossy plastic at that -- this is not a device that looks or feels cheap. Granted, it'll never quite compare to the cold, industrial feel of a phone like the HTC One S. And the glossy back cover can become something of a fingerprint magnet. But the use of plastic has its benefits, including better cellular reception and a lighter overall weight. At 133 grams, the Galaxy S3 is just a hair heavier than the HTC One X, and ever so slightly lighter than the Galaxy Nexus. It has a different finish, but the fact that the S3 is built from polycarbonate like the HTC One X should make it similarly durable.
The phone's ergonomics, durability and light weight are all the more surprising considering it packs a whopping 4.8-inch screen. However, the minimal bezel and curvaceous chassis means it doesn't feel excessively large or bulky. At 8.6mm thick, it's considerably slimmer than the vast majority of high-end smartphones. Samsung's button placement also helps out in this respect. The power button sits along the right edge, making it easy to find and press, and the main control buttons are centered right along the bottom of the device, meaning they can be reached without too much thumb strain.
While we're talking about buttons, we should probably say something about the key setup that Samsung's opted for on the Galaxy S3 -- a big physical home button in the middle, with capacitive menu and back keys on either side. That's a standard button layout for international Samsung phones, but the decision to use a legacy menu button will rightly upset Android purists. Google's phasing out the old-style menu button, and Samsung's chosen button configuration moves it away from the Android 4.0 design language. And though it flies in the face of Google's guidelines, we weren't bothered too much by the inclusion of the menu button as we went about our daily business on the phone.
Behind the S3's glossy back cover is its removable 2100mAh battery -- among the largest found inside high-end smartphones -- along with spring-loaded microSIM and microSD card slots. While expandable storage isn't a great concern of ours, the phone nevertheless scores bonus points for allowing up to 64GB of extra extra space, in addition to the built-in 16GB. The same goes for the removable battery, which gives the opportunity to swap out a replacement in a pinch, or use a higher-capacity aftermarket model.
And last but not least, notification LED fans will be pleased to learn that the Galaxy S3 has a multicolored indicator in its top left corner. The LED flashes blue when booting or when a notification is pending, red when charging and green when fully charged.
Galaxy S3 Screen
The Galaxy S3's 4.8-inch screen dominates its front face, with only a thin bezel separating it from the edge of the chassis. The glass front boasts Corning's Gorilla Glass 2 for added impact-resistance, and its edges gently curve back down towards the trim, avoiding any sharp transitions from glass to plastic.
The panel itself is a 1280x720 HD SuperAMOLED, similar to what's found on the Galaxy Nexus. We say "similar" because there are some striking differences when you compare both phones side by side. Color balance is cooler on the S III, and whites don't have a yellowish tint like they do on the Nexus. Nor does the S3 suffer from the same "graininess" that afflicts the Nexus at lower brightness levels. Colors seemed just a little punchier to us, too, though that could be the result of software tweaking.
The fact that the screen is SuperAMOLED, not SuperAMOLED Plus, means it uses the an RGBG (PenTile) subpixel structure, compared to the more standard RGB layout. At lower resolutions, this can result in unpleasant jagged artifacts around the edge of certain on-screen elements, but at 1280x720, you really don't need to worry about that. If anything, these jaggies are less apparent on the S3 than on earlier HD SuperAMOLED displays.
One explanation for this might be the fact that individual subpixels are packed more closely together on the S III, as claimed by Samsung reps prior to release, and backed up by our close-up shots. However, chances are you're not going to be using your phone from behind a microscope, so concerns over PenTile matrix patterns shouldn't be overstated.
There are some valid criticisms to be made of the S III's screen, however. The first thing we should get out of the way is the inevitable comparison to HTC's flagship, the One X. Right now, that phone's SuperLCD 2 panel is the best-looking display on any smartphone, and unfortunately HD SuperAMOLED simply falls short of this mark in terms of clarity, color quality and sharpness. Daylight visibility, though not at all bad, is also inferior to the One X, and this is exacerbated by the white bezel. The trim is extremely reflective in bright sunshine, making it all the more difficult to focus on the screen it surrounds. Auto-brightness, too, could use a little tweaking, as like the Galaxy Nexus it defaults far too low, particularly indoors.
In 2011, Samsung bested just about everyone -- the obvious exception being Apple -- with its WVGA SuperAMOLED Plus panels. But LCD technology has evolved in the past twelve months, and AMOLED's not quite king of the hill anymore. Nevertheless, crank up the brightness on the Galaxy S3, and you've still got a great-looking display.
Galaxy S3 Internal Hardware
Samsung has always taken the opportunity to showcase its latest and greatest processors in the Galaxy S line, and this year is no exception. The Galaxy S3 debuts Sammy's Exynos 4 Quad chip, which as the name suggests delivers four CPU cores, each spinning up to 1.4GHz. We're not too concerned with synthetic benchmarks here at Android Central, and it's also true that a device's performance is determined by software just as much as hardware. But we've been sufficiently impressed by its performance and responsiveness that we feel confident in proclaiming the Galaxy S3 the fastest Android phone money can buy. Much of the credit for that has to go to the CPU.
The phone handled everything we could throw at it without breaking a sweat. And we don't just mean using a live wallpaper without any lag -- we're talking about playing a 1080p HD video in a window, while browsing the web and playing a 720p flash video in the background. We've got laptops that can't even do that, so to have that level of computational power in a smartphone is just a little mind-blowing. Whatever your mobile gaming or video needs might be for the foreseeable future, it's safe to say that the monstrous hardware inside the Galaxy S3 will meet, and likely exceed them. This thing is a powerhouse.
Backing up the new quad-core Exynos is 1GB of RAM and 16GB of storage (the 32GB and 64GB versions are not yet available at the time of writing). On our 16GB model, there's 11.35GB left over for your own stuff, and like the Galaxy Nexus there's no separate partition for app storage, so it's all lumped in together. 11GB is a reasonable amount of space, though if you're a heavy multimedia user, you may want to make use of that microSD card slot. Add in a 64GB card (the maximum size supported), and you'll have a spacious 70+GB for your own stuff.
Camera-wise, the Galaxy S3 has an 8MP rear shooter (with flash) and a 1.9MP front-facer, supporting 1080p and 720p video recording respectively. Both cameras feature BSI (backside illumination) technology, which is designed to enhance low-light performance. Initial teardown reports have suggested that the rear camera is likely an updated version of the Sony sensor used in the iPhone 4S, so it's no surprise to see it delivering great stills and video. We'll get to a detailed breakdown of camera performance later in the review.
The Galaxy S3 comes equipped with a quad-band HSPA+ cellular radio, which supports download speeds of up to 21Mbps down and upload speeds up to 5.7Mbps. (Contrary to some pre-release reports, the phone doesn't support 42Mbps DC-HSPA.) In real-world testing, we obtained speeds of up to 7.5Mbps down and 4Mbps up on the Three UK network, which is comparable with what we've gotten from other HSPA+ handsets. On the Wifi side, the phone supports 2.4GHz and 5GHz A/B/G/N networks, as well as 40MHz channel bonding. This allows greater throughput over Wireless N networks by using two adjacent channels. It's nice to see this tech finally rolled out on a phone, but we didn't notice any great increase in throughput when connecting to our channel-bonded Wifi network, so your mileage may vary. NFC and Wifi Direct connectivity is in the bag, too, and Samsung's employed both of these technologies in its "S Beam" feature, which we'll explore later in this review.
Finally, we experienced no problems with voice call quality on the Galaxy S3 -- all our calls came through loud and clear, and we found the external speaker to be extremely loud at its maximum setting, without any real loss of clarity.
Galaxy S3 Specs
Galaxy S3 Software
The Galaxy S3 runs Android 4.0.4 Ice Cream Sandwich, along with a brand new version of Samsung's TouchWiz software, dubbed the TouchWiz Nature UX. If you've seen any of the manufacturer's marketing materials for this phone, you'll know that the "inspired by nature" theme shows itself not just through the phone's rounded design, but also in its software. The new water-like lock screen ripples appealingly as you unlock the phone. Plants and water appear again and again in the device's wallpaper gallery, and even ringtones and audio effects have been re-worked to integrate water droplets and other natural reverberations. This brings some much-needed stylistic cohesion to TouchWiz, but there are still elements of the visual chaos that characterized earlier versions of Samsung's custom UI. Though much improved in our opinion, TouchWiz remains some way off feeling fully designed as a whole.
True, some design and consistency issues persist within Samsung's UX, but the experience is nevertheless slick, responsive and lag-free. If you're upgrading from a Galaxy S II, you'll be greeted by a familiarly smooth selection of software, including the TouchWiz launcher (which has grown some 3D effects) and live wallpapers, which are not only gorgeous, but lag-free to boot. The extensive selection of widgets found on earlier Samsung phones has been whittled down somewhat in the new TouchWiz Nature UX -- likely in order to avoid drowning users in a sea of multicolored squares. On the whole, this is a positive change, and the only functionality we missed was a dedicated power control widget, as we like to be able to switch between brightness modes on the fly. (Power controls are found within the notification area, but there's no brightness control up there, sadly.)
But our main gripe with Samsung's widgets has to do with the lack of any consistent design language -- again, see our complaint above about the visual chaos of TouchWiz. The calendar widget looks completely different to the music widget, which in turn has nothing in common with the clock and weather widgets. It's small things like this which demonstrate that Samsung doesn't quite understand UI design as well as competitors like HTC.
Samsung has made advances in other areas, though, particularly gesture control. The love-it-or-hate-it tilt zooming feature is back, along with more useful additions like the ability to launch directly into the camera app by pressing the screen and rotating to landscape mode. Similarly, placing the phone to your ear while you're viewing a contact (or a text conversation) will cause it to directly call that person. And double-tapping the top of the device can trigger it to jump to the top of any on-screen lists.
In fact, there are so many new software features in the Galaxy S3 that it's worth taking time to break down some of the leading additions --
​S Beam
We demonstrated this feature at the Galaxy S III launch event in London, and it's a really ingenious way to transfer files between supporting devices (though for now, you're limited to other Galaxy S3's). This is done by finding the file you want in the gallery or "my files" app, then holding both devices back-to-back to initiate an NFC connection. From there, a Wifi Direct link is established between the two phones to perform the heavy lifting. We can't see this being a feature you'll use every day, but there's no denying it's pretty cool.
AllShare Play
An evolution of the original AllShare DLNA app, AllShare Play is a new service which allows music, photos or videos to be streamed to and from a variety of devices over a local network, or the Internet, using Wifi or mobile data. Samsung's partnered with SugarSync to provide cloud storage for users' media, and there's a 5GB free allowance. Unfortunately, the PC client backing up this service is more than a little unstable, and we were unable to get it fully functional on any of our machines. There's clearly a lot of potential in this kind of service, and we're sure we'll see more of AllShare Play as it rolls out on future Samsung devices. But at the moment it's very much a "version 1.0" product.
Browser
The web browsing experience on the Galaxy S3, through the built-in browser or Google Chrome, is faster than on any Android phone we've tested. Chrome still stutters somewhat on some image-heavy pages, as it does on every phone, but the native browser is slicker than ever on the Galaxy S3's beefy hardware. As with every Samsung device, there's a separate brightness setting for the browser, which will be a convenience for some, and a minor irritation for others. Besides that, it's pretty much the standard ICS browser, only really, really fast.
Smart Stay
A favorite of ours, Smart Stay is a subtle feature which uses the front-facing camera to track whether you're still looking at the phone. Most smartphones simply dim the screen after a certain amount of time has passed, but Smart Stay periodically checks the camera to determine whether the phone should go to sleep. This can be really useful if you're reading a long article on the web, or admiring a photo you've just taken. It's not the most glamorous feature of Samsung's new quad-core beast, but it is incredibly useful, and we think we'll miss it next time we're using a phone without it.
Pop-up Play
Activated from within the gallery app, this is a picture-in-picture feature that lets you view video content in a smaller window while using the Galaxy S3 normally in the background. Like S Beam, it's not going to be a feature you use every day, but it is technically impressive. It's also an opportunity for Samsung to show off the power of the S3's hardware -- many phones would be preoccupied simply rendering an HD video, but Samsung's flagship can do this and browse the web, or send IMs in the foreground at the same time.
S Vo​ice
S Voice was heavily promoted in the run up to the Galaxy S3's launch. It's an interactive voice assistant agent, or a Siri clone, if you prefer. You can activate it with a double-tap of the home key, by saying a particular phrase at the lock screen, or by finding it in the app drawer. Sadly, the app suffers from many of the same issues that Siri faces, namely that it's good for basic queries, but not so great at more complex tasks. There's a long, long list of commands which S Voice claims to be able to perform -- from simple stuff like weather checking, to more advanced problems like managing events in the calendar. And in our experience the service just doesn't handle enough of them accurately enough to be of any real, practical use. It's often prone to long delays of several seconds while looking up questions, and when it does come back to you with an answer, there's no guarantee the information will be correct, or even remotely relevant.
S Voice supposed to be an "assistant," but the experience here is one of talking to someone who's either slightly senile, or doesn't understand English all that well. That's not the sort of person who'd make for a very good assistant. So until Samsung irons out some of the kinks, it's going to remain a bit of a gimmick to show off to friends, rather than a practical tool to help you out in everyday life. Many of S Voice's issues seem to lie in speech recognition rather than the back-end logic (incidentally, much of this is provided by the Wolfram Alpha knowledge engine, just like Siri). So despite these headaches, there's hope that this feature will improve over time.
S Memo​
Samsung's note-taking service remains mostly unchanged from its first appearance on the Galaxy Note. The app allows you to take notes by drawing on the phone, or entering text and voice clips. Notes can be backed up to your Samsung account, if you have one, and it's also possible to export to Google Drive and Evernote. This app should come into its own in conjunction with the Galaxy S III "C Pen" stylus when it's released, but this accessory isn't available just yet.
Flip​board
The popular digital magazine app was first announced on the Galaxy S3 back in early May, and we went hands-on at the London launch event. For those unfamiliar with it on iOS, Flipboard lets users select topics that interest them, and arranges related stories, and social updates from a variety of sources, into a pleasant page-based structure. Flipboard does an excellent job of chewing through information in multiple formats from multiple sources, and turning it into something that's enjoyable to use and browse serendipitously. It might not be a reason to choose the Galaxy S3 over another phone, especially with a wider launch likely in the months ahead. But pre-loading apps like this makes for a better out-of-the-box experience, especially for fresh Android converts.
Multimedia apps
Samsung's Games, Music and Video hub are pre-loaded on the Galaxy S3, along with Google Play Books and Play Movies. Samsung's own video service offers substantially less content than Google's, though it does boast the advantage of being able to download content directly to the device for playing, rather than requiring content to be streamed. And it's early days for the other two hubs, too. The music hub presents a secondary interface to play your own tracks, while also providing access to MP3 purchases through 7Digital, and cloud-based music through Samsung's just-launched Music Hub Premium subscription service. Similarly, the games hub is essentially a front-end to multiple third-party games stores.
There's also a surprisingly full-featured photo editing app available through Samsung's app delivery platform. This was pre-loaded on other Galaxy phones, but is offered as a separate download on the S III. Most of the features haven't changed too much, though. There's still a wide array of filters and effects to add, as well as manual controls for cropping, resizing and deforming images in a variety of ways.
Bizarrely, the video maker app included with Galaxy S II and Galaxy Note is nowhere to be found on the Galaxy S III. What makes this stranger is the app was pre-loaded on the demo units at the May 3 launch event -- so it's likely this simply isn't ready for primetime yet, or there's some other technical hurdle preventing it from being on the S III at launch. We'll be watching the "More Services" app to see if the video maker lands on Samsung Apps in the near future.
Galaxy S III Battery Life
With all these high-powered components humming away inside, it's not surprising to see Samsung packing a 2100mAh battery lurking within the Galaxy S3. The phone's longevity is also helped along by the efficiency of the Exynos 4 Quad chip, which is built on Samsung's new 32nm manufacturing process. And of course, anyone who's used an Android 4.0 phone will be aware that the latest version of the OS is incredibly power-efficient, particularly when idling.
The combination of chip, battery and software makes for some impressive battery life on Samsung's quad-core behemoth. Even under the most strenuous workload, we struggled to kill it off in under 12 hours, and with normal-to-heavy real world usage, we were regularly getting 17 to 18 hours out of the S III before the battery meter started to hit the 30% mark. To put that in perspective, it's roughly comparable to what we get out of the Galaxy Nexus with its 2000mAh extended battery.
Unlike a lot of other Android phones -- particularly high-end models -- there wasn't any one task that we found capable of completely decimating the battery in a short space of time. The Smart Stay feature, which occasionally checks the front-facing camera, didn't seem to affect battery life in any tangible way. And even traditional battery killers like the camera and HD video streaming left a relatively modest dent in the battery, so long as we weren't going about these activities for hours at a time. (And as far as video is concerned, it's worth noting that the S III played back just about every file we could throw at it using hardware decoding, which is kinder to the battery.)
Android's internal battery stats indicate that the screen and cellular radio were among the top battery-guzzling components, which isn't all that surprising. Samsung does offer some software options to help squeeze some extra life out of the battery, though, particularly when it comes to the screen. The "power saving" option, found within the settings menu, can cut CPU and screen power, and change the background colors in certain apps to minimize battery drain in an emergency. (You'll to want to leave these options disabled for best performance, though.)
So we're perfectly satisfied with the battery life of the Galaxy S3, and we should also state that our experiences here were in marked contrast to our time with the Tegra 3-toting HTC One X, which consistently conked out after 11 or so hours.
Galaxy S3 Camera
As mentioned earlier, the Galaxy S III brings to bear an 8MP rear camera and 1.9MP front-facing camera. Both use backside-illuminated sensors resulting in improved low-light performance compared to standard phone cameras. This is particularly welcome on the front-facer, which many manufacturers are content fitting with the cheapest unit available. So if you're planning on making video calls indoors, you'll welcome not having to worry about low frame rates or excessive graininess. Images taken on the front-facer aren't mind-blowingly impressive, but they're a considerable step beyond the noisy, blurry shots produced by most front cameras.
The rear camera is where the real action's to be found. Like the Galaxy S II and Galaxy Note, it's an 8MP unit. But the combination of upgraded optics, improved software and additional hardware clout means shots taken on the Galaxy S III are considerably sharper, clearer and more vibrant than those recorded on its predecessor. Capture speeds are near instantaneous in all but the poorest of lighting conditions. And like the HTC One series, there's a dedicated burst mode, though on the S III it's activated through the menus, rather than being available on-demand by long-pressing the shutter button. Burst mode allows you to machinegun your way through up to twenty pictures at a time, or eight if you're using the phone's built in "best shot" feature (which, incidentally, does a pretty commendable job of picking out the best-focused shot in a series.) Images captured with the Galaxy S III easily stand up alongside those shot with the HTC One series and Sony Xperia S, though we noticed that the dynamic range available in photos was a touch lower than those devices.
The phone's camera and gallery apps support the ability to automatically tag friends within pictures based on information within your contact list. This is a feature that some point-and-click cameras have experimented with for a while with little success, and unfortunately it doesn't much better on the Galaxy S3. We spent some time manually tagging people, but getting the phone to automatically recognize anyone in newly-taken photos was hit-and-miss at the best of times. Software updates may improve this feature, but at present it's just not reliable enough.
Panoramic and HDR modes are included in the camera app, and work pretty much as advertised. And other, more exotic options enable you to take a picture and immediately share via a Wifi direct connection, or take a photo of a friend and immediately share through face detection (though we had enough trouble getting this to work at all.)
Gimmickry aside, we've been particularly impressed with the quality of macro shots produced by the Galaxy S3. The camera was able to capture sharp, well-focused images even with less-than-perfect situations where the phone, or subject, wasn't completely still.
The standard platter of photo and video features is also offered on the Galaxy S3 -- image stabilization, options for controlling white balance, ISO and metering, as well as timer controls. Additional extras include a few basic photo filters, including sepia, black and white and negative modes.
The Galaxy S3 does a similarly stellar job with video. The main camera supports shooting up to 1080p resolution, while the front-facer does up to 720p, and both manage buttery-smooth frame rates of 29fps, even in darker conditions. As you'll see in our sample reel, the rear camera is exceptionally good in daylight, though some fine detail is sacrificed when recording at night by streetlights.
On balance, we feel safe in saying that the Galaxy S3 offers one of the best smartphone cameras available. HTC has its dedicated ImageSense chip for stills, but Samsung's sheer processor muscle means the Galaxy S III is at no real disadvantage when compared to the One X and One S. Sony offers a 12-megapixel phone camera in its Xperia S, but images produced by this are noticeably noisier up-close. Sony also remains the king of low-light video, though Samsung isn't far behind here either.
But we're nit-picking, and these are minor details. The bottom line here is that Samsung's shipping a top-class camera in its 2012 flagship.
Image 1 of 19
Galaxy S3 Hackability
Samsung's tendency to release relatively developer-friendly devices continues with its latest flagship phone. And being a highly-anticipated handset, the Android hacking community is already hard at work digging into the S3's bleeding-edge hardware. The phone has been rooted, a version of ClockWorkMod recovery is available, and work on a port of CyanogenMod 9 has already begun. Given the buzz around the Galaxy S3, and the expectation of high sales, we don't think you'll have to wait too long to get cracking with custom ROMs, if you're into that sort of thing.
Galaxy S3 Review Wrap-up
It's rare that a smartphone passes our desk without any real Achilles' heel -- an obvious flaw to point out in our summary to balance out all the good stuff. The Samsung Galaxy S III is such a device -- even the aspects of it that are comparatively weak are still very, very good when considered on their own. Our go-to example is the display. No, it's not the best screen on a smartphone. But we'd argue that it's a shoo-in for second or third. And that's still more than most phones can boast.
Some will bemoan the use of a plastic chassis, but this is largely a matter of personal taste, and in our opinion the Galaxy S3 is a shining example of how to make a smartphone out of plastic. It's lightweight, solid and eye-catching, and it doesn't feel cheap or creaky.
It's true that Samsung's fallen victim to some software gimmickry in its latest flagship phone. But more important is the question of software performance. And whether you judge a phone's speed by benchmark numbers, what it can do, or just how quick it feels to use, the Galaxy S3 is the fastest Android phone money can buy -- and that in itself is an astounding achievement. Add in an exceptional camera and full-featured, if slightly scattershot software, and you have a strong candidate not just for the fastest Android smartphone, but the best Android smartphone.
But at the same time it's obvious that Samsung isn't miles ahead of the Android competition, as it was last year with its Galaxy S II. That means the choice between its flagship and HTC's is not as clear-cut as it's been in the past. Without a doubt, there are areas where the One X clearly beats the S III. But the argument between the Galaxy S3 and HTC One X is one we're saving for another day. And in spite of the Galaxy S III's identifiable weaknesses and foibles, the overall package that Samsung delivers is still exceptionally good. And that makes it a device we can enthusiastically recommend to high-end smartphone buyers.
Get the Android Central Newsletter
Instant access to breaking news, the hottest reviews, great deals and helpful tips.
Alex was with Android Central for over a decade, producing written and video content for the site, and served as global Executive Editor from 2016 to 2022.