Samsung's upcoming Note 20 specs revealed in comprehensive new leak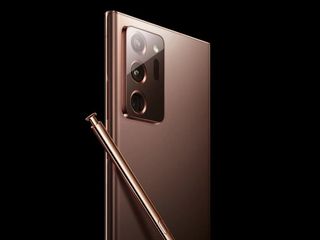 (Image credit: Samsung)
What you need to know
Following leaks of the Note 20 Ultra, the regular Note 20 has leaked in full.
It's a less spec-heavy version of the S20 Ultra, ditching the 120Hz display for 60Hz, dropping the RAM to 8GB, and featuring a slightly less responsive S-pen.
That said, It'll still carry the same Exynos 990 SOC and 5G support.
Samsung's Galaxy Note 20 has leaked in full, courtesy of German tech publication WinFuture. It's a lot less impressive than the Note 20 Ultra which was leaked earlier in the day by the same site.
Running through these new specs, the Note 20 will ship with a 6.7-inch Super AMOLED 60Hz FHD+ display. It'll have a triple camera with a 12 MP main shooter, a 12 MP ultra-wide lens, and a 64 MP telephoto with 30x space zoom. Inside, you'll find 8GB of RAM and 256GB of storage. The S-Pen will be slightly slower than that on the Note 20 Ultra, with a latency of 26ms as opposed to the 9ms latency on the former.
Finally, it'll come in three colors: Mystic Black, Mystic Bronze, and Mystic Green. The rest of the specs are broadly speaking the same as the Ultra's, so expect the Exynos 990 processor, Android 10 with One UI onboard, and of course — 5G support.
All in all, while the Note 20 is still powerful, it doesn't revel in its excess as the Ultra does. The Note 20 family and a couple of other Samsung devices are expected to launch in two weeks at Unpacked, and we expect Samsung to devote a fair bit of time to it especially after pre-announcing the Z Flip 5G.
Is Samsung creating a new category for smartphones, the non flagship flagship??? 60hz FHD screen, less responsive s pen and inferior cameras! But seriously the biggest kick in the b@££s outside the US is the exynos processor for the same (or maybe higher) price than the Snapdragon 865+. Are they simply relying on most average users not knowing the difference or are they just arrogant? I personally would never buy a Samsung phone but I do think they are ripping off buyers by using a cheaper, less capable chip in most markets when it has been proved the Snapdragon is a much better SOC than the exynos version.

99% of their buyers probably have zero clue about snapdragon vs exynos.

A colleague of mine doesn't even know whether he's using a Note 9 or Note 10 Plus. He's wife, ironically, is the tech addict who ALWAYS buys the latest Samsung phone. She buys his phone for him (He's using the Note 10 Plus)

Samsung is trying to push Galaxy Note fans to buy the Note 20 Ultra
Android Central Newsletter
Thank you for signing up to Android Central. You will receive a verification email shortly.
There was a problem. Please refresh the page and try again.