Samsung is giving Galaxy S8 buyers a free case, SD card and 6 months of Netflix [update]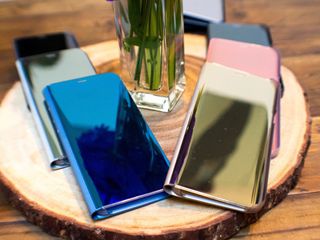 Update: Despite initial information indicating that this deal was for all Galaxy S8 owners, Samsung has clarified to AC that this deal is only for those who purchase a GS8 or GS8+ during the 5/3-5/16 promo period.
If you buy a Galaxy S8 or S8+ before May 16, Samsung is handing you three free perks just for downloading its Shop Samsung app (opens in new tab). By downloading the app and registering between May 5 and May 16, Galaxy S8 and S8+ owners get a free Clear View Standing cover, 64GB Samsung SD card and six months of Netflix. That's nice!
To get going, you can download the Shop Samsung app (opens in new tab) to fill out your information for the promotion. While you're there, as part of the promotion you'll also have the option to buy AKG wireless over-ear headphones for a discounted price of $49 — another nice perk.
Samsung is obviously hoping to boost the install base of its Shop Samsung app that helps you buy even more Samsung products, but this is a very enticing deal that will only take a few minutes of your time to get some really great things. You already dropped big money on your Galaxy S8 or S8+, so you might as well take advantage of deals like this.
Andrew was an Executive Editor, U.S. at Android Central between 2012 and 2020.
This is only if you purchased phone on or after 5/3/17

Just to clear things up again from the top, looks like the info I received from Samsung initially was incorrect (or, at least, my perception of the information was incorrect). This deal is ONLY for those who buy a GS8/S8+ from 5/3-5/16 and is NOT for existing devices purchased before 5/3. I've updated the post to reflect this.

It still says "If you already have a Galaxy S8 or S8+, or plan to buy one before May 16..."

And apparently if you got the Gear VR you can't select this bundle.

Bleep! Not available in Canada, of course.

It looks like this deal isn't for Canadian? Why don't we get these deals?????

Murica, F*ck Yeah! Yup no freebies for us Canucks.

Not for Canada, not for Europe. In europe (Poland) we didn't get enything from samsung.

I think you guys have this wrong, you have to purchase the phone to get the deal.

I did. Full retail from the Sammy store.

$900 plus for a phone, no thank you.

Shame these deals aren't available in the UK

Desperation is a stinky business. Good marketing tactic.

Desperation? Samsung has done giveaways for years.

Point is the freebies they say they are giving away arent free. They are built into the price of the phone. Notice how I also appluaded. Samsung for their good job at marketing. You Samsung lovers need to get off your high horse of thinking everyone is trolling because of their opinion.

Were you expecting that Samsung became a charity? What is important is that some other smartphone manufacturers don't offer freebies and are at the same price point. But from my Note 7 debacle and samsung pay I've netted 3 256gb sd cards, and $200 from last year. Yes its marketing but I'm not complaining. Hopefully they save some for the note 8.

Dude please. We aren't stupid. You in no way meant that applause as anything but sarcasm lol You need to get off your high horse and at least pick a more worthy thread to troll.

Yeah, ok. Saying "good marketing tactic" is sarcasm, lol! You have obviously never been in marketing. Do you know what marketing tactic means without looking up the definition in the dictionary? Oh and I love how you call everyone on this site a troll that doesn't agree with your comment. Sniff, sniff do you need a tissue?

Why do you participate here?

I just bought my S8 on April 29!! Will I or won't I qualify for this deal?

If they giving out the gear S3 with it I'll definitely buy.

What's the weather like in fantasy land?

I bought my S8+ at AT&T and got a Gear S3 Frontier for $50!

Somewhere buried the fine print, it probably says "Limited to the first 10 people who download the app".

Maybe read the fine print. If you did you would know it clearly states that it is limited to 200,000.

Maybe recognize a little sarcasm next time. ;)

I'm gonna hold you to this AC! I preordered and didn't get the chance to get the AKG headset. Now they're offering it up for $49 plus perks.

I got the AKG headset and don't think it's worth $49

Really? I was considering getting the headset. Guess I'll hold off and wait for some BT 5.0 headphones to come out.

Its worth it for me. Quality sound, quality materials and assembly, and BT wireless. But I got it as pre-order for $99 with the 256Gb card.

Terms and Conditions for the offer state a purchase period of 5/3/17 until 5/16/17 - I highly doubt current owners qualify based on the Terms set out for the offer.

Sounds nice for existing S8 owners, but it clearly states on the Samsung promotions page: "Valid purchase period: 5/3/2017 - 5/16/2017" https://samsungpromotions.com/entertainmentkit.html

This is BS. Not available in Canada.

HAhaahahahahahahahahahahahahahaahhaa (pause) HAHAHAHAHAHAHAHAHHAHAAHHAHAHA

Not available in the UK, oh well.

LG used to do this retroactive offer stuff with existing purchases. Hopefully Samsung will cave in too. Its worth a try.

So just got off the phone with the Samsung promotional team and they stressed to me that even though I got screwed out of the $99 because they didn't have my WiFi Mac and IMEI in their systems, that I am not eligible for the $49 promotion starting tomorrow... I am pissed cause I sat on hold for a collective 5 hours between those 2 days to get a package that was no longer available. No one wants to make good with that. Further I'm trying to give them more money! Wth!

Still gonna try tomorrow regardless.

I'm going to return my device, get my money back (within 2 weeks), and then repurchase my phone to get an updated receipt. this seems a bit silly, but i really wanted those AKG headphones.

That's the whole reason I pre-order. It's bs that their screwup means I lose.

it's complete BS that they sold out of the AKG headphones, but it's all the sudden available to new buyers? Shame on samsung.

I KNOW! Ain't this some ****...

You have to pay a restocking fee ($30 or $35) if you return your phone.

I will sell you mine. Contact me at duster1ddd@gmail.com

Not available in Australia

Mine won't register for whatever reason.

Yeah they let you do this in the states and as usual all of us in the EU get shafted as always by samsung. Pre ordered mine and got NOTHING from samsung.. abaolute joke they constantly ignore a huge market, mention nothing like this to us and do t even let us download the samsung shop app... welcome to 2017 samsung cop on and treat ALL of your customers the same

You should lobby the EU to shaft Samsung as much as they shaft Microsoft and Google.

Why is the article on the main page titled "Samsung is giving Galaxy S8 owners free stuff just for downloading its app"? Don't you have to buy an S8 or S8+ to get anything?

If you are an S8 owner... Then you bought an S8... Fall off the stupid tree a few times?

Yeah and then the stupid horse

Yes, but it has to be purchased within the date range. Since I own an S8+ already, I can't get free stuff just for downloading the app. So, for those of us that have the phone, it would be another purchase.
EDIT: Looks like they updated the article since it does require an S8/S8+ purchase after 5/3/17.

Not in the UK.... Why Samsung, why? Y tho :/

Can't download the app in Germany :(

NICE! Thanks for the love Sammy!

Actually this deal is only applicable to those who purchase within the specified time frame. And the promotion team will tell you the same, that they won't extend the deal because it wasn't within the paid promotional period. READ THE FINE PRINT. The promotion team at Samsung will only do promotions within a specified time frame. Trust me, everyone who's submitted one of their claim forms dealt with them on that. Samsung isn't near as nice as LG was with their promotions and good luck getting an actual person on the phone. 2-3 hour wait time for the promotion team on avg.

I like this deal better than the vr hewdset

I don't see how to get the promo without purchasing an s8 through the app. It doesn't show anywhere where it recognizes that I already have an s8. We've been bamboozled.

Ya I just checked also and seen the same thing. I was hoping this was true!

Same here, but not terribly surprised.

I already bought galaxy s8 + and I registered in samsung I am waiting for my Gear VR that according to Samsung arrived 6 to 8 weeks

Shouldn't take that long. I got mine within a week

It pisses me off that I bought the phone ON RELEASE DAY, and was literally first in line, but yet, since I did not pre-order or even wait longer to buy the phone I don't get squat. I mean, if you are going to do all of these ridiculous timed promotions, why not just do one big promotion for the first 30 days or something. Instead, customers are left wondering when the "best time to buy" is going to be so they get the best promotion.

Maybe you should have pre-ordered it if you knew you were going to get it. Blame yourself, not them.

I could not preorder. I was still paying on my iPhone so I had to wait till I could pay it off in person

Its 050514 cst, downloaded app but could not figure out how to get freebies. I got phone on release day and per article above, I am eligible. Maybe Sammy has not turned the offer on but the only way I see is if you order the phone. If you got the offer to work, please advise. I had already registered my shop samsung account when I got the phone. Ian B

It's 2:23am MST and nothing. I checked my Samsung account and the phone is not showing up on the app which won't display the promotion. I went onto my laptop and the S8+ shows. Looks like the 2 are not updating each other. This is so stupid. I think they need to spend a little more in marketing and promotions and get their public interfaces working together. I tried to register and it won't because it has already been registered. This sucks.

I downloaded the app and it only shows the VR promotion which I already redeemed. No option for this promotional giveaway.

Hi. I don't get it. If I have the phone can I take a part in this deal. Or should I buy it between 3 and 16 of May. Not available in Poland too. This is not serious!

Bought the phone April 21st, this promotion doesn't apply to anyone that bought the phone before May 3rd. Samsung lied. Thanks for wasting my time Andrew.

I got all excited for this only to find out no worky. sigh In the past T=Mobile has done free Netflix for a year a few times. Surprisingly they didn't have as good of promo deals as other carriers. They extended the VR promo. Would be nice if they hook us up with the free Netflix.

This is not working at all.

Dude, he said Samsung confirmed if you already had one you still qualify. They actually wasted his time.

You must be new here gendo. Andrew is notorious for giving false information. He also said the post would be updated if it was found to be untrue....which we all knew it was based on the fine print that he said was "confusing" yet was clear to everyone else.

B.S. Especially after they sold out of the Immersive VR experience before the phone officially released.

You need to order the phone first before you can claim the prizes...
I don't know where Andrew was coming from?.. Why would Samsung give away free gifts to people that have already claimed gifts from the recent promotion...

Just talked to someone again, the revised the deal supposedly and don't include the Bluetooth headset. Heh this is stupid.

I just picked-up my s8 from T-Mobile. (JUMPed from an iPhone 7 back to Android) and was handed a paper that states "Starting 5/10/17 go to http://samsungpromotions.com/TMOFREEVR and redeem by 5/28/17". So for T-Mobile customers we can't even register for the VR headset for another 5 days. As for the free SD Card, etc., I see nothing that allows me to register for that giveaway as of this morning.... the 5th.

Any update on the exact eligibility purchase dates Andrew? I too purchased before the stated offer period (before 5/3) and I see no way to take advantage of the offer on the app

Check the app again. It just updated to "Register Now" instead of buy now. It works! Andrew did not lie.

Where did you see the "Register Now" link?

Open the Shop app, slide in from the left to get the menu and I think I picked My Promotions. It took me to a page like the Gear VR promo had where you put in your name, address, phone number and upload a copy of the receipt. Make sure that you register your phone within the app first.

All i see is the VR Promotion status, no other promotions listed in the App

My phone isnt showing being registered through the app, but on the website it is ...if i try to register it in the app i get a error

I had the same problem. Go to Samsung.com on your computer, unregister the phone and then register it through the app. Make sure that you close out the app before you do anything else. I don't know if that matters, but that's what I did. Then open it and register your phone again and that's when I saw the Register tab for the promo

Did you purchase your phone before or after May 3?

ok cool, but before i do that ....did you claim the free gear VR promo for preordering? or did you get your phone after it was officially released?

same here, and nothing shows under "My Promotions" other than the Gear VR Promo.

I preordered one, got the vr then returned the phone for an iPhone 7 Plus. Kept that 2 days and missed how awesome the S8 Plus was, so on 4/29/17 I exchanged the iPhone for another S8 Plus. AT&T told me not to come back again. I claimed the vr on my first S8 Plus and this promo on my current one that I got on 4/29.

I think it only worked for you because you used a different phone for the 2nd promo. I did exactly what you did, but when I clicked on the promo registration link it showed that my IMEI number was linked to the VR promo I had already claimed and could claim this one as well.

Not working for me. Nothing under My Promotions other than Gear VR which I already claimed.

i see it and have registered....that said I'm not confident it will be accepted for those of us that bought before 5/3

Does anyone see it who has already registered for the Gear VR promo?

I might be telling you the wrong place to find it. Look at every section of the app. Now that I claimed it, I can't see where I did it anymore. It definitely worked though because now under my promotions, it says "Claimed" for the Entertainment bundle.

Same. Also, I was just rejected. Purchase date.

it was there for sure and it worked,,,,again whether they get accepted....whole other story

Yeah, looking at the status on mine says valid purchase between 5/3-5/16 so maybe I won't get it. It let me put it in but maybe they'll catch that when they look at my receipt. Sorry guys, I thought it was good.

I just registered. It's working.

I just got an email saying that I purchased outside of the valid dates. Oh well

Well...I guess that confirms this was all a joke to begin with. Thanks for trying to help, though.

Yep, me too. Looks like Andrew got bad information from whomever he supposedly talked to at Samsung.

I don't see it on any tab in the app ?!

Guess I'm throwing in the towel. The S8 never showed in the app, so I unregistered it from the computer via the Samsung site, then re-registered inside the app, says the registration goes through, but the phone never shows in the app's "My Devices" list, and nowhere I go inside the app shows this new promo with anything other than a link to buy another S8. Even tried removing and reinstalling the Shop Samsung App from the Galaxy Apps store, same results. Congrats to the existing owners who are getting this to work.

Don't feel bad. Even though it seemed to work, I got an email within 20 min. saying that I don't qualify because I bought it outside of the time period listed.

Good to know. Uninstalling app !

Looks like the Samsung Rep who told Andrew that all post-release purchases qualified was wrong. Bought from T-Mobile April 26th and was denied the promotion: "We couldn't approve your registration because: Your purchase did not occur within the offer purchase period. "

So I just got off the phone with Samsung Promotions and they said this promotion doesn't apply to individuals who already purchase the phone before this promotion date. They said you can't double dip on promotions if you already registered for the VR promotion at launch. Samsung also stated that they have no knowledge of communication to this claim. Thanks Android Central for the "Alternative Facts" article and getting our hopes up. So Andrew Martonik please take this article down because it's 100% false per Samsung Promotions.

what if you didn't take advantage of the VR offer as i bought my s8 plus days after that promo ended??

So delighted I bought my phone on 4/24 which means I was too late for the VR and too early for the case/card/netflix... ENJOY MY $800 SAMSUNG! Blech.

sounds like my situation..

i missed the vr by a day.......

how? the promo date goes until the 14th for the VR headset.

i was told it ended the 2oth of april and that what the promo shows on samsung site

just got my denial....lame got hosed on both promos yet spent $1700 on 2 new s8 plusses.....suck it samsung

Submitted and received a denial email. Should have known better.

That's garbage. This got posted on Reddit and YouTube and I forwarded it to a bunch of friends who just got the phone. You need to do a better job of confirming info like this before you go posting it and getting people's hopes up.

I'm not seeing the $50 AKG headphones, Got a link? I searched AKG in the Samsung shop app and the only hit is the earbuds. We are talkin about over the ear cans right?

Yes, these are the over-the-ear BT AKG cans that were mysteriously sold out a week ago as part of the $99 Immersive bundle.

HOW do I possibly see, select and buy these over-the-ear BT AKG cans for $49 or $50? I'd like that A LOT. I've looked and looked again. No joy, no way, no how for me. Boo Hoo. Grateful for any hint on this mystery...

What a scam Samsung and wrong info android central. App uninstalled. No wonder I stopped using this site and relying on android police.com

Take this fake article down.. No free stuff!!

I've been on hold 45 min with samsung....i want to ask them what ppl like i do where were were a day late on the VR and days early on this promo....seriously.....my $1700 wasn't enough to get either one?

The terms of each promo are clear when you buy the device. You should have bought during the release promo or waited for the next promo if you wanted more for your money than for what you paid. These are PROMOTIONS, not entitlements. They are there to sweeten the deal. You put your money on the table when there was no sugar. I'll save your time and let you know that Samsung will tell you the same. If you don't qualify...you don't qualify!

In other words, Samsung's promotions are bait & switch tactics. Nothing more.

How is it a scam that you did not get something for free that you were never expecting to get in the first place? Samsung will run promos throughout the lives of MANY of it's products and you qualify for the promo that you buy into. Very rarely will you retroactively qualify, especially if you follow tech news and/or are in the know. We all knew the pre-order be promo, if you pre-ordered you got it. Sorry that Samsung didn't reward those that didn't preorder or buy at release. You snooze, you lose. Be in the know and buy when you get the most for your money. Samsung will make these promo sales pushes through the life of the device.

I don't see the need for people getting so worked up about this. If a Samsung rep told Andrew that initially it covers all S8 owners, he was just trying to pass along the info. I have been around long enough to know that any big company or small one for that matter can have a couple people that didn't pay close enough attention in the morning briefing to know what is covered on a promo. I was looking forward to this promo too, but without it the phone is still completely awesome. I think this site does a pretty good job at covering the Android world and if they got info from Samsung direct, you can't blame them for trying to help. Just my 2 cents.

I bought my s8+ on April 21st and submitted for the offer this morning only to receive a response 5 minutes later telling me that I didn't purchase it during the right time frame... Not cool

Is it not available on international models purchased in the US? I can't access the registration through the app from my S8+ which I purchased yesterday 5/4.

Well, hey, I bought S8+ from T-mo. Got phone yesterday off UPS driver. Could NOT register. Woke up, deleted Samsung Pay App. Reinstalled Samsung Pay App. Tried again to register for Promo. Success, I registered. Then, wonder of wonders, I get an e-mail telling me my promo bundle may arrive in 10 to 12 weeks. Really, within < 10 minutes, my request is reviewed and approved so fast! Wowed. I am so excited. This is the FIRST time ever Samsung has not pulled the rug out from under me on a Promo. Wowee. So, now I go for the $49 price on the AKG headphones. Nope, Nada. No AKG headphones visible to me today via Shop Samsung. To be realistic, I have NEVER seen ANY AKG headphones on offer in the App or Online from Shop Samsung. Never. Ever. Not at full price. Not at discount price. They must have diverted Bixby to sense when I show up and suppress visibility or access to any AKG headphones. Wowee again. All the AKG I see is a chance to buy another set of the ear buds that came with my Galaxy S8+, at full price. Naw, not that. What an epic story of anticipation and disappointment. We must be in some diabolical test of induced frustration...

did you reinstall samsung pay or shop samsung app?

Reinstalled "Shop Samsung" app. Also, I'm noting my S8+ suggested some different options coming over from my S8. S8+ seems to be MUCH better configured than what I got coming from earlier S7 edge to the S8. I did have to run the migration app from S8 to S8+ twice. Not sure what burped. However, this S8+ in my hands now TOTALLY ROCKS. Delete and reinstall "Shop Samsung" app and may you, too, get some promo kindness...

Bought an S8+ today from Best Buy. Got the headphones, $100 gift card and this deal which will take 10-12 weeks they say. Hopefully much sooner! It's worth it just for the memory card.

"This item is not available in your country" - am I in fokin Jupiter Korea or what?!

Nice. I love freebies with phone, perfume, etc. purchases.

This is terrible. I went threw steps for offer and got a approve and then get email saying was error with my date on receipt so, I did it again and said same thing again. Did it a second time and same thing back, This is not right at all. now says cant resubmit. so even thought I bought mine on april 21st and did it correct cant get it. Terrible for Samsung to do this.

Samsung just did the same to me.... why offer something to your customers and then renege? Shame in them!!!

Yeah they changed it for customers who bought in May 3-24th which is bullshit...... I got mine 5-26 so I don't get **** lol

Was anyone able to get the AKG cans for $50?

Samsung Shop app is not available in your Country :/ (Sweden)
Android Central Newsletter
Get the best of Android Central in in your inbox, every day!
Thank you for signing up to Android Central. You will receive a verification email shortly.
There was a problem. Please refresh the page and try again.