Roku updates its bookends with a new $29 Roku Express and $99 Roku Ultra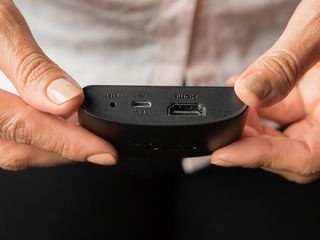 Roku today announced updates to its streaming player lineup. The big news comes at either end — the Roku Express gets a refresh but keeps its $29 price tag; same goes for the $99 Roku Ultra at the top end.
Roku Express will look a bit different going forward. It got an external redesign that the company says should help the device better blend in with the TV it's attached to. (Unless, of course, you hide your little dongles out of plain sight anyway.) The retail packaging includes a power cable and an HDMI cable, the latter of which is a little surprising given the price point. But Roku also stresses that there's a pretty good chance you won't actually need to plug the Express into a power outlet and that the majority of televisions with built-in USB ports can power it just fine.
Roku Ultra perhaps is the bigger deal in 2019, if only because we were going on about two years since its last refresh. (Not counting a slight change in the 2018 SKU.) It still looks mostly the same, a small, flat box about the size of a couple of decks of cards. It still has an Ethernet port in addition to Wifi 5 (that's 802.11ac) and supports flash storage. The remote control locator is still on board, too.
Big Deal No. 1: The updated Roku Ultra is faster. It's faster to load channels. It's faster to do, well, most things. And that hopefully will address what probably has been my No. 1 complaint about Roku over the years. It's simple, but it's slow. We'll take things for a test drive in due time.
Big Deal No. 2: The Roku Ultra remote — which still has the headphone jack for private listening, along with a set of JBL earbuds in the box — has a couple of new buttons. They're user-programmable, using voice commands. So tell the Roku what you want the button to do, and from then on out all you have to do is press the button.
Along with the new hardware (Roku also has refreshed exclusive variants for Walmart and Best Buy), Roku today also took the wraps off its OS 9.2 update. It features a number of improvements for voice search and commands, including the ability to search for titles by popular quotes. The update also introduces "Roku Zones" — basically different categories of content — and preps for the Roku Wireless subwoofer to work with the already-released Roku Wireless Speakers. It'll start pushing out to devices later this month.
The top end
Newer, better, faster
Roku Ultra takes everything we've loved about the company's top-end streaming player and updates it for the 2019 crowd. It's faster, more powerful — and keeps the same price.
Roku Express ($29 at Roku)
A more svelte Roku Express
Roku Express tops out at HD resolution, but this updated model is 10 percent smaller and should better blend in with your TV.
Roku Introduces New Streaming Player Lineup
Roku Express Features New, Smaller Form Factor; Roku Ultra Delivers Powerful 4K Streaming with New Personal Shortcut Buttons and Fast Channel Launch
LOS GATOS, Calif. – Sept. 19, 2019 – Roku, Inc. (NASDAQ: ROKU) today unveiled its new streaming player lineup for the U.S and other markets. New versions of the Roku Express (MSRP $29.99), offering easy HD streaming in a sleek new form factor, and the Roku Ultra (MSRP $99.99), featuring fast channel launch and a remote with personal shortcut buttons designed to get to content quickly, will be available to customers. Five additional Roku® streaming players round out the line up in the U.S and will be available broadly in the coming weeks. In addition, Roku also announced Roku OS 9.2 in a separate announcement.
"We're driven by the goal of delivering an exceptional streaming experience to our customers that includes endless entertainment and intuitive ways to find it," said Mark Ely, Vice President, Players and Whole Home Product Management at Roku. "Our new streaming player lineup continues to offer a device for every type of streamer. Whether you're streaming to your TV for the first time or are a cord-cutting power-house who wants our ultimate streaming device – we've got something for everyone."
New Roku Express
Roku Express is 10% smaller than its predecessor and is designed to blend in when connected to a TV. It can be fully powered by most televisions if an outlet is not nearby, reducing clutter. Additional Roku Express features and accessories include: + Easy and smooth HD streaming + Simple remote featuring channel shortcut buttons + High-Speed HDMI® Cable + Power adaptor
New Roku Ultra
Roku Ultra remains the ultimate streaming player delivering brilliant HD, 4K & HDR picture quality and Roku's best wireless performance. With an enhanced quad-core processor and 802.11ac dual-band wireless, Roku Ultra offers exceptional streaming and is feature-packed for power streamers and cord-cutters. The new fast channel launch feature get users to entertainment faster, improving channel launch times for the top channels across the Roku platform. Additionally, new programmable personal shortcut buttons on the Enhanced Roku Voice Remote offer personalization and one-touch control of entertainment. More Roku Ultra features and accessories include:
4K resolution for ultra-sharp picture quality
HDR for rich, more true-to-life imagery
Both Ethernet 10/100 and 802.11ac MIMO dual-band wireless
USB port for local media playback and MicroSD slot for channel caching
Dolby and DTS Digital Surround™ pass through over HDMI®
Lost remote finder
Enhanced voice remote with personal shortcut buttons, a headphone jack for private listening and buttons for TV power, volume, and mute
Premium JBL headphones included for private listening
The Roku OS provides access to 500,000+ movies and TV episodes including live TV, news, sports, hit movies, popular shows and more. Unbiased search across top channels makes it easy to find entertainment for free or at the lowest cost. There are hundreds of free channels, including The Roku Channel. Featured Free offers one-click-access to free entertainment including high-quality movies, shows and in-season network content from channels across our platform. The free Roku mobile app enables viewers to control their Roku device, use Roku Voice, Private Listening, stream The Roku Channel on the go and more.
Pricing and Availability
The Roku streaming player lineup offers a variety of devices made with unique streamers and customers in mind.
Roku Express (MSRP $29.99) – Features an even smaller form factor and offers easy HD streaming
Roku Express+ (MSRP $39.99) – Features the new sleek form factor and a Roku Voice remote. Available exclusively at Walmart.
Roku Premiere (MSRP $39.99) – Delivers easy 4K & HDR streaming with a simple remote
Roku Streaming Stick+ (MSRP $59.99) – Offers a powerful, portable HD, 4K and HDR streaming with the long-range wireless and a Roku Voice Remote with TV controls
Roku Streaming Stick+ HE (MSRP $59.99) – Available exclusively at Best Buy and includes the Enhanced Roku Voice Remote with a headphone jack and Roku headphones for Private Listening
Roku Ultra LT (MSRP $79.99) – A Walmart exclusive featuring HD, 4K and HDR streaming, ethernet, 802.11ac MIMO dual-band wireless, an Enhanced Roku Voice remote with TV controls and Roku headphones
Roku Ultra (MSRP $99.99) – Delivers brilliant HD, 4K & HDR picture quality and Roku's best wireless and new features such as fast channel launch, personal shortcut and mute buttons, premium JBL Headphones and more
The Roku Express and Roku Ultra are available for pre-order at Roku.com today. The Roku Express+ will be available broadly at the end of September with the rest of the devices on sale in October.
International Availability
Roku is also expanding its streaming player lineup internationally in Canada, the UK, the Republic of Ireland and select countries in Latin America. The Roku Express, Roku Premiere and Roku Streaming Stick+ are expected to be available in the coming weeks.
Get the Android Central Newsletter
Instant access to breaking news, the hottest reviews, great deals and helpful tips.