Nokia Store to be replaced by Opera on Nokia X mobile devices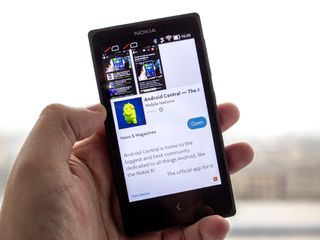 Opera has today announced the company has signed a deal with Microsoft to see its Opera Mobile Store replace Nokia's portal as the default hub for apps and games on select hardware. Nokia feature phones, Symbian, as well as Nokia X mobile devices will be affected by the switch, which will commence in the first quarter of 2015 as Opera begins redirecting consumers through their own store portal.
It's an expected move, especially since Nokia's mobile devices division was purchased by Microsoft and the former is now planning its own future with new products like the recently announced Nokia N1. The process of migrating consumers from the old Nokia Store to Opera is expected to be complete within the first half of 2015, at which point the Nokia Store will be closed down. Lars Boilesen, CEO of Opera Software, commented on the announcement:
With the new Microsoft partnership under its belt, Opera is looking to further cement its position as a reliable, secure source of apps for consumers. The company also managed to see its web browser installed on Asha hardware.
See the press release below for further details.
Opera Mobile Store will replace Nokia Store as the default app store for Nokia feature phones, Symbian and Nokia X smartphones, following an agreement between Opera Software and Microsoft.
Beginning in the first quarter of 2015, people who access Nokia Store from Series 40, Series 60, Symbian, Asha and Nokia X devices will be automatically redirected to Opera Mobile Store, where they will be offered the opportunity to become customers of Opera Mobile Store and have access to tens of thousands of apps for their Nokia phones.
The transition to Opera Mobile Store will enable millions of people who use classic Nokia phones to continue to have a trusted source for apps, games and content. The process of migrating customers from Nokia Store to Opera Mobile Store is expected to be complete in the first half of 2015, at which point Nokia Store will be closed.
"We continue to sell and support classic Nokia devices, which remain popular in many parts of the world," said Rich Bernardo, Vice President, Phones, Microsoft. "We're delighted to partner with Opera Software and continue to provide a reliable app store experience for consumers and developers alike."
"When the current users of the Nokia Store are migrated to Opera Mobile Store, they will continue to get fresh, interesting apps for their Nokia phones," says Lars Boilesen, CEO of Opera Software. "The Opera Mobile Store becomes an even more significant player in the app store market, and Nokia mobile phone users get a first-class app store for years to come."
App store trusted around the world
When the transition of customers from the Nokia Store to the Opera Mobile Store is complete, Opera is positioned to become the third largest app store in terms of downloads.
With close to 300,000 apps and games available in the store today, and millions of downloads each day, the Opera Mobile Store has a wide reach for developers looking to distribute apps.
Opera Mobile Store today supports more than 7,500 different devices, from feature phones to the most advanced smartphones. It is a trusted platform used by more than 40,000 developers around the world.
Developers looking to publish apps on the Opera Mobile Store can do so by visitingapps.opera.com.
The announcement follows a separate agreement, announced in August 2014, which will see Opera become the default browser on Nokia-branded phones, including Series 30+, Series 40, Asha and Nokia X handsets.
Opera has a store? The more you know. Posted from the amazing whatever device I can afford because I'm a broke college kid.

Wow... Very interesting indeed Posted via Android Central App on my HTC M8

Nokia wished they didn't dump all their eggs into WP. They sure have gotten aggressive after Elop departure Posted via the Android Central App

No Nokia dumped theyr old devices.

Dont be too excited Nokia X fans.. The store is pure crap and there is this one developer SmartTouch Media Inc which has thousands of apps(YES Thousands). similarly many other developers also makes 100's or 1000's of apps..

this is why I flashed G-Apps.

Part of me was hoping they meant other Opera.
I wonder if Nintendo will think about using a different browser or will they just not care.

How can i replace my nokia store with opera store..it has been long that i am facing downloads problem from store..please give me idea to upgrade opera store..my mobile is.nokia XL

why ovi store replaced to opera mobile store?,.im so very disappointed of this..in opera store the apps is not great...please NOKIA CORPORATION return it the old nokia ovi store,,lot of poeple not like this opera mobile store here in mindanao,bcous they compared the two store and we discovered that they not the same' compare to ovi store nice and complate they have theme ,tone and etc but in this new version of store have no... please3x NOKIA reture the old nokia ovi store now..
Im Nokia N8 user..
By the way in opera mobile store they have no SKYPE,FRING and VIBER.
NOKIA please put this 3 mentioned app if u not reture the ovi store and we hope u can read this article..
More power and BigTHANKS..
Android Central Newsletter
Thank you for signing up to Android Central. You will receive a verification email shortly.
There was a problem. Please refresh the page and try again.