Why the OnePlus 5T is the best Android for Windows phone converts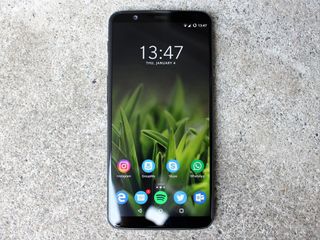 Last year I reviewed the OnePlus 3T as a Windows phone user, and I called it the best Android phone for Windows phone converts. Its price, software, and design made it a no-brainer for Android newcomers, and it was a great option for those who are looking to switch from Windows phone.
But it's been almost a year, and OnePlus is now selling a new flagship: the OnePlus 5T, which improves upon the older OnePlus 3T in almost every way. This is Windows Central's OnePlus 5T review.
OnePlus 5T Specifications
Swipe to scroll horizontally
Category
Spec
OS
Android 7.1 (upgrade to 8.0 coming soon)
Display
six-inch Optic AMOLED, 2160 x 1080 (18:9 aspect ratio)
Processor
Qualcomm Snapdragon 835 octa-core
Adreno 540 GPU
Storage
64/128GB UFS 2.1
RAM
6/8GB LPDDR4X
Rear camera one
16MP (IMX 398), 1.12-micron pixels, f/1.7
Dual LED flash, 4K 30 FPS, 1080p 60 FPS,, 720p 120 FPS, video
Rear camera two
20MP (IMX 376k), 1-micron pixels, f/1.7
Front camera
16MP (IMX 371), 1-micron pixels, f/2.0
1080p 30 FPS, video
Battery
3300mAh
Non-removable
Charging
USB-C
Dash Charge
Water resistance
No
Security
One-touch fingerprint sensor
Connectivity
802.11ac Wi-Fi, 2x2 MIMO, Bluetooth 5.0, aptX HD
USB-C (2.0), NFC
GPS, GLONASS, BeiDou, Galileo
Network
3xCA, 256QAM, DL Cat 12, UL Cat 13
FDD-LTE Band 1/2/3/4/5/7/8/12/17/18/ 19/20/25/26/28/29/30/66
TDD-LTE Band 34/38/39/40/41
TD-SCDMA Band 34/39
HSPA Band 1/2/4/5/8
Dimensions
156.1 mm x 75 mm x 7.3 mm
162 g
Colors
Midnight black
Price
$499 (6GB/64GB)
$559 (8GB/128GB)
OnePlus 5T Design
The OnePlus 5T doesn't look or feel that different from the OnePlus 3T. A few things have changed, with the 5T looking a little more like an iPhone 8 Plus from the back, and the front featuring a more modern 18:9 aspect ratio display, trading the dedicated hardware buttons for on-screen navigation keys.
I'm a real big fan of this new 18:9 aspect ratio found on a lot of flagship phones these days. I love how it gives you more screen in a phone size that's not stupidly large. The OnePlus 5T is around the same size as the OnePlus 3T, even though the 5T is rocking a six-inch screen compared to the 3T's 5.5-inch display. The front of the device looks great, with slim bezels and a small but equally sized head and chin, which makes everything look symmetrical and nice. The display is a 2160 x 1080 OLED display, which isn't the sharpest screen in the world. For $500, though, you can't really complain.
Because of the taller display, OnePlus had to move the fingerprint reader from the front to the back of the device. I actually prefer this placement. It makes more sense in most scenarios. It's placed in the upper center of the device, which makes it easy to reach. Of course, that means you won't be able to unlock the phone with your finger if the device is laying flat on a table, but in that case you can just use your PIN or Face Unlock. On that subject, there's a new Face Unlock feature which is blazing fast. It's faster than the Face ID on an iPhone X or Windows Hello on a PC, but it's not nearly as secure.
Along the sides of the device, we find a power button and volume rocker on the right and a three-position switcher on the left. The switcher is handy, allowing you to flip between normal, Do Not Disturb mode and muted mode, kind of like on an iPhone. Not many Android phones have this switcher, so it's nice to see on the OnePlus 5T. We're also rocking a USB-C port that supports Dash Charge, and a 3.5mm headphone jack. I'm all for moving the industry forward, and in a lot of cases I use Bluetooth headphones anyway, but it's nice to have the option of using an old headphone jack when you need it.
The body of the device is aluminum, which feels premium in the hand. It wraps around the edges of the phone, which gives it that unibody appearance which I really like. Admittedly, the smooth aluminum body does make for one slippery phone. I rarely put cases or skins on my phones, but in the case of the OnePlus 5T I feel like I have to. It's just too slippery in the hand otherwise. Other than that, I really like the design of the OnePlus 5T.
OnePlus 5T Software and Performance
As I said in my OnePlus 3T review, Android is Android. It's the same OS on all Android-based smartphones, but each manufacturer does something different to the software that can sometimes alter the experience in major ways. Sometimes this is for the best, and other times it just makes for a terrible experience. In the case of OnePlus, the maker did the right thing. OxygenOS on the OnePlus 5T is a fantastic version of Android, remaining relatively stock and lightweight while offering lots of configurable and customizable features. It also isn't a Pixel, meaning not every app is tied in with Google; that's helpful if you're someone in the Microsoft ecosystem.
The phone comes with Google software pre-installed, which is fine. If you really don't need the Google stuff, you can disable or uninstall most of it. Of course, you need to have a Google account to use the Play Store, so keep that in mind. OxygenOS being relatively stock means there's so much more space for customizing the phone. You can install Microsoft's launcher, as I did, which replaces the stock OnePlus Launcher. I prefer Microsoft's launcher because of its integration with my Windows 10 PC.
Another benefit of OxygenOS being stock is that it's lightweight on CPU and RAM. This phone absolutely flies. It might even be the fastest Android phone on the market, thanks to its quick animations and super lightweight software. This also means battery life is great; I'm getting almost two days on a single charge very often. And even on days where I don't, the Dash Charger means I can charge up the 5T in about 30 minutes.
One thing I really like about OxygenOS is that it has dark and light modes, just like on Windows phone. Not every app will tap into this dark or light theme option, but some of the default system apps do. Messages, Phone and Settings do, and they all look great. There are some other nice additions, as well, including double-tap to wake and sleep, an ambient view mode that acts kind of like Glance screen, and custom gestures.
The beauty of Android is that you can also set third-party apps as defaults for select tasks. For example, I use Microsoft's Outlook app as my default email app, Microsoft Edge as my default web browser, Cortana as my default voice assistant, and OneDrive for my photos backup solution. Just like on a Windows phone. Overall, I think OnePlus's Android is the best Android you can get. It's customizable, clean, lightweight, and simple.
Using an Android in the Microsoft ecosystem
The 6GB or 8GB of RAM in the OnePlus 5T is no slouch, keeping apps open in multitasking for longer than most other smartphones. This means resuming open apps is quicker on the OnePlus 5T, and it makes the experience feel quicker overall. Devices like the iPhone like to put apps to sleep after they haven't been used for some time to free up RAM, but this means those apps take a little longer to open. This doesn't happen on the OnePlus 5T.
OnePlus 5T Camera and Sound
I'm not big on smartphone photography. I take maybe one or two photos a week. But I understand that the camera on a smartphone is a big deal for many people. The 16MP camera on the OnePlus 5T is good; not amazing but not bad either. I found the camera to be mostly quick at snapping photos, and images look crisp and clear in well lit scenarios.
In low light, the camera falls short a bit. OnePlus uses a dual-lense setup, with the second lens being a 20MP shooter designed for better low-light photography. I can't say this camera does low-light better than a Pixel or iPhone, with photos often coming out a little grainy and dull. The selfie camera also is not bad but not great either.
Image 1 of 3
The camera on the OnePlus 5T is good enough for most smartphone users. If you take your smartphone photography more seriously, however, I'd suggest looking at more expensive smartphones like the Google Pixel. If you'd like a more in-depth review of that phone, make sure to check out Android Central's review.
In regards to sound, the OnePlus 5T features a single downward firing speaker. It's passable, but I'd recommend using headphones if you're planning to do any serious music listening or movie watching.
OnePlus 5T review Final Thoughts
The OnePlus 5T is the best Android for Windows phone converts. It comfortably and confidently takes that crown from its older brother. The OnePlus 3T was a great device for the price, and the OnePlus 5T brings that up to 2018 standards. It has a taller, bigger display, a better processor, and a better camera. It has the same great software and Dash Charge capabilities, too, two staple features of the 3T. And it still starts at $499, which is a very reasonable price.
If you're still using a Windows phone and looking to switch, I highly recommend the OnePlus 5T. It's affordable, the software isn't a confusing mess, and the phone feels great in the hand.
Pros:
Premium build quality.
Lots of RAM means great performance.
Clean, relatively stock Android.
Cons:
Slippery.
Camera is only OK.
Get the Android Central Newsletter
Instant access to breaking news, the hottest reviews, great deals and helpful tips.