Marshmallow beta will soon begin rolling out to first wave of Priv testers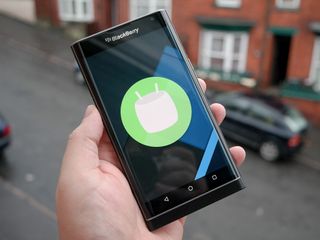 BlackBerry is preparing to roll out Marshmallow to Priv beta testers who have opted into the program and completed necessary enrollment steps. The company has confirmed in the beta zone that Marshmallow will be released to the program from today.
So, how will you receive the update on your Priv? Should you be in the beta, you'll receive Marshmallow as you would a normal system update. Either the OS will ping you with a notification to upgrade, or you can check manually by heading into Settings > About phone > System updates. Be patient if the update isn't quite hitting your handset yet as only some participants will receive it today.
As a side note, be sure to have diagnostic reporting enabled on your Priv. Android 6.0 will not be fired to your Priv if you have not completed this step or have disabled diagnostics. Haven't signed up to the beta program yet? There may still be time for you to get on the wagon before the roll out commences.
Interesting.
BB is doing great with all the monthly security updates in 5.1.1, if they keep it up with 6.0.1 I will have another option beside the Nexus.
The physical keyboard is not for me but I may give it a try

The keyboard, is actually more useful than what people give it credit for. It's a real big adjustment if you are very use to on-screen, but if you are composing longer messages or emails...it really comes in handy.

Acts as a track pad, has swipe shortcuts and not to mention the 52 customizable key shortcuts from opening apps to turning your Bluetooth on etc... Posted via PRIV by BlackBerry

Good news for all selected!

I tried to get it but it was full in minutes :( Posted via the Android Central App

And nothing but crickets about the Droid Turbo gen 1. Posted via the Android Central App

wondering if BB passed this update through the RCMP, first? Posted via the Android Central App

Hopefully they get through the beta period fast so we can get the update already Posted via the Android Central App
Android Central Newsletter
Thank you for signing up to Android Central. You will receive a verification email shortly.
There was a problem. Please refresh the page and try again.