LG enters the cloud storage arena, connecting your Android device to your LG Smart TV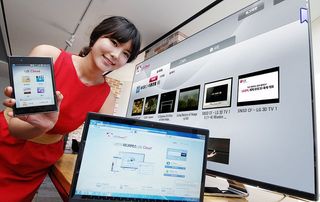 LG clearly doesn't think we have too much choice in cloud storage, as the company has launched the imaginatively titled LG Cloud. The stand out feature on this one though, is that the service integrates with your LG Smart TV.
Out of the box, free storage is a pretty standard 5GB, although naturally LG owners are favorably advantaged. LG Android phone and LG Smart TV owners get 50GB for free, albeit only for the first six months.
By now though, cloud storage is becoming a little -- read a lot -- boring, and plentiful. We're waiting for Google Drive to become the something special we all expect a Google product to become, and Dropbox has long been the standard. LG Cloud stands apart with its integration between devices, be it a smartphone or tablet, desktop Windows PC -- Mac OS X isn't yet supported -- or LG Smart TV.
The service supports real time transcoding technology which will optimize video content for the different sized screens you could be watching it on. You can also watch a movie on your TV, stop mid-way through, and pick it up where you left off on your Android smartphone. Or, the other way round if you prefer.
As with Dropbox, LG Cloud has its own auto-upload feature. Photos and videos taken on your phone can be automatically synced to your LG Cloud account. Then you can go look at them on your TV, figures.
All in, it sounds like a pretty decent service. The drawback is the LG-exclusive nature of it all if you want to get the absolute best from the service. It isn't uncommon of course, Apple has their iCloud for example, but LG isn't Apple. Samsung are of course rumored to be heading down a similar path, should the mythical S-Cloud be announced this week in London. But LG aren't Samsung either. It's a bold move, and only time will tell how it pays off. But, personally, I have an HTC phone, a Samsung TV and probably an ASUS tablet in the not too distant future. I want something that will work on all of them, I don't want to have to go all in on one OEM's ecosystem of products to use services like this. I would guess a lot of you feel the same. We can all dream I guess.
In any case, you don't need an LG device to take advantage of the free 5GB cloud locker. If you're keen, you'll find the download links after the break. One final word though, at the moment you have to be in the US or South Korea. Other markets will be coming soon though apparently.
Source: LG
Get the Android Central Newsletter
Instant access to breaking news, the hottest reviews, great deals and helpful tips.