HTC Status available on AT&T starting July 17, presales today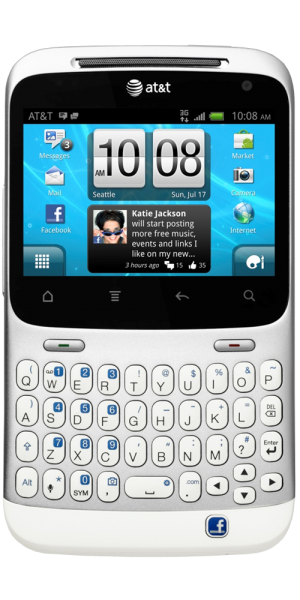 AT&T's just dropped word that the HTC Status (its version of the HTC ChaCha) will be available in stores starting July 17 for a mere $49.99 on contract. That price is just about right, we gather, as it's obviously fighting for the Facebook crowd. (Maybe the dedicated Facebook button gave that away?) Presales begin today, and Best Buy will have an exclusive mauve version available.
Other specs of note:
Platform: Android 2.3 + HTC Sense
Display: 2.6-inch touch screen with 480 x 320 resolution
Network: Quad-band GSM/GPRS/EDGE 850/900/1800/1900 UMTS/HSDPA 850/1900
Memory: 512 MB RAM, 512 MB ROM
Processor: MSM7227, 800 MHz
Battery: Rechargeable lithium-ion battery, 1250 mAh
Camera resolution: 5 MP main camera with autofocus, VGA front-facing camera
So, another week or so to go before you can snag the Status. In the meantime, be sure to check out our review of the European HTC ChaCha.
Source: AT&T (opens in new tab)
Hmm... might pick one of these up for my mother to replace her win7 turd

This phone is not meant for those who frequent this site, but I think the form factor and uniqueness is very refreshing.

I agree.Not every Android has to be a 4.5" touchscreen slab.Evolving to meet specific users needs is what makes Android great!

i work at an at&t store and i can say that i'm actually quite excited for this phone.hopefully this will fill the need for a physical keyboard for the teens that send 15k text a month and they'll stop buying torch's and bold's. actually thinking I might replace my nexus s with this phone and just tether to a tablet.

There is definitely a market for this device. I would never use it, but I can see it as a teen phone. Parents won't mind paying 50 for it and teens will love it. BTW Google+ invite is back on my page. Looks they have more room

Alot of people seem to be bashing this phone as a Teen phone and inferior, mainly because of the gimmicky facebook button. But, a lot of Blackberry users will find this phone a nice reason to try Android. The fact is is that not everyone needs a super fast phone with a tablet like screen. I think its a refreshing phone away from the typical black slabs weve been seeing as of late. Im definitely considering picking one up because of the portrait keyboard and excellent HTC hardware with a nice helping of Gingerbread.

I wonder if you can set the Facebook button to open a Facebook app that doesn't suck, like FriendCaster.

A mauve Cha-Cha? Good lord please nobody tell my wife.

This phone will "ChaCha" right out the sales door. Imagine if they offer it in multiple colors. Too bad HTC didn't design it to have changeable faceplates like the old Nokia 51xx series phones had.

I'm sorry, but with that dedicated facebook button on the bottom, it makes this phone look retarded but this is soley my opinion. I'm sure there is a market for it but that market is not in my pocket.
Android Central Newsletter
Get the best of Android Central in in your inbox, every day!
Thank you for signing up to Android Central. You will receive a verification email shortly.
There was a problem. Please refresh the page and try again.