HTC ChaCha review (Three network)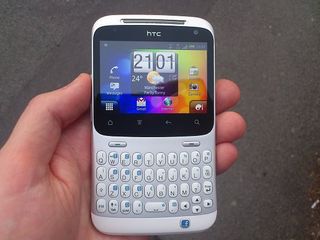 The persistent rumors of an Android-powered "Facebook phone" culminated in the unveiling of the HTC ChaCha and its larger sibling, the Salsa, at Mobile World Congress back in February. With its full QWERTY keyboard and slightly silly name, the ChaCha drew attention for being the first phone to put the social network at the center of the user experience. Avid Facebookers were promised hardware and software to help them stay in touch with their legions of friends and followers -- a dedicated Facebook button was introduced, along with a specially-customized version of HTC's Sense UI.
We've spent the past couple of weeks getting to grips with the HTC ChaCha on Three UK, which is available on Pay As You Go for £199.99, or for free on contracts starting at £20 per month. Read on to find out if we 'Like' the ChaCha, or whether we'd rather unfriend it and go our separate ways.
YouTube link for mobile viewing
Hardware
Just about every HTC device released this year has boasted excellent build quality, and the ChaCha is no exception. Its chassis is part aluminum and part plastic, with a rubberized area surrounding the camera on the back. Like the HTC Legend, it has a slight "chin" -- the bottom half of the phone containing the keyboard is actually slightly tilted relative to the rest of the device. This is very subtle, but it's enough to protect the screen when it's laid down flat, and make one-handed typing a bit more comfortable.
Other trademark HTC design features are present and correct, including the wide speaker grille at the top, the large engraved HTC logo on the back, and the way it feels solid, but not heavy, in the hand. The keys on the QWERTY keyboard are well-spaced, and have just the right amount of clickiness to them. The capacitive buttons under the screen work well, and the display itself, though small, is of excellent quality. It measures 2.6 inches diagonally and runs at 480x320 (HVGA) resolution, and while that might not sound like much, on a smaller screen the pixel density is more than adequate. Brightness, color quality, viewing angles and daylight visibility are all on par with the fantastic Super LCDs used by the Desire S and Incredible S.
Like most of HTC's 2011 lineup, the ChaCha sports front and rear cameras. The main, rear-facing camera is a 5-megapixel sensor with a single-LED flash, which is capable of recording video up to 480p. The front-facing camera seems to be the same basic VGA sensor used in the Desire S and Sensation, and will take both video and stills at 640x480.
The ChaCha is powered by an 800MHz Qualcomm CPU, and has 512MB of RAM, of which 396 is available for apps to use. There's also 512MB of internal flash, though app storage is limited to just 150MB. This isn't a huge amount of space, however there's always the option to move larger stuff to your SD card -- we're told retail units will ship with a 2GB card. And you're probably not going to be loading a mid-range device like the ChaCha with a ton of apps anyway.
We only have one major problem with the ChaCha's hardware, and that's its lack of HSUPA support. This means you'll be limited to upload speeds of around 384 kilobits per second over 3G, as opposed to the 1.5 megabits or more that most modern 3G phones provide. In 2011, we think HSUPA is something you have the right to expect when you're buying a smartphone -- even a mid-range handset like the ChaCha. And the fact that the ChaCha is billed as a big social networking phone, with the ability to take photos and upload straight to Facebook, makes the slower 3G upload speeds even more difficult to justify.
This isn't a deal-breaker, though. Considering its £200 price point, the ChaCha's hardware is, on the whole, top-notch. There's nothing cutting-edge in there, but it's fast enough, and has the same premium look and feel as more expensive HTC phones.
Software
The ChaCha runs Android 2.3.3 Gingerbread with HTC Sense 2.1 on top. This might not sound like anything new, but the ChaCha is the first (and currently only) device to run the new "Messenger" version of Sense. The result is a software experience that's tailored to the ChaCha's unique hardware, while still being recognizable and familiar to Sense veterans.
We were pleased to see that the ChaCha included the new Sense lockscreen found on the Sensation, Flyer and EVO 3D. This allows quick access to four of your favorite apps -- by dragging their shortcut icons down into the ring, you can immediately unlock the phone and launch straight into the app of your choice. Likewise, the familiar Sense "leap" function works just as on every other Android device made by HTC, making it easy to jump around the ChaCha's seven home screens.
Certain UI elements have been re-arranged to suit the ChaCha's form factor. Typically, you'll find buttons and tab controls on the right side of the screen rather than at the bottom, to save on precious vertical screen space. And certain home screen widgets have been redesigned and shrunk down to make the best use of the space available. For example, now that there's a physical call button, there's no need for a virtual "phone" in the launcher, freeing up space for widgets or shortcuts.
Despite the limited screen real estate, though, Sense 2.1 for Messenger works well. It's clear that a lot of work has gone into not just porting Sense to the ChaCha, but redesigning it with the hardware in mind. All the standard Sense apps like Music, Gallery and Videos manage to avoid seeming cluttered or claustrophobic. Obviously, though, browsing is one area where the ChaCha is easily surpassed by devices with larger screens. The smaller viewport, along with the forced landscape orientation, means you won't be browsing desktop sites quite as easily as on other, larger phones.
Fortunately the ChaCha does include options to enable portrait mode in Android Market applications, to allow for better compatibility with certain apps.
Facebook is a major focus of the ChaCha, and the phone comes bundled with the official Facebook app for Android, as well as a standalone app for Facebook chat. This results in a slight doubling-up in terms of functionality, now that the main Facebook app supports chat. However, HTC's bespoke chat app includes a variety of new functionality, including chat history and additional notification options.
Aside from the dedicated Facebook apps, much of the social networking integration is done through the Facebook button. Press it at any time, and chances are you'll be able to push the thing you're looking at directly to your Facebook page. If you're in the browser, you can use the Facebook button to share the link with your friends. In the Gallery app, pressing it will allow you to quickly and easily upload photos or videos, and select who has permission to view it. In the Camera app, you can press the Facebook button instead of the usual shutter button to capture a photo and upload straight to Facebook. Not a killer app by any means, but certainly a nifty time-saver for heavy social networkers.
In addition, you get many of the Sense software features included in current HTC phones. Not everything has made it across, but the core of the Sense experience is intact, including --
Unified contacts system - Combines social networking information with Google Contacts and other sources to bring all your contacts to your phone.
Friend Stream - Social network aggregation for Facebook, Twitter, LinkedIn and Flickr.
HTC Hub - Online hub to download additional content for your phone, including new wallpapers, widgets, apps, ringtones and more.
HTC Likes - A selection of HTC-approved apps from the Android Market.
Transfer my stuff - Allows you to transfer personal data like contacts and messages from a range of other devices.
HTCSense.com - Back up your messages to the cloud, and remotely track, lock or wipe your phone if it's lost or stolen.

Camera
The HTC ChaCha includes front and rear-facing cameras, and both are pretty basic. The front-facing camera is designed for video calling, and will shoot photos and video at up to 640x480 resolution. The rear camera produces good-looking still shots in conditions with optimal lighting. However, colors seem a little washed-out in certain instances, and dynamic range was a little on the low side compared with most other 5MP smartphone cameras.
The rear camera will also record video at up to 720x480 resolution with around 22 frames per second, which is acceptable for a less expensive phone like the ChaCha. However, we found that sound quality wasn't great, and the camera definitely struggles when transitioning between light and dark areas.
The bottom line in terms of both stills and video on the ChaCha is that you'll record content that's good enough for Facebook, but that's about it.
YouTube link for mobile viewing
Battery Life
With normal usage patterns, the ChaCha's 1250 mAh battery gave us a full day's usage on a single charge. Major battery drains seemed to be cellular data usage and video recording, which should come as no surprise.
We found that the ChaCha's small Super LCD panel actually went pretty easy on the battery, despite its brightness and clarity. And like most current HTC phones, it uses next to no juice at all when in standby mode, even with background data enabled.
HTC ChaCha on Three UK
The ChaCha delivered the same high download speeds of between 2mbps and 5mbps that we've come to expect from Three's 3G network. However, the handset's lack of HSUPA support meant that upload speeds were capped at around 384kbps, regardless of carrier.
As usual, we experienced no call quality issues while using the ChaCha on Three -- there were no dropped calls or "death grip" issues, and audio quality was consistently clear.
Hackability
The ChaCha doesn't have much of a development community just yet, and at the time of writing the phone has yet to be rooted or fully cracked open. The ChaCha may well be officially unlocked at a later date as a result of HTC's new bootloader policy, however that shouldn't be taken for granted, and the phone's unusual form factor may make popular custom ROMs like CyanogenMod more difficult to port across.
So ChaCha owners should prepared to run the stock HTC Sense and Gingerbread ROM for the foreseeable future.
Wrap-up
It'd be easy to take one look at the ChaCha's BlackBerry-like form factor and social networking focus and dismiss it as a phone for teenage girls. And while it probably wasn't designed with power users in mind, it's a speedy performer with capabilities that extend far beyond typing status updates and uploading photos. In fact, HTC could probably ditch the Facebook button, tweak the software slightly and sell the ChaCha as a business-oriented phone.
Even in its current form, though, you don't need to be obsessed with Facebook to enjoy using the ChaCha. Aside from social networking, it delivers the latest version of Android for smartphones and a surprisingly full-featured version of HTC Sense, wrapped up inside a well-built chassis with a great QWERTY keyboard. We were disappointed to see that the ChaCha lacked HSUPA support, but it still represents great value at the £200 price point.
Regardless, we're not about to claim that the ChaCha will suit everyone's smartphone needs. Browsing will feel claustrophobic if you're used to a larger candybar-shaped device, and a 2.6-inch screen isn't the best way to experience any kind of video content. However, for fans of the "Messenger" form factor who are more likely to be typing emails, texts and status updates than viewing full desktop websites, the ChaCha is definitely worth a look.
The Three-branded HTC ChaCha that we reviewed is available now for £199.99 on Pay As You Go, or for free on contracts starting at £20 per month.
Sign up for Black Friday email alerts!
Get the hottest deals available in your inbox plus news, reviews, opinion, analysis and more from the Android Central team.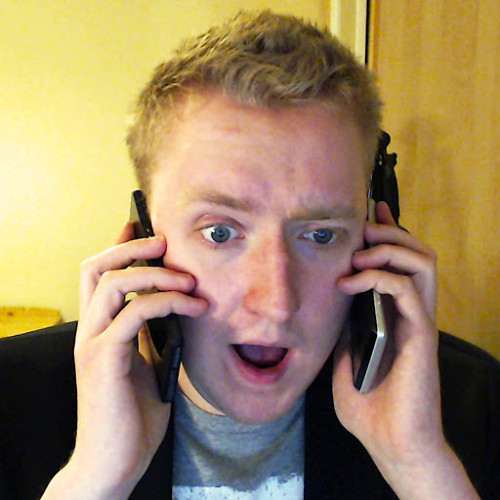 Alex was with Android Central for over a decade, producing written and video content for the site, and served as global Executive Editor from 2016 to 2022.