The Galaxy Note 20 is shaping up to be a near-perfect phone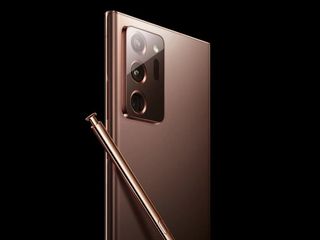 (Image credit: Samsung)
The smartphone market in 2020 has been quite a bit different compared to years past, largely thanks to the ongoing pandemic our world is currently faced with. The Pixel 4a is stuck in release limbo, no one knows what's going on with the Pixel 5, inventory for the OnePlus 8 series remains a rarity, and so on.
That had me a little concerned as to whether or not we'd get our yearly Note from Samsung, but last week, the company confirmed that it's holding a virtual Unpacked event on August 5. While not explicitly mentioned by Samsung, we fully expect this is where we'll get our first official look at the Galaxy Note 20.
I'm rather looking forward to that date, because based on everything we've seen so far from the various Note 20 leaks, it's quickly shaping to be a contender for one of the best Android phones of the entire year.
Let's start with something that Samsung always excels at — hardware. We already have a good idea as to what the Galaxy Note 20 will look like, and it's nothing short of stunning. The picture at the top of this article was leaked by Samsung itself, and it reveals that the Note 20 will look a lot like last year's Note 10 — the biggest difference being the rear camera module.
The top and bottom frames are flat, we're going to have another metal and glass construction, and the Mystic Bronze color shown above looks downright gorgeous. Leaked hands-on photos and videos have also revealed that the Note 20 sticks to a centered hole-punch cutout for the selfie camera, which is a lot more aesthetically pleasing than the right-mounted one Samsung dabbled with on the S10.
Having essentially the same design for another year might not sound all that exciting, but let's not forget how incredible the Note 10's hardware was (and still is). As noted in his recent re-review of the phone, Hayato said:
In-hand feel is certainly a subjective matter, but there's something about flat frames and corners that give off a more utilitarian/premium design I absolutely love.
Going back to the rear camera housing, we're expecting great things from the Note 20 in regards to its camera performance. Samsung made a massive leap in image quality from the Galaxy S10 to the S20, and those improvements will be present on the new Note. Exact camera specs remain unclear, but we'll more than likely see a primary camera, ultra-wide camera, and a periscope zoom camera on the bottom. The 100X Space Zoom from the S20 Ultra is supposedly out, and that's honestly fine by us. It was more of a gimmick than anything else, and if Samsung can use its periscope tech to create a legitimately useful sensor, it'll be all for the better.
Galaxy Note20 Ultra:
Evolution version Note10+
Snapdragon 865+
QHD+120Hz can be turned on at the same time
LTPO display
New camera function
New SPen and features pic.twitter.com/t6GN5UwZnCGalaxy Note20 Ultra:
Evolution version Note10+
Snapdragon 865+
QHD+120Hz can be turned on at the same time
LTPO display
New camera function
New SPen and features pic.twitter.com/t6GN5UwZnC— Ice universe (@UniverseIce) June 19, 2020June 19, 2020
There's also the matter of the display, which we're anticipating to get that sweet, sweet upgrade to a 120Hz refresh rate. There's been some uncertainty as to whether or not the baseline Note 20 will get the 120Hz upgrade, but given that every model of the S20 has the increased refresh rate, it's hard to imagine Samsung backtracking for the Note. Pair that together with even thinner bezels than what we had on the Note 10, the option to run Quad HD+ and 120Hz at the same time (something not possible on the S20), and this is shaping up to be the best display we've ever seen on a smartphone.
As for all of the other internal specs, there should be the usual array of flagship goodness. That means a Snapdragon 865 (or 865+) processor, at least 12GB of RAM, 128 or 256GB of baseline storage, and Android 10 out of the box with a speedy update to Android 11.
Recent years have seen the Galaxy Note shifting to be an evolution of its Galaxy S cousin rather than a complete overhaul, and when Samsung's Galaxy S phones are so darn good, that's not a bad thing by any means.
The Galaxy S20, S20+, and S20 Ultra are three of the most feature-rich and refined Android phones you can buy in 2020. Based on what we know so far, the Note 20 lineup is going to take the features and specs of those devices, combine them with the outstanding design of the Note 10, and the end result is going to be a handset that's really hard to ignore.
I typically don't get all that excited about Samsung phones given my stance on One UI, but even for someone like me, I can't deny just how good the Note 20 is looking. From the design, display, cameras, and specs, almost everything about the phone has the potential to be perfect or awfully close to it.
Samsung Galaxy Note 20: News, Leaks, Release Date, Specs, and Rumors!
Get the Android Central Newsletter
Instant access to breaking news, the hottest reviews, great deals and helpful tips.
Joe Maring was a Senior Editor for Android Central between 2017 and 2021. You can reach him on Twitter at @JoeMaring1.
"Last year's Note 10 was amazing". Not really.

It was more than amazing?

Been extremely happy with my Note 10+. It has more screen than my Note 8 in practically the same form factor and still as zippy as day one. Just about the right size for me. It does feel much better than my Note 8 as well. Wasn't a Note 9 fan, but to each their own.

Not really with the Exynos 990 chip :-(

I have enough 1st gen ultra sound finger print sensor. If they fail to address it on note 20, I will seriously consider moving to apple after using galaxy for 7 years.

Which doesn't have fps !!!!

Yeah but they have really good face unlock, which is better than a bad fingerprint sensor

JHBThree - Valid point. Really good face unlock and no FPS beats bad face unlock and bad FPS.

I would never buy another phone without a side mounted sensor. If my Nova 5t ever conks out I'm going for an S10e

I also hate my fingerprint sensor. Its useless.

I just want ONE thing with the Note20, a FLAT screen. Note20 Ultra already looks to be just as curved as my Note10+ which is unfortunate, but rumor mill has it the smaller / regular Note will be flat (or flat'ish like the S20's)...just hope there aren't many/any sacrifices to the smaller one this year.

I am also really excited for the Note 20. They've always nailed it and never failed since Note 5 (rip N7) but the Note series are the top tier of not onky Samsung but all phones of the year offering everything and throwing everything out on the table. I am really happy with my N10+ but I am still excited for the N20.

This Note 10+ that I'm typing on right now is such an amazing phone. That being said, I can't wait to get my hands on a Note 20 ultra.

Ads in first party apps...not unless it costs $700. For the Ultra.

The Note 20 may rip me away from my iPhone 11 Pro Max.

Samsung hasn't made an "amazing" phone since the Galaxy S6 in my opinion, thank goodness I'm switching back to iPhone in over 3 weeks with an iPhone 11 Pro Max. The only reason I keep Android around is for the US TV shows I've been watching. Otherwise I'd say goodbye to Android as it's the same old, same old with you Android fanboys with Samsung and the rest of the Android OEMs just bringing more meaningless specs the try and fix Android's short comings.

With the iPhone you will experience the "same-old same-old" from iOS on first iPhone. My first iPhone was 3GS, 5S, 6S Plus, now XR. Truly, from iPhone to iPhone not much difference. Okay, as expected more tweaks to iOS, however pick up any iPhone you will feel comfortable it is same-old same-old. Be it Android or iOS, many folks find familiarity a blessing.

I prefer familiarity and after 2 years with Android, I've realized I'm not into deep customisation beyond setup and changing my wallpaper and as you said, iOS suits me better as the experience is not only smoother at 60hz than any Android with the same refresh rate and is also easier to use, and don't make use of multitasking either so yeah I like the familiarity of iOS and the fact that it doesn't overwhelm me with endless and complicated features I don't intend to use.

Is that a spare phone stuck to the back? 😉
Seriously though, I don't see a technical reason to make the module stick out THAT far, when the cameras themselves are recessed within the module.
Also, why is 120Hz with QHD+ a positive, when you guys told us that it wasn't necessary?
They really need to get the FPS working this time. We got the Note 10+, and finding out that nice design has a semi-functioning FPS was like having a very cute girl jump on you, and breaking all your pocky sticks! (just happened for real a few minutes ago, lol)

"The option to run Quad HD+ and 120Hz at the same time, and this is shaping up to be the best display we've ever seen on a smartphone". You say that like it hasn't been done before by other companies. Is this the Samsung version of when Apple adds something to the phone everybody thinks they did it first?

Well, the Note Ultra will set you back about 1500.00 after taxes? Yikes, that's a whole lotta pennies? Will that stop anyone, nah!