How to merge Fortnite accounts on PS4, Xbox One, and Nintendo Switch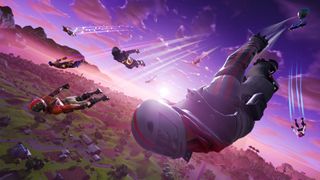 (Image credit: Epic)
Epic Games has finally made it possible to merge your multiple accounts on Fortnite. That means if you made two accounts on console, you can link them and access your cosmetics and V-Bucks from one account.
You can blame Sony for this mess. Previously, Fortnite players on the PlayStation 4 were required to create a separate account because that's how Sony rolls. Luckily, Sony came to its senses and now supports cross-platform play—but not without creating a few headaches in the process.
If you have a preferred "main" account, Epic Games makes it simple to transfer the your cosmetics and V-Bucks from your secondary account. Once you do that, you can then use this primary account on any platform you choose, whether it be the PlayStation 4, Xbox One, or Nintendo Switch.
Once you merge your secondary account with your primary one, the secondary account will be disabled. To be eligible, one account must have played on Xbox One or Switch and the other on PS4 before September 28, 2018. Epic Games notes that your items may take a few weeks to transfer.
Additionally, progress in Creative Islands and Save The World will not be merged from your secondary account.
How to merge your Fortnite accounts
Your primary Fortnite account is the one you want to play with moving forward. Head to the Fortnite Account Merge page to get started.
Sign in to your primary Fortnite account.
Enter the security code sent to your email.
Verify your primary Fortnite username.
Sign in to your secondary Fortnite account.
Enter the security code sent to your email.
Verify your secondary Fortnite username.
If successful, you'll get a message saying that your accounts have been merged. Remember, Epic Games says it will take about two weeks for everything to transfer over, so don't fret if things don't happen right away.
Android Central Newsletter
Thank you for signing up to Android Central. You will receive a verification email shortly.
There was a problem. Please refresh the page and try again.