Best Multiplayer Games for Android in 2022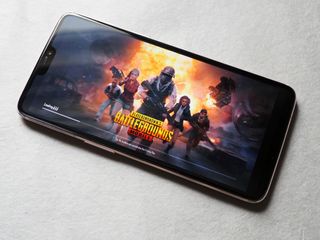 Mobile gaming has come a long way in the past few years. These days, you're not only able to play outstanding games on your phone, but there are so many awesome games you can play with friends.
While I still lament the loss of split-screen multiplayer experiences on console gaming, online multiplayer for mobile just makes sense and has reached the point where we can now get some of the best gaming experiences across multiple genres scaled down to your phone.
PUBG Mobile
Why you can trust Android Central Our expert reviewers spend hours testing and comparing products and services so you can choose the best for you. Find out more about how we test.
It's pretty incredible how well PUBG Mobile plays on Android. This is a massive PvP battle royale game that pits 100 players against each other on a massive island loaded with weapons, ammo, tactical gear, and vehicles. You drop in as a solo player or as part of a team and must use all your best skills to take down your opponents until you're the last man standing.
It's not unheard of for a popular PC or console release to find its way to Android, but you'll be surprised at how well PUBG plays on a smartphone. The developers have made it easier for mobile players to pick up and manage items, and have also added bots in the lowest ranks to help ease players into the game experience. Bluetooth controller support would be a nice addition but the touch controls are some of the best I've seen for a shooter on mobile.
It also allows you to scale back the graphics so you can enjoy smooth gameplay even when playing on an older device. If you've got a newer device, crank those settings to the max and enjoy one of the best looking mobile games I've played in a long while.
PUBG Mobile somehow delivers all the epic moments you'd expect the PC game scaled down perfectly for mobile devices. Best of all, it's free to play and currently devoid of any in-app purchases. Get your squad together and I'll see you on the battlegrounds!
Download: PUBG Mobile (Free w/IAPs)
Fortnite Battle Royal (beta)
My hands are basically tied to include Fortnite on this list. After months of waiting for the Android beta, it's finally been released for recent Android flagship devices after briefly being exclusive to Samsung Galaxy devices.
This is the full Fortnite experience scaled down for your smartphone and packs in all the features and wackiness you'd find on the PC or console versions such as Battle Pass seasons, Solo and Squad game modes, and so many ways to customize your character using V-Bucks. You're able to sign on with your existing Fortnite account if you've played it on PC or console, and all your character upgrades and V-Bucks balance will follow you across all your devices.
This is a massive moneymaker for Epic Games from people spending real money on in-app purchases, but you really don't need to spend any money in-game to have a blast. I would recommend that you invest in a Battle Pass, though, as you'll be able to unlock a ton of awesome content that would otherwise only be available by buying it outright in the store.
The game is still in beta (and certainly feels like it), with must-have features like Bluetooth controller support and voice chat yet to be added. It's also not available from the Google Play Store, so you'll have to download it from the Galaxy App Store on your Samsung phone or sign up for the beta below.
Battlelands Royale
If you love the concept of a mobile battle royale game but your phone can't handle PUBG Mobile or Fortnite, Battlelands Royale is a great option to try out instead. It offers a fairly unique take on the genre that does take some getting used to but is ideal for casual gaming sessions. Just like PUBG or Fortnite, you parachute down onto a map with, in this case, 29 other players, and must scavenge for weapons, ammo, and armor while staying in the safety circle and eliminating your enemies.
You're limited to carrying one gun at a time and ammo is very sparse, which leads to some pretty intense moments where you need to decide whether to engage an enemy or try and sneak past them. There's also a duo mode where you can team up with a friend or a random player. The art style and gameplay is bright and fun and this is a great little game for killing time.
Download: Battlelands Royale (Free w/IAPs)
Brawl Stars
Brawl Stars is a great new game for Android developed by Supercell. It's an absolute blast to play, with over 21 unique characters to unlock, multiple game modes, and a frantic PvP gaming experience that will have you coming back for more. The controls are nice and basic with twin-stick controls for moving and shooting and a super attack button that's unique to each character.
You start out with just one character and one game mode to play. Gem Grab is a 3 vs 3 battle mode where you fight for control of 10 gems. Win and you'll collect trophies, keys, and experience which all help you unlock new game modes, characters, and unlock battle boxes.
The second game mode you unlock is Showdown, which is a Battle Royale survival mode where it's every man for themselves. The third mode is Heist, which is unlocked when you collect 350 trophies. It's another team mode where your team battles to unlock your opponents safe before time runs out.
This is a game that's definitely worth checking out, but it was only soft-launched in select countries, including Canada, so it might not be available where you are. If it isn't, this is certainly a game to keep an eye on — especially if you're a fan of Supercell's previous games like Clash Royale and love action-packed games.
Download: Brawl Stars (Free w/IAPs)
VainGlory
Vainglory is a real-time PvP MOBA developed by Super Evil Megacorp and is arguably the best representation of the genre on Mobile. There are over 35 playable characters to unlock, each with unique abilities and play-styles. 5 vs 5 matches can get pretty crazy, but since Vainglory was designed to run as high as 120 frames per second you shouldn't have too many issues with lag in the heat of the battle.
Vainglory is free-to-play with chests and quests, but it's also an emerging eSport so if you get really good you could conceivably go pro and play in international tournaments for cash and prizes! It's a great game to play with friends or just against random online opponents with calculated strategy and tactics required to win each match.
Download: Vainglory 5V5 (Free w/IAPs)
Star Wars: Force Arena
Star Wars: Force Arena is a MOBA-style game set in a galaxy far, far away and featuring all your favorite characters from across the Star Wars universe.
You play as a hero character from the franchise as you command troops on the battlefield. There's some deep strategy involved here to be competitive as every match is against another player also trying to break through your defenses and destroy your base.
There are single-player modes to work on your skills but the real meat and potatoes here are the 1v1 ranked battles and 2v2 arcade battles. The gameplay is fairly balanced no matter whether you choose to fight for the Rebellion or join the Dark Side and the scale of the action at its best moments looks and feels like an epic scene from one of the movies.
Download: Star Wars: Force Arena (Free w/IAPs)
Critical Ops
Critical Ops is arguably one of the best online first-person shooters available on mobile that provides fast-paced action that's perfect for casual sessions or longer
It's kind of got that Call of Duty: Modern Warfare vibe to it, mixed with a healthy dose of CounterStrike to create a best-of-both-worlds scenario that offers great graphics and really solid touch controls. There are in-app purchases but no pay-to-win mechanics here — you're mostly just opening crates to unlock new gun skins.
This game is really fun to play and features multiple game modes, from quick deathmatch, gun game, and bomb defusion, and also lets you create custom games so you can play with your friends. Definitely worth checking out for any naysayers out there who say first-person shooters just aren't any good on mobile.
Download: Critical Ops (Free w/IAPs)
Guns of Boom
From afar, Guns of Boom looks like a fun and casual first-person shooter with cartoony graphics and fairly basic gameplay. However, the game itself has proven to become both wildly popular and extremely competitive, with the developers partnering with ESL for its first Guns of Boom Esports season in 2018.
That makes Guns of Boom a great game whether you're just looking for a casual shooter to play to pass the time or if you're looking to create a clan with your friends and try your luck at tournament play.
The one downside to Guns of Boom is that you buy your weapons using gold, which you can earn in-game or buy with in-app purchases. specific guns are only made available to you once you reach higher levels and the matchmaking system does a good job at keeping the teams balanced, but there are times when you'll come up against some dude who has clearly spent some money to max out his character.
Still, pay-to-win aspects aside, Guns of Boom is a great multiplayer game to play alone against strangers or together with friends.
Download: Guns of Boom (Free w/IAPs)
Asphalt 9: Legends
The latest entry in the storied Asphalt racing series is the best racing game on Android and features some of the best multiplayer racing action I've ever seen on a mobile phone.
Asphalt 9: Legends is an insane game featuring outstanding graphics and fantastic gameplay that's all about hot nasty badass speed. Rather than try and be an accurate racing simulator, Asphalt 9 offers a crazy arcade experience that looks realistic until you double-tap the drift button and pull off a ridiculous 360-degree spin to knock out your opponents. In that way, it feels a lot like a Burnout game which is one of the best compliments I could give a racing game.
Once you've progressed a bit through the single-player campaign, you unlock
Download: Asphalt 9: Legends (Free w/IAPs)
What are your favorite multiplayer games?
These are our top picks for the best multiplayer experience on Android, but as always we want to know what you think. Let us know what games you think deserve to make this list in the comments below!
Sign up for Black Friday email alerts!
Get the hottest deals available in your inbox plus news, reviews, opinion, analysis and more from the Android Central team.
Marc Lagace was an Apps and Games Editor at Android Central between 2016 and 2020. You can reach out to him on Twitter [@spacelagace.