Fortnite: Everything you need to know about the battle royale hit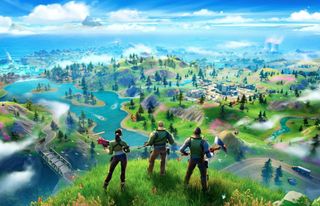 (Image credit: Epic Games)
Since its launch in 2017, Fortnite has quickly turned into one of the biggest video games on the planet, capturing the attention of celebrities and gamers alike. Here's everything you need to know about the battle royale before you go diving in.
Pick up Fortnite now
Download now!
If you've yet to play Fortnite, the worldwide phenomenon has become even easier to play thanks to its inclusion on the Google Play Store. The incredibly popular battle royale has 100 players duking it out to become the last man standing and earn a Victory Royale, and features some innovative building mechanics that makes games much more then simple shooting galleries.
What is Fortnite?
For those unaware, Fortnite is a battle royale video game, which pits 100 players against each other to fight it out to be the last one standing. The thing that sets apart Fortnite from other battle royales is in its building system, which forces players to learn how to become adept at building in order to come away as a winner.
Because Fortnite began as a tower defense title, players in Fortnite are able to pick various materials — wood, brick, and metal — and build objects in the game. Once you have some supplies you can start to build walls, slopes, and roofs to protect you from attack, or give yourself the advantage of the high ground. Unlike other battle royales that might just focus on shooting or moving in the right spot, Fortnite rewards players who master the art of building, making it a necessary tool to have in your arsenal of skills.
How do you play Fortnite?
Just like PUBG or any other battle royale, your goal is to be the last person standing. With up to 100 players involved in each match, that's no small task.
Each game starts with the players jumping out of the flying "Battle Bus" and parachuting down onto a giant island to a location of their choice. Once landed, you must loot nearby buildings for items, guns, and ammo to defend yourself and attack other players.
You also need to keep an eye on the map, as every few minutes the storm closes in on the play area. If you're caught in the storm, you slowly die so you do not want to forget to regularly check where you are on the map. Eventually, the play constricts to a tiny area for the final showdown between the remaining players — there can only be one winner!
Unlike other battle royales, you're able to carry more than two weapons with you, and also have access to a wide-range of other items, including grappling hooks, grenades that launch you into the sky, and traps that can take an enemy down almost instantly. Weapons themselves are color-coded to denote their rarity — from gray (common) to orange (legendary) — and the rarer the gun, the deadlier it is.
Every player also starts out with a pickaxe, which can be used as a melee weapon or used to break down trees and buildings to harvest the raw resources. You can then use these raw resources to build your own structures, whether it be a defensive wall to provide cover from an advancing enemy, a set of stairs to reach the second floor of a building or your own watchtower to snipe players from across the map. The resources you mine will determine the strength. Steel is stronger than brick, which is stronger than wood.
How do seasons work in Fortnite?
Fortnite has become known for its ambitious updates, as the folks at Epic Games continue to change the way Fortnite does things from time to time.
Similar to other battle royale titles, Fortnite implements a "season" in its game, with each season usually lasting around 10 weeks. Each season also comes with its own Battle Pass, allowing players to earn a large amount of new cosmetic items, including weapon skins, character skins, and even V-Bucks — the in-game currency — that can go toward the next seasons Battle Pass.
Typically, at the end of every season, an in-game event takes place that alters the map or ushers in the latest content for the game. Fortnite has become extremely well-known for these, with the latest being a Travis Scott concert that rocked the Fortnite world.
What are the in-game events?
As stated above, Fortnite has become extremely well-known for its in-game events. These range from concerts featuring mega popular artists all the way to partnerships with various brands like Marvel and Star Wars to bring new content into the game.
Generally, in-game events occur every couple of months, with one usually happening before a season ends in Fortnite and continuing the in-game lore that Fortnite has built up. For example, the latest (and biggest) event came when Fortnite Chapter 2 was announced, and featured the entire game getting sucked into a black hole before being spit out on a brand new map.
While some in-game events alter things in Fortnite drastically — like when a giant robot and monster fought it out and changed the map — some simply add new game modes. One of the most popular and critically acclaimed in-game events Fortnite held was its Avengers tie-in, where players could play as the actual Avengers and Thanos, and battle it out in an exclusive mode.
Where can I play Fortnite?
For anyone looking to try their hand at Fortnite, they don't have to look very far. The battle royale is available for nearly any and every platform you can think of. Currently, Fortnite is available on Windows, macOS, Nintendo Switch, PlayStation 4, Xbox One, iOS, and Android devices. There's a decent chance that no matter what type of console or phone you have, you will be able to play Fortnite on it.
Are there any differences between the Android and console versions of Fortnite?
Unlike many other battle royale titles that offer a watered down version of their games on mobile devices, Fortnite aims to offer the full version of the game on all devices. This means that there are no real differences between the mobile and console versions of the game, outside of the obvious controls.
When you download Fortnite on your mobile device, you'll sign in with the same Epic Games account you use on other platforms. From there, you're taken to the same exact game, complete with the same menus, options, and gameplay. Players on mobile devices are even often paired with PC players, making for some frustrating but very inclusive games.
What Android phones work with Fortnite?
For Android users looking to play Fortnite on their phone, you should have a solid chance of doing so. According to Epic Games, Fortnite is compatible with Android devices running 64-bit Android on an ARM64-processor, Android OS 8.0 or higher, minimum 4GB of RAM, and GPU: Adreno 530 or higher, Mali-G71 MP20, and Mali-G72 MP12 or higher.
If you're looking for some of the best phones to play Fortnite on, we've got you covered. When it comes to purchases on the phone, you can also check out our guide on limiting your child's purchases on Fortnite on both Android and PlayStation 4.
What's next for Fortnite?
Currently, the world of Fortnite is in a bit of a rocky place. Because of the rising popularity of other games and general dislike for some of the recent gameplay decisions, many players are wondering what's next for Fortnite. Fortunately, we should know more sooner rather than later.
Because Fortnite operates in a pretty cyclical manner, we should be seeing the end of Chapter 2 - Season 2 soon, and should be getting more information as for what's next. It's unknown exactly what Chapter 2 - Season 3 will bring, but fans can expect another in-game event with some changes to the map or gameplay to be on the horizon.
Pick up Fortnite now
Download now!
If you've yet to play Fortnite, the worldwide phenomenon has become even easier to play thanks to its inclusion on the Google Play Store. The incredibly popular battle royale has 100 players duking it out to become the last man standing and earn a Victory Royale, and features some innovative building mechanics that makes games much more then simple shooting galleries.
Get the Android Central Newsletter
Instant access to breaking news, the hottest reviews, great deals and helpful tips.
Anthony Nash has been writing about games and the gaming industry for nearly a decade. When he's not writing about games, he's usually playing them. You can find him on Twitter talking about games or sports at @_anthonynash.
Coming months? LMAO. The massively over rated rotten fruit is treated like royalty again.

Look at it this way, they alpha and beta test it so us Android users get a better version 😉

That is an old way of thinking. There are so many variants of Android phones that it's not worth releasing on the play store. They can say it's because of money but Apple has the same percentage as Google.

There is no option on ios

The same should be for Android. It's the play store or nothing. I love the idea of Android being a more closed operating system. Huge advantages to this.

There's 0 advantages to it. But I welcome it, maybe this way we can have another third platform come from the ashes.

The irony, in retrospect....

It's still better then PUBG Fortnite is ducking awesome they really need to update or remodel PUBG

Yeah...ummm...no. PUBG is a much better product.

Truthfully, they both have their positives. I switch between them both often. For a fairly quick, faster paced (and truthly easier game mechanics), I go with Fortnite. However, PUBG's larger map and somewhat more life-like graphics makes it more about survival, feels more realistic, and can become more intense while you sneak around, hide places, and advance slowly. I do wish they can make PUBG slightly more fluid like Fortnite. All that to say... BOTH GOOD! :) They can each learn a lot from each other.

Fornite is like playing a Looney-toon game. Yawwwwn

To each their own really. I prefer Fortnite since there is more to the game with the building mechanics. Thats one of the main reasons why it overtook Pubg

I don't know about easier game mechanics. Easier to grasp the concepts yeah but the skill ceiling in fortnite is so much greater then pubg.

PUBG is much much better on mobile.

Are you talking about the Pixel 3XL?

I don't play any of these games. They sound great for folks with lots of free time. I just don't understand why they would add this "building structures" ability in a game where the battlefield is made smaller as time goes on. Structures would seem to go to waste and not worth the time to harvest resources for and make...

They are actually very important at the end of a match. Those who know how to build typically win.

Yawn. By the time they release this I will be playing something else. What a joke.

The game is popular enough not to need the Play store but I feel bad for the people who will download malware thinking they are downloading the real game. Is the profile thing true though? AC is all about the PlayStation coverage and last time I heard if you play Fortnite on PlayStation (meaning you set up your profile on that system) you aren't going to be playing cross platform.

Sorry, no Google Play store, no download.

Yeah. Explain to me why it's on the app store and not the Google store? Everyone kisses the rotten fruit's ass.

The rotten fruits ass has a whole lot of paying customers. Android has huge share of smartphone market but to many damn cheapskates.

The game is free...so what does paying have to do with it?

Because it has in-app-purchases, to buy in game currency (V-Bucks). If Fortnite was installed from Google Play Store, Google would get a 30% cut of every purchase.

Because Apple apps can't be side-loaded. They have to go through the App Store. Android has the ability, so they are taking advantage and skirting the 30% vig from Google.

It's also on Galaxy Apps.

maybe they are offering the APK for devices that don't have play store access? OR maybe they are bypassing the play store altogether. who knows?

I'm actually over the fortniye hype. I just bought the Xbox version and called it a day.

You bought a free download?

Think I will stick with pubg. I like fighting. not building crap. To much micro management. If anything I wish epic would release unreal tournament on mobile. I had a blast playing that back in the day.

So they don't want Google taking a chunk? So I assume that means they will pull it from the App store either, because they don't want Apple taking a chunk....or is this just more Apple ass kissing, hypocritical bullshit again?

It's more that they didn't have a choice for iOS, and it's better to have many users and little money than zero users and no money.

They had a choice not to bow down to crApple and their bullshit*t but everyone knows that Epic Games is up crApple's a$$, they could have done 2 versions 1 for the Play Store and a more premium version, every other game and App is through the Play Store, the scammers are rubbing their hands with glee at the victims they can rip-off on Android with fake malware infested versions of Fortnite.

How would they not "bow down" ? They don't have a choice.

Apple has full control of their OS, Google does not and that's the whole point if Android.

88% of Android phones running 8? You mate are living in Cloud Cookoo land.
My Android 6 mobile also allows one side install without turning the setting off.
Please do your research.

Did you know that you're at a much greater risk of getting viruses if you play Fortnite on Windows?

This is not true. Same as the Android version if you download from their website the chances of getting malware is nil

Have is awful. Tried it for a bit today... Yes, it's rubbish compared to PUBG

So it's not really available on Android, it's available on Galaxy devices.

I'm sure all the 13-year-old boys who play this game will be ecstatic.

Here's a question: I got the link to the website page, got the beta link, signed up for my phone model, then got an email with an install link and then downloaded the .APK! Everything looks legit and comes from the same email I got about the 1 year birthday of Fortnite, too... Problem is, I have a pixel 2xl! What gives? Is what I got real? Anyone else?

Tried on my Note 8. Could not handle it. Phone was too hot.

Watch out, they explode....I know, I know, that Joe was so 2 years ago, but couldn't help it my

i got a legitimate looking link through the regular email address and downloaded the apk. I had just signed up through the beta website. I even downloaded the apk! However, ihave a pixel 2xl. That's what i inputted in their system. Epic games website. I thought it was only for Samsung phones? Is this legit?

If the sign-up page was secure (https) & the SSL certificate matched Epic Games, then yes it's legitimate. This page is legit (SSL cert is valid & assigned to epicgames.com): https://www.epicgames.com/fortnite/en-US/mobile/android/sign-up Any other site is fake.

It's legit. I have the same game too. It's not only for Samsung phones either. It was just tested there first.

That really isn't that pronounced at all. If they were to provide a warning, it should be standing out a lot more than just some text at the top of a search field.

Stop saying for items for Android! It's for items for Samsung not Android state the facts as they are. Epic games is a fail.

FYI, game won't run if you have developer options enabled.

Interesting... I got the invite, installed it, then it said it was not compatible with the U11, and I need a newer device like the S7 or higher. Lolz. The S7, 8, and 9 all are lower preforming devices than the U11.

Did not work on pixel 2 xl running Android 9.0. Huge waste of time.

Pixel 2xl running 9.0. basically bricked my phone.

This version is trash even on high speed wifi....

I find it funny how fortnite beats pubg performance on a console but Pubg on a phone trumps fortnite completely

PUBG works better on my old Note 3 than Fortnite does on my S7. SD800 vs SD820. It's rather sad to be honest.

Pfft. Performance was poor on the S9 as well. Total coding embarrassment.

Downloaded installer and Apk. Starts up fine but still waiting for invite to play? What gives?

Yay pixel devices. Now they just need to bring it to the play store.

This will fizzle out like the game where you had to find things? Pokeman?

I wonder how many millionaires and billionaires are playing these pointless games. Well maybe the ones in the entertainment and sports industries.

Played it, doesn't lag but it warms my phone pretty quick, controls sucks in touch but cannot use a controller, easy to install and the game is fun. I cannot see how people are so good playing online with the touch controls though unless I was people from other platforms because they killed me so quickly

3 gigs RAM minimum, and a high end graphics processor. NOT for all Android, just the high end phones

OMG!! This is certainly a shocking and a genuine Testimony..I visited a
forum here on the internet on the 20TH OF JUNE 2014, And i saw a
marvelous testimony of this powerful and great spell caster called
PRIEST AZIBA on the forum..I never believed it, because i never heard
nor learnt anything about magic before.. Not a soul would have been able
to influence me about magical spells, not until PRIEST AZIBA did it for
me and restored my marriage of 8 years back to me and brought my spouse
back to me in the same 24 hours just as i read on the internet..i was
truly astonished and shocked when my husband knelt down begging for
forgiveness and for me to accept him back.. I am really short of
expressions, and i don't know how much to convey my appreciation to you
PRIEST AZIBA you are a God sent to me and my entire family.. And now i
am a joyful woman once again.. here is his Email and WhatsApp contact below
*.Mobile:+2348100368288.......

Yea I would leave you to with a name like herbert.... Sorry had too...I hate scammers

Pubg on Android is better.