Fleksy Messenger for the Gear 2 lets you reply to SMS messages right from your watch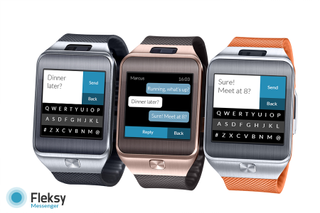 The popular Android keyboard Fleksy has arrived today on the Samsung Gear 2 in the form of Fleksy Messenger — a new app that will allow Gear 2 users to reply to SMS messages directly on their watch. Fleksy is already available as an add-on keyboard for Android devices, including the Omate TrueSmart watch, so it should be familiar to many users.
Fleksy on the Gear 2 will sync back to a users device, integrating data from both and keeping everything in sync. Users will be able to access previous conversations and contacts, view SMS messages and reply to them straight from the Gear 2. Fleksy is available today as a free download from Samsung Apps.
Press Release
Fleksy launches Messenger App for Samsung Gear 2 Smartwatch
Samsung Gear users can now use the Fleksy keyboard to send and respond to messages—straight from their wrists
SAN FRANCISCO — June 18, 2014 — Fleksy, the award-winning touchscreen keyboard company, released a messaging app today for the Samsung Gear 2 Smartwatch. Fleksy is the world's leading solution for quick and accurate typing, and its patent pending technology has been highly anticipated by the world of wearable technology.
Now with the Fleksy Messenger app, Gear users can use Fleksy's unmatched technology to send SMS messages straight from their wrists, forever improving their typing experience. The Fleksy app is the first keyboard to integrate with the Samsung Gear 2, allowing users to access previous conversation threads and contacts, receive SMS messages and reply to them straight from their wrist. The Fleksy app syncs with the user's Smartphone, integrating all information from both devices—all using award-winning technology that makes typing on small devices a breeze.
Founder and COO of Fleksy, Ioannis Verdelis said: "We are excited to have worked with the support of the Samsung Gear team to bring an awesome new app to the Gear ecosystem and Tizen OS. Our unique technology is redefining what wearable technology devices are capable of, and how users will engage with their Smartwatches."
Fleksy's patent pending technology is uniquely positioned for wearable devices, designed to help Smartwatch users more easily and accurately reply to text messages. Typing within such a small area can be a challenge, but Fleksy's sleek design and unparalleled prediction engine makes it virtually effortless. This is one of the first steps in the direction of enabling Fleksy on all smart devices—regardless of their size, shape, and form factor.
The Fleksy Messenger App is available for free download today from Samsung Apps.
"It's exciting to be expanding to devices like the Samsung Gear, and we're confident that Fleksy will continue to grow as the leading keyboard for smart and connected devices. We want every owner of a smart device—Smartwatches included—to have access to Fleksy, and to enjoy a happy typing experience." said Kosta Eleftheriou, Founder and CEO of Fleksy.
Get the Android Central Newsletter
Instant access to breaking news, the hottest reviews, great deals and helpful tips.
Editorial Director - High Yield
Getting his start writing about BlackBerry in 2008, Adam is the Editorial Director of High-Yield content at Future. Leading an outstanding team, he oversees many of the articles the publisher produces about subscriptions and services – VPN, TV streaming, and antivirus software. From buying guides and how to watch content, to deal news and in-depth reviews. Adam's work can be seen on numerous Future brands including TechRadar, Tom's Guide, T3, TTR, Android Central, iMore, and Real Homes.
Any info on if this will work for the original Gear watch? Posted via Android Central App

good question, I wonder when the G1 gets Tizen if it would be available for it.

If yours is updated to tizen then I see why not Posted via NEXUS 5

Unfortunately to use it you have to leave the messaging app, open fleksy, then scroll through hundreds of contacts to find the one who messaged you, then reply using the keyboard. It's not very intuitive in that regard. What if someone messages you who isn't in your contact list?
Posted via Android Central App

Also about half the time I open the app the screen is just black and my contacts are not showing so you can't do anything. Posted via Android Central App

You have to give it a few seconds to load, especially if you have a lot of contacts. I am sure it will get better, this is just the initial release.

Hopefully Samsung allows better integration with the stock message app Posted via Android Central App

How can you type on such a small screen?? Posted via my Moto G

The typing isn't bad... The predictive text works real well. Posted via Android Central App

anyone know if its possible to get this to work on a gear 2 neo paired with an htc one m8?
i sideloaded the gear manager on to it and it works flawlessly but id like to get some of the apps like this

Works fine with gear neo paired with M7. I'm sure it will work fine for you Posted via Android Central App

My gear 2 neo works great with the m8. I just meant this app in particular. Where'd you get the install package for it? How hard was it to load on to the watch without using a Samsung device? Posted via Android Central App

Ru rooted? Posted via Android Central App

Wouldn't it be better if you just push reply and just talk to it? Oh sorry that would be to easy. Just like I did just now. Posted via Android Central App

Downloaded with no problem. I can think of two things that would make it easier to use. 1. Have the ability to create a favorites list of contacts instead of scrolling through the entire list. 2. A reply option from a new text for Fleksky would be very handy. Cool idea.... just needs a bit more work.