Cyanogen launches new MOD platform to let developers tap into the OS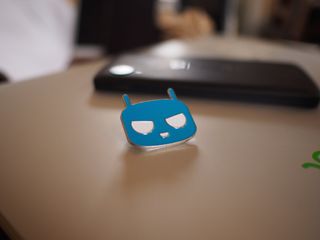 Cyanogen announced a new developer platform for apps and content to be built on at Mobile World Congress. Titled MOD, the company is now enabling developers to utilize available APIs to really ramp up access and offer improved user experiences. Cyanogen highlighted its partnership with Microsoft as an example with Skype being directly integrated with the dialler, or have Cortana control more functions of the phone like taking voice-activated selfies.
The plan is to have developers taking apps to the next level, removing barriers previously in place to prevent deep access to integrate with the OS. It's hoped that these mods will offer extended functionality over traditional downloads from an app store.
Many of the first-generation mods will be published by Microsoft, including the aforementioned as well as the likes of Hyperlapse for smoother video recordings and even a OneNote mod for seamlessly integrated note-taking. It's noted that the MOD platform will commence rolling out next month on hardware running Cyanogen OS 13 or higher.
Press Release
Cyanogen Introduces MOD to Usher in the Post-App Era
Barcelona, Spain — February 22, 2016 — Cyanogen Inc., a global leader in mobile computing, today announced at Mobile World Congress the launch of MOD™, an integrated mobile platform that is going to change the way users, developers, OEMs, and MNOs build and interact with their mobile devices. The new platform will introduce mods — intelligent, contextually aware, and lightweight experiences built natively into the mobile operating system.
As mods, 3rd party applications that were previously isolated can now take advantage of platform APIs to implement unique experiences directly within Cyanogen OS™. Users can install a variety of mods to extend the functionality of their devices. For example, through Cyanogen's partnership with Microsoft, a user can install the Skype® mod directly into their dialer to add VoIP calling functionality or they can install the Cortana™ personal assistant mod to power features like voice-activated selfies.
In addition, to expand the availability of the MOD platform, Cyanogen is announcing a new partner program called MOD Ready™ to accelerate development time of new devices and services.
The Start of the Post-App Era
Under the current regime of mobile operating systems, only a select group of apps are allowed to natively integrate into the OS. With mods, barriers to deeper integration are removed and developers can now unleash the full potential of their applications across the OS. With mods, users can conveniently access their workout playlist with voice-activation, schedule a ride-sharing service from within their calendar, and make a video conference call from their contacts list. The system will even nudge users to install the perfect mod to help you complete the task at hand. These are just a few examples of how MOD provides an engaging and simplified experience with a phone that learns and reacts to your behavior.
"Thinner bezel, better biometrics, faster processors….changes never cease, yet many people are still bored with their devices. Why is this? We think people are intuitively looking for a more natural way to interact with them. MOD enables this by effectively creating a new runtime, a new way to build services for the Android super platform," said Kirt McMaster, CEO & Co-Founder of Cyanogen. "According to some estimates, by 2020 Android's scale will be greater than Facebook and iOS combined. A single platform that touches over 4 billion people around the world, enabling them to do practically everything. But apps, as they exist today, can be boring and single-minded. Mods are something entirely different. We are excited to be working with many partners around the world who understand the new vision of computing that MOD enables for Android and we look forward to seeing the innovations that arise from it."
"Our partnership with Cyanogen is part of our ambition to provide great digital experiences to customers across all of their devices, in all aspects of their lives," said Peggy Johnson, Executive Vice President of Business Development at Microsoft. "MOD reinvents productivity for Android users by giving them access to the power of Microsoft's services in an engaging and modern way."
MOD Ready Brings Speed and Scale to OEMs and MNOs
To accelerate time-to-market for devices running MOD, Cyanogen has created MOD Ready, a scaling program that enables OEMs and MNOs to rapidly launch phones across a broad range of chipset platforms. MOD Ready will help both partners and in-house engineering teams preserve existing investments in hardware, Board Support Package (BSP), component drivers/tuning, and supply chain.
As part of the MOD Ready program, Cyanogen will provide a Platform Development Kit (PDK) consisting of all the major components needed to launch a MOD enabled device. In addition, Cyanogen will work closely with major chipset providers to update the PDK roadmap with new chipsets on a quarterly basis. Since Cyanogen OS is CTS-compliant, MOD Ready devices will allow partners to take advantage of the existing Android ecosystem.
"MOD is a giant leap forward in innovative and outside-the-box thinking," said John Sculley, Co-Founder of Obi. "We are excited to work with Cyanogen to bring MOD Ready devices to our global customers, who crave a premium user experience and an ability to customize over all else."
"As an early supporter of Cyanogen and having launched our first device, BQ X5, in Spain and Germany, and soon to come in the United Kingdom, we love the fact that Cyanogen OS puts control over the experience and particularly, privacy and security in the hands of the customer. The evolution to MOD is the next chapter in this journey, enabling our customers to choose the services they love and have them natively integrated on the device. We truly believe that MOD brings the best possible Android experience to our customers and promotes an open, innovative, and level playing field," said Francisco Montalvo, Director of Group Devices Unit, at Telefonica.
Life After Apps Starts Now
In addition to the Cortana and Skype mods, first-generation mods will also include a Microsoft Hyperlapse mod for smooth and stabilized first-person videos, a OneNote® mod for seamless dialer, browser, email, and calendar note taking, a Truecaller™ mod for spam messaging, and social lockscreen mods.
The MOD Ready Program is available now for OEM and MNO partners. The MOD platform will begin rolling out next month on devices with Cyanogen OS 13.0 or greater.
Get the Android Central Newsletter
Instant access to breaking news, the hottest reviews, great deals and helpful tips.