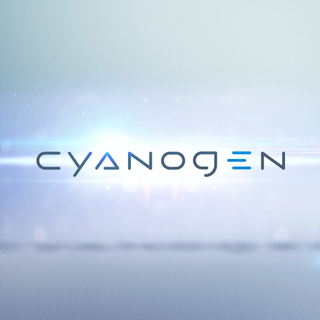 Cyanogen is a US-based mobile software company which produces Android-based firmware for mobile devices. The company started life back in 2009 with the arrival of CyanogenMod, a custom ROM for the T-Mobile G1 created primarily by Steve "Cyanogen" Kondik. As Android grew in popularity during the following years, CyanogenMod grew in reach and feature set, with a vast community of contributors maintaining CM support across dozens — and eventually hundreds — of devices. With CyanogenMod, Android owners able to load custom firmware on to their device could replace the manufacturer's software experience with CM, gaining new features, increased control (with optional root access), a visual style closer to Google's vision of Android — and often improved performance to boot. CyanogenMod is an open-source OS based on the Android Open-Source Project.
In 2013 Cyanogen, Inc. was founded by Kondik and leading individuals in the CM community with venture capital funding, in order to expand upon CM and make the project commercially viable. The following year saw the launch of the OnePlus One, running the new Cyanogen OS, launched in partnership between Cyanogen and Chinese newcomer OnePlus. That device featured a new version of CM, dubbed CyanogenMod 11s, with additional closed-source features designed for the OnePlus One. In late 2014 Cyanogen announced a partnership with Micromax in India, which would see that manufacturer exclusively carry CM phones in that country.
Alcatel joined the party at Mobile World Congress 2015, with the Cyanogen-powered OneTouch Hero 2+. And in early 2015 the company raised $80 million in funding from investors including mobile giants like Twitter, Qualcomm and Telefónica — but not the widely rumored Microsoft.
The current stable version of Cyanogen's software is CyanogenMod 11, based upon Android 4.4 KitKat. CM12, based upon the Android 5.0 Lollipop release, is in development at the time of writing.
Get the Android Central Newsletter
Instant access to breaking news, the hottest reviews, great deals and helpful tips.
Thank you for signing up to Android Central. You will receive a verification email shortly.
There was a problem. Please refresh the page and try again.