Geeksphone Revolution gets a price cut, looks to the future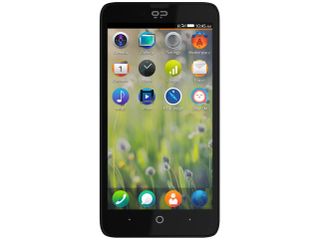 Geeksphone today sends word of the future for its Revolution Android/Firefox OS hybrid smartphone, as well as announcing a price cut from May 1. From then, you'll be able to pick one up at €199, a drop of €40 on its original release price from either Amazon or the Geeksphone website.
In addition to making it cheaper, Geeksphone is already looking to the software future for the phone. Its engineers are currently working away on Android 4.4 KitKat – in the form of Cyanogenmod 11 – and Firefox OS 2.0. KitKat is due in "the upcoming days" while the newest version of Firefox OS will soon be available to try out in beta form.
So, if you were thinking of picking one of these up, definitely wait a few days. But it just got a little more interesting, too.
Keep on scrolling for the full press release.
Madrid, April 28, 2014-. The Spanish company Geeksphone, a pioneer in the design and manufacture of new generation smartphones, is finalizing updates related to its Geeksphone 'Revolution' terminal. In the upcoming days it will incorporate Android 4.4 Kit Kat and CyanogenMod 11, a new and more stable modification of Android 4.4 operating system, which offers more freedom to the user.
According to Antutu Benchmark, an application that measures device performances, Geeksphone 'Revolution' gets a score of 19,964, which makes it a leader in its segment. Furthermore, the performance of this device is significantly higher than the average of CPUs ARM quadcore equipped terminals, while battery life has an average of 3 days of normal use with FXOS (Boot2Gecko Mozilla) operating system. Geeksphone also announces today the compatibility with the future version of the FXOS 2.0 operating system, which will soon be available as beta.
All this at a very competitive price: 199 euros (164 euros excl. VAT). Thus, the Spanish company reaffirms its commitment to fans of technology and innovation, offering a high-end terminal to all pockets.
Moreover, the new device features 1.6GHz Intel® Atom™ Z2560, with Intel ® Hyper-Threading technology processor, capable of delivering advanced multi-tasking capabilities, higher performance and longer battery life. In addition, besides being a powerful device, its most innovative feature is the ability for users to alternate their operating system without voiding the warranty.
Rodrigo Silva-Ramos claims that "Geeksphone's philosophy has always consisted in giving maximum possible freedom to users, who ask for it every day. Therefore, we keep on innovating and offering the best solutions as in the case of the Geeksphone 'Revolution', a fully revolutionary device with the latest versions of the different mobile operating systems available. Besides, I am glad to announce that we are working with other open operating systems. " The terminal is available at the company's online store www.geeksphone.com and at major European Amazon stores.
Be an expert in 5 minutes
Get the latest news from Android Central, your trusted companion in the world of Android